Must be the tropical weather that brings out the beast in them.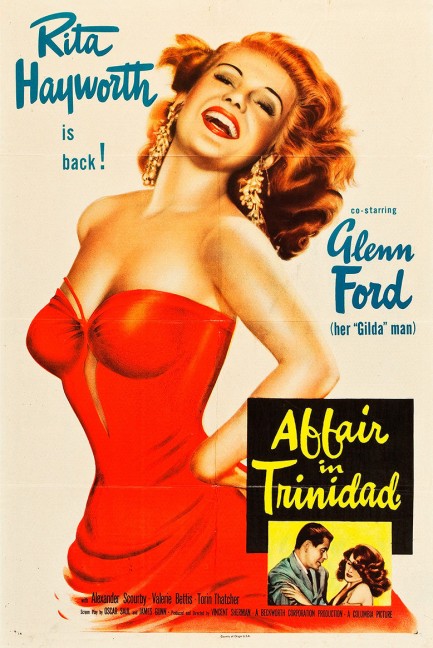 Affair in Trinidad, which went into general release in the U.S. today in 1952, brought Gilda co-stars Rita Hayworth and Glenn Ford together for another go round as star crossed lovers in a foreign land. Hayworth is a nightclub singer, and Ford is the brother of her dead husband, who's first thought to be a suicide, then suspected to have been murdered. There's no mystery who's responsible—it's the oily one percenter who wants Hayworth for himself. Ford wants this fella to hang from Trinidad's highest coconut palm, but Hayworth stands in his way for reasons you'll have to watch the movie to discover.
Overall, as an attempt to rekindle that ole Gilda magic, Affair in Trinidad fails, mainly because Ford is not as appealing as in the former movie. But the problem could lie with us—we don't buy anger, jealousy, and brutal face slaps as aphrodisiacs. We know, we know—things were different in 1952. But puhleeeze—that different? Just because she was kind of nice to him, it means he owns her? We just can't get behind slappy Glenn and his primitive behavior. Affair in Trinidad isn't bad—it just isn't good, exactly. But at least Hayworth works some singing and dancing magic. It isn't as fun as watching her deliver a swift kick to the nutsack would have been, but at least she makes the best of her situation.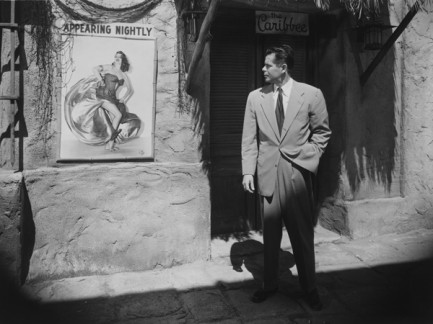 Wow, that's one slappable babe. Appearing nightly? I better come back and see if I can slap her.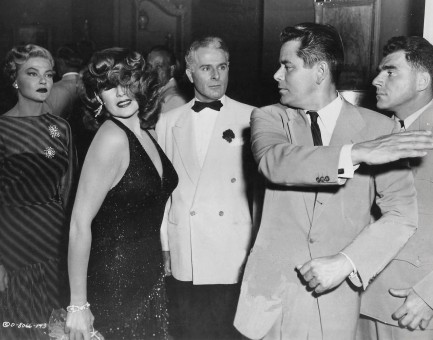 SLAP!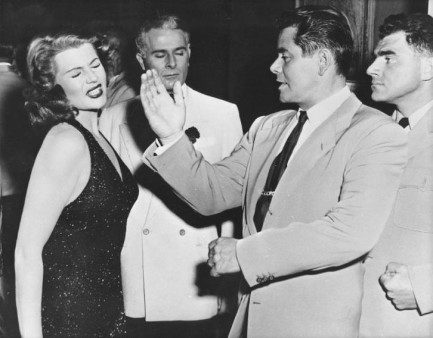 Slow motion replay. Slaaaaaaaap!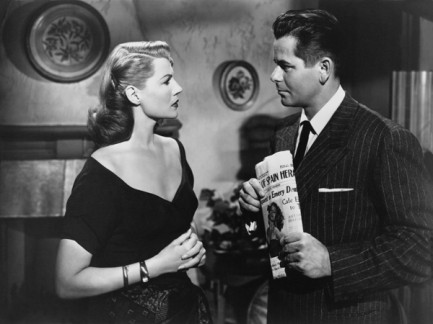 Christ, does my face hurt. You must really love me.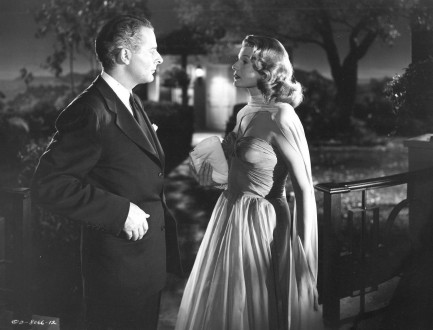 I can slap you too. Lemme slap you too. Look, my hand is ready to slap. I'll slap so good you won't believe how good I slap. I do the best slaps.
I just can't get that slap out of my head. Focus, girl! Spying to do.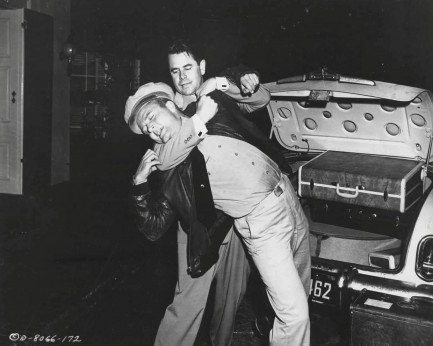 I usually slap, but you I'll choke. Because I dig you too, in a different way.
A one, a two, a one, two, three, four: Though my face is swollen I'm so thrilled my man's controllin' in the moooooor-nin!
Every time he hurts me I just have to swirl my skirts because he waaaaarned me!
It ain't a man's fault he hits me! I shouldn't... re-sist!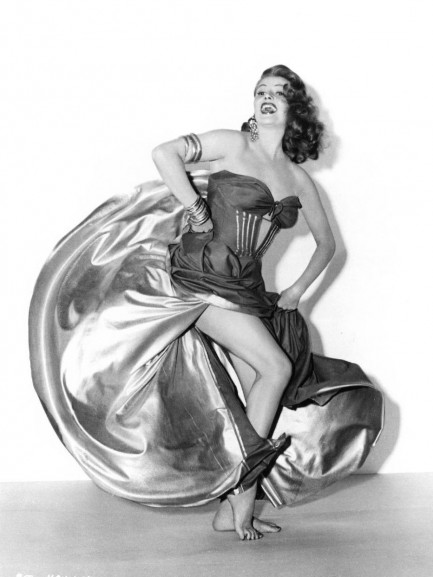 It's just a man being manly! He can't... de-sist!
Ladies let me warn you too! These guys... are... rude!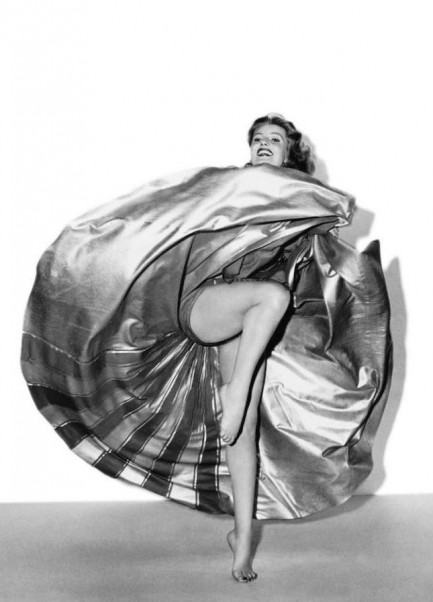 But hey, it's the 1950s! There's nothing... I can... do!*

*Please don't send us any obtuse e-mails. We obviously abhor violence against women.


---
Anselmo Ballester helped set the artistic standard in the competitive world of Italian movie illustrators.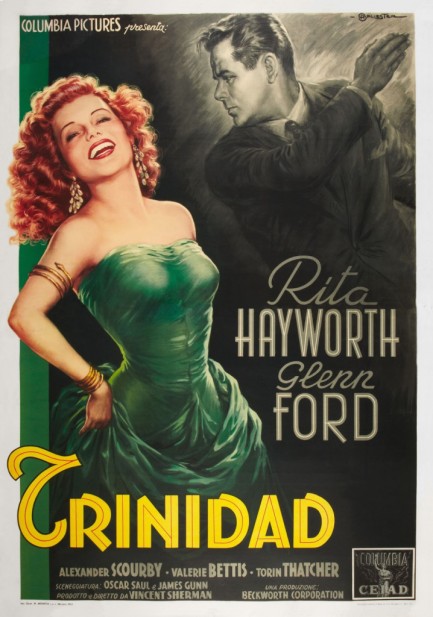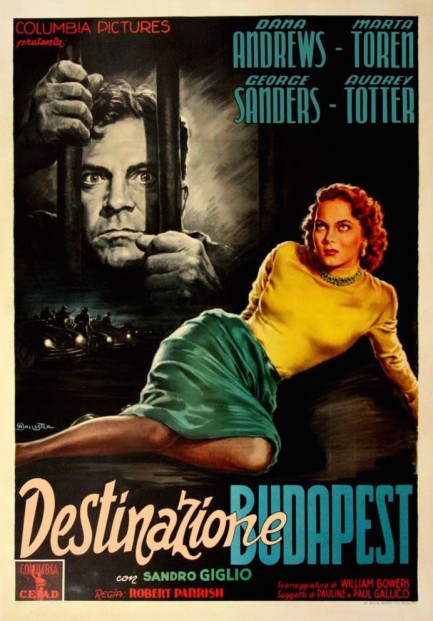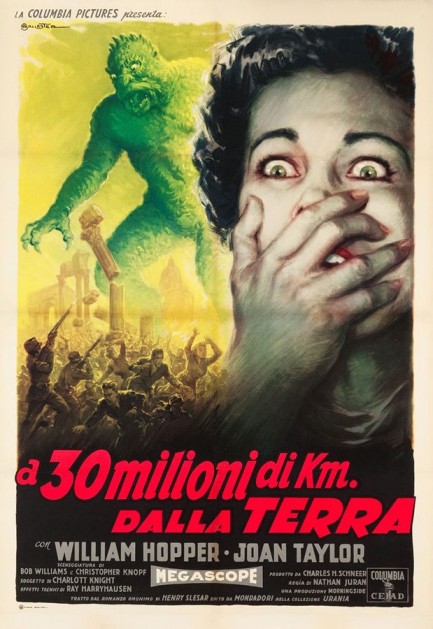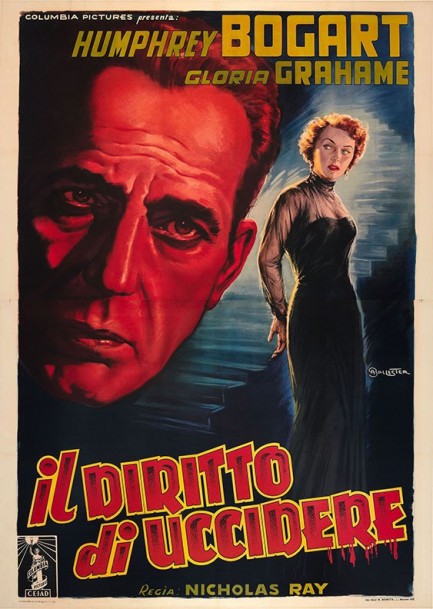 Anselmo Ballester is yet another virtuoso poster artist from Italy, where cinema promos were taken perhaps more seriously as art pieces than anyplace in the world. We've documented many of these Italian geniuses, including Mafé, Luigi Martinati, Sandro Symeoni, Mario de Berardinis, and others. Ballester, born in 1897, predated nearly all of his colleagues (only Martinati was born earlier) and enjoyed a fifty year career working for studios such as Cosmopolis, Titanus, Twentieth Century Fox, and RKO Radio Pictures. He also worked in commercial and political advertising. For the titles of the above works just check the keywords below. They're in top-to-bottom order in Italian and English.
---
Mitchum finds himself second to nun.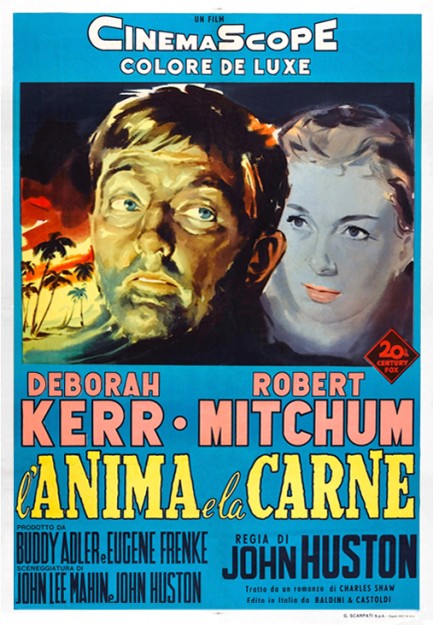 Above is an Italian poster for the World War II drama L'anima e la carne, which would translate as "the soul and the flesh," but was better known as Heaven Knows, Mr. Allison. It was directed by John Huston, who was one of the greats and the man behind what many consider the first film noir The Maltese Falcon, but he wasn't a strong stylist. He looked at himself as more of a technician, and often took on projects merely because they offered an opportunity for travel. He shot Heaven Knows, Mr. Allison, with Robert Mitchum and Deborah Kerr, in Trinidad and Tobago, and it's an African Queen-like tale of a marine marooned on a Pacific island with a nun, and the romantic feelings that develop.
The movie did well at the box office, but while there's plenty of entertaining action, the romantic aspects are generally tepid. When a man and woman are marooned together, possibly for life, we accept that thoughts of romance can develop, but it would have been nice if there were some other reason for it to happen than the fact they're—for all intents and purposes—the last people on Earth. Mitchum loves Kerr, but she's not funny, or charming, or unusual in any respect. She's just there, behaving exactly as you'd expect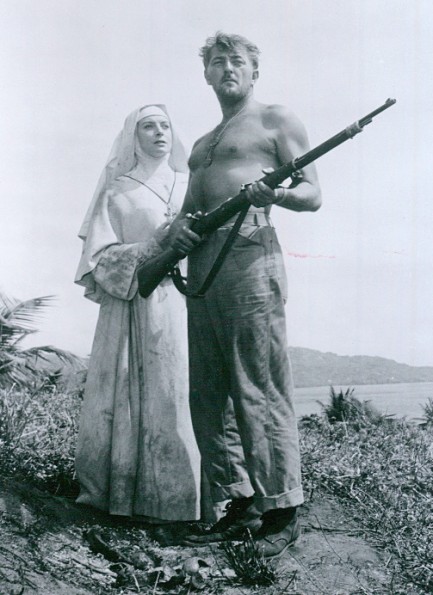 a real nun to behave. If she had a spark that lit Mitchum's flame we'd have liked the film a lot more. The romance angle is a red herring anyway—Mitchum's Corporal Allison has zero chance to woo Kerr's Sister Angela, and considering the lack of heat between the characters, it's probably for the better.
As an aside, the movie has a terrible title, don't you think? Not that it matters in terms of the final product, but you'd never think a film called
Heaven Knows, Mr. Allison
features two stranded Americans dealing with serious hunger, nearly drowning, and generally being put through a wringer reminiscent of
Naked and Afraid
(but without the naked). Later they
dodge Japanese troops, almost get bombed, and barely escape being blasted by a grenade.
The title came from Charles Shaw's novel, but it should have been changed. We can thank the movie for one thing, though—it made Mitchum fall in love with Trinidad and Tobago's calypso, and led directly to him releasing an
album
of the music.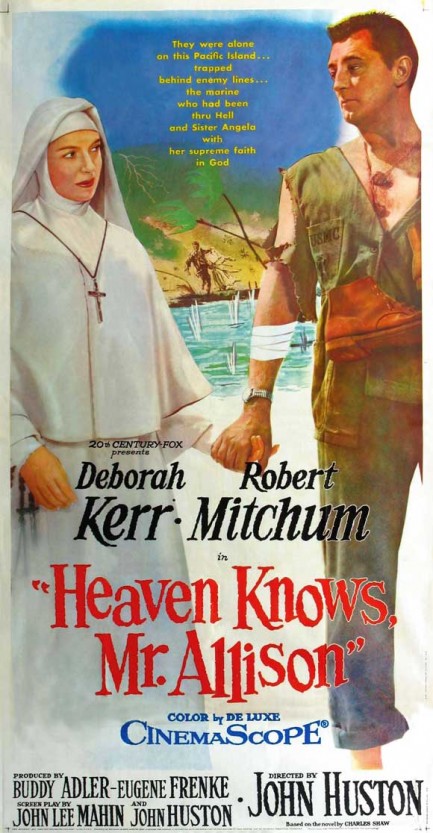 ---