Proceed carefully—ice may occur at major plot points.
The thriller Suspense featured the unusual promo poster you see above, which we think really captures the visual feel of film noir in a way posters more typical of the genre do not. Those posters are amazing, but this one is a nice change of pace. The movie stars Olympic ice skater and sometime magazine model Belita, alongside Barry Sullivan, an incredibly prolific actor who appeared in scores of films. Sullivan plays a hustler who weasels his way up from lowly peanut vendor to fast living impresario at a wildly popular Los Angeles ice skating extravaganza. The catalyst for his ascent is his radical suggestion that Belita leap through a circle of swords. Only in old movies, right? "Hey, that circle of swords gag was a great idea! How'd you like to manage the joint!"
Belita's ice skater is a riff on the standard film noir chanteuse, except instead of doing a few a nightclub numbers she does a few skate routines. She's as good as advertised, too. But the success of any film romance hinges on the chemistry between the boy and girl and here it feels contrived. Both Belita and Sullivan are decent actors, but he's a little too charisma challenged, in our view, to attract someone whose life is going as skatingly as Belita's. But it's in the script, so okay, she likes the schlub. What Suspense does well, though, is visuals. Check out what director Frank Tuttle does late in the film when the shadow of the aforementioned sword contraption appears outside Sullivan's office. Beautiful work, suggesting that karma may indeed be a circle.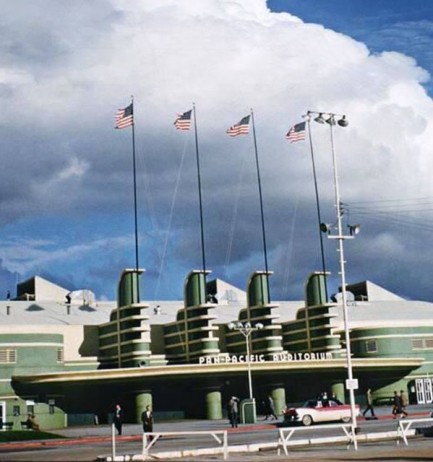 On the whole, Suspense uses ice the same way Die Hard uses a skyscraper. The entire film is improved by the freshness of the setting. Add expensive production values and visuals worthy of study in a film school and you have a noir whose many plusses cancel out its few minuses. We recommend it.
As a side note, the ice show is staged in the Pan-Pacific Auditorium, one of the most breathtaking art deco structures ever built, which was of course eventually demolished because that's what they do in Los Angeles. Actually, a fire destroyed it, but only after seventeen years of abandonment which would not have happened if anyone important in the city cared about historically significant architecture. Suspense brings the Pan-Pacific, just above, back to life, and that's another reason to watch it. It premiered in the U.S. today in 1946.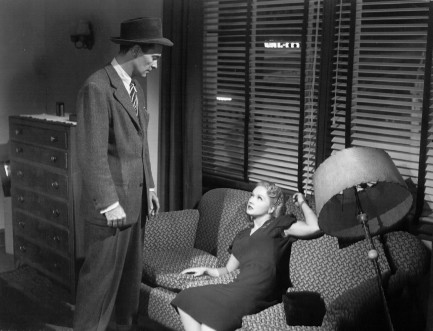 I'm going to stand right here in your personal space and repeat myself until you say yes.
We're supposed to do a screen kiss, but I'm totally gonna slip you some tongue.
Wow, these are razor sharp, but you'll be fine. Unrelated question—how's your insurance coverage?


---
Doris Day finds herself hunted around the clock by a demented killer.
In the thriller Julie Doris Day finds out her second husband is a murderer. Who did he murder? Her first husband. No spoiler there. Day learns this within the first fifteen minutes, leaving the plot to revolve around her efforts to escape being permanently silenced for her discovery. By the end of this romp set in and around the wilds of Carmel, Monterrey, and finishing in San Francisco, she's probably developed a fear of flying, a fear of driving, a fear of piano music, a fear of the dark, and of course a fear of ever having a third husband. It's psychological warfare at its cruelest, and Day, along with co-stars Louis Jourdan and Barry Sullivan, do a nice job of making it all work. We don't have a Japanese premiere date to match the nice Japanese poster above, but Julie opened in the U.S. today in 1956.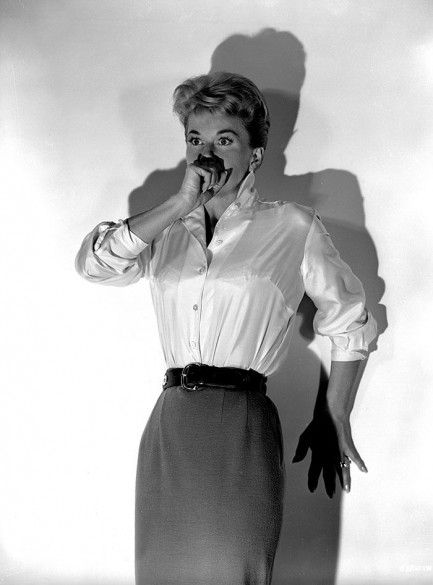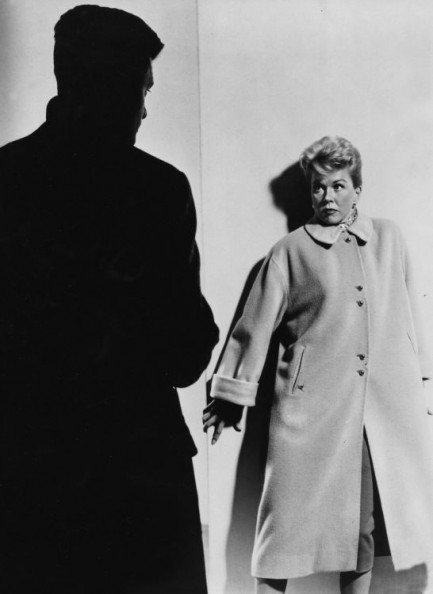 ---
A better world can start right here in this bathtub.
Above is nice photo of an unidentified model from photog L.W. for the week beginning September 15, 1963. We still have no idea who L.W. is, but as always, nice work. This shot is particularly flattering and respectful. The Goodtime Weekly editors, on the other hand, are up to their old tricks putting women down. Some weeks their collections of comments can be kind of cute, but this week's quips see women labeled suspicious, annoying, and empty-headed. Gotta say, we find it curious the Goodtime guys are so convinced men are smarter than women, especially since men have been running the world since before the dawn of recorded history and the planet is well and truly fucked. Doesn't really seem like the work of brilliant thinkers. Sorry to break ranks guys, but it had to be said. Also, our girlfriends like it when we agree with them. And that's smart.
Sep 15: "Call a rose by any other name and she'll think you've been cheating on her."—Freddie Flintstone
Sep 16: If you take all that make-up off some women, you'll find them invisible.
Sep 17: "Adam was the happiest man on Earth—he had no mother-in-law."—Sam Cowling
Sep 18: Holding on to a man is usually harder than to get one.
Sep 19: "A sewing circle: A group of women who needle each other."—Barry Sullivan
Sep 20: Kindergarten teacher: A woman who makes the little things count.
Sep 21: "Before falling for a pair of bright eyes make sure it isn't the sun shining thru the back of her head."—Henry Cooke

---