Hollywood is seen without its face on.
We have something a bit different today, a cover of Pete Martin's tinseltown tell-all Hollywood without Makeup. What you get here are tabloid style bios of various cinematic luminaries, including Greer Garson, Ava Gardner, and Maria Montez. The info on the stars probably makes this one worthwhile by itself, but as a bonus you get tabloid style writing in long form. It's a type of prose that isn't practiced anymore, but it can be quite entertaining to read. Here's an example:

"When first stumbled upon, the conception of the lady sounds as if those who are promoting it are deliberately plying a fire extinguisher to quench the flames of publicity that might singe her career."
We don't even fully understand what that means, really. Here's a more straightforward passage:
"She operates on the theory that standing up on her two eye-filling legs and yelling for her rights, while at the same time clubbing people over the head with her overpowering personality, will bring home a choice brand of bacon generously streaked with lean. The head screwed on her decorative shoulders is not stuffed with goofer feathers or idle girlish vaporings. The mind behind her velvet-textured Latin facade closes on an opportunity like the jaws of a bear trap."

Aside from being incredibly condescending, it's an interesting style. You find this type of baroque writing in all the high budget tabloids, such as Confidential, Hush-Hush, and Whisper. It's self-indulgent, but fun to read. Does it sound like your cup of tea? Then go for it. Regarding the cover art, we aren't sure whether we're dealing with a painting or a photo-illustration, but in either case it's uncredited.


---
So this is a maraca? Hmph. Now I know what men have been asking me to shake all these years.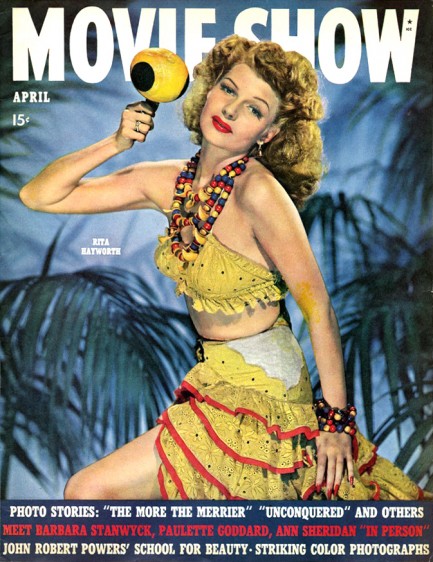 Above, another Movie Show cover, this one from April 1943 with Rita Hayworth shaking her maraca. We never heard of this magazine before last week, but it's aesthetically brilliant. Hopefully, we'll find more out there somewhere. If we do, we'll definitely share. Below are selected interior pages from this issue, featuring Ida Lupino, Anne Sheridan, Mona Maris, Mapy Cortés and others.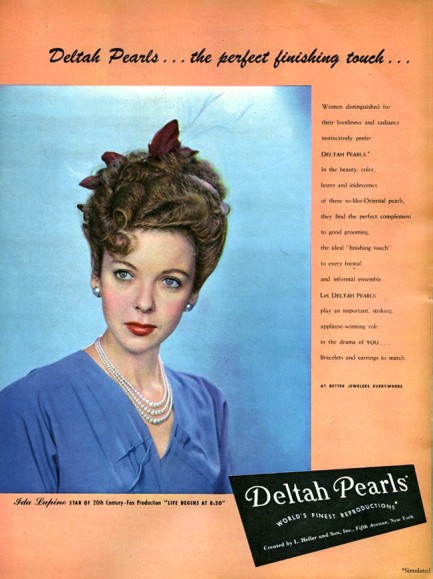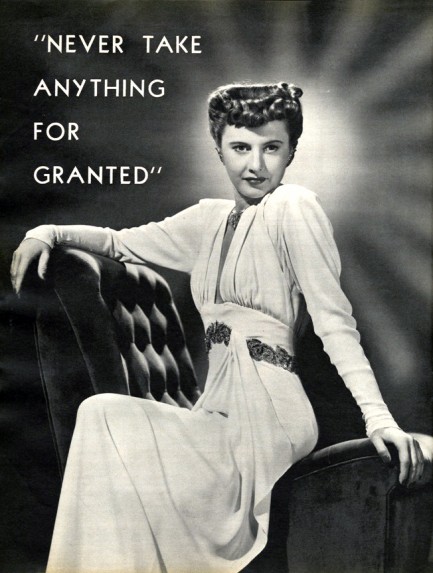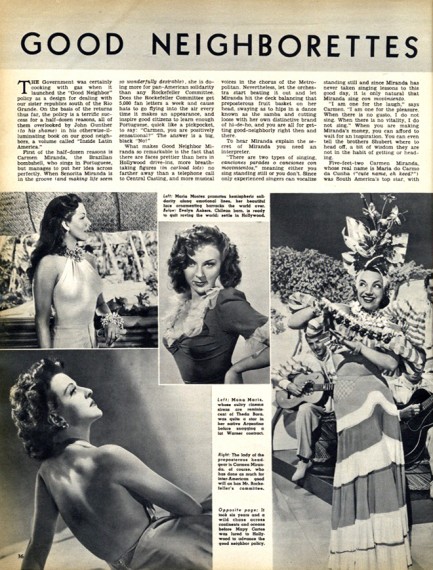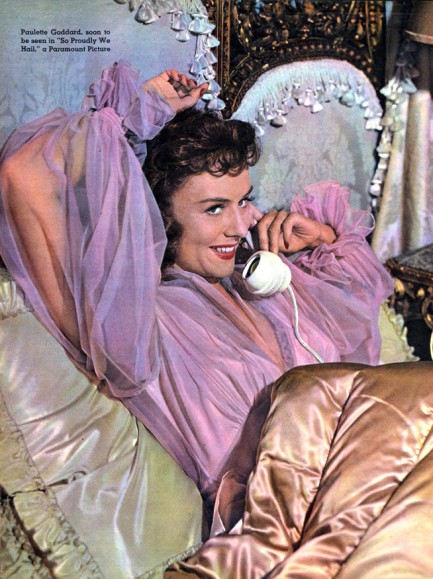 ---
The best Show in town.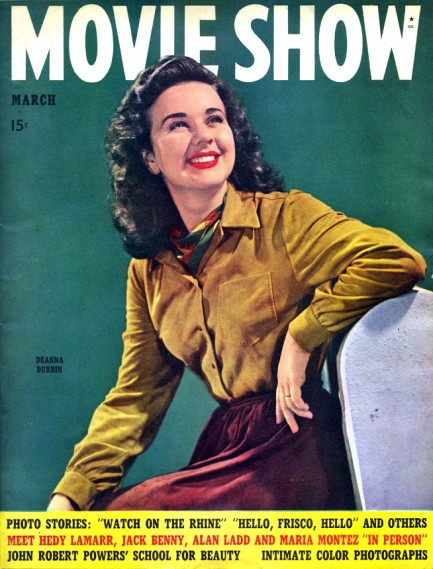 Above is a March 1943 cover of the American cinema/celeb magazine Movie Show featuring Deanna Durbin, an actress who is little known to people who don't watch old musicals, but who was a well-regarded performer in her day. She even won an Academy Juvenile Award in 1936 for her role in Three Smart Girls. Although that particular category of Oscar has been discontinued, Durbin hasn't—she's still around at age eighty-nine. Though her film career only spanned twelve years, her success was great enough to merit a star on Hollywood's Walk of Fame. Movie Show also features Hedy Lamarr, Maria Montez, Ann Miller, all of whom you see below along with a pretty tasty Chesterfield ad. We'll have more from this publication later.
---