Scorsese and DeNiro drive the message home.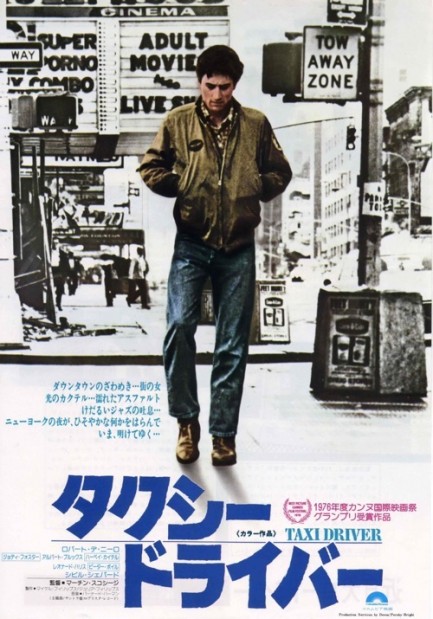 And as long as we're on the subject of movie posters, above you see the amazing Japanese promo for Martin Scorsese and Robert DeNiro's noir-influenced howl of anguish Taxi Driver. After being released Stateside in early 1976 it premiered in Tokyo today the same year, and it is simply one of the best pieces of cinema ever produced in the U.S. In a country where outrage is increasingly an accepted form of communication, its story of a broken soul trying to cope with his own formless anger—not using his mind, but using his gun—resonates ever more strongly each day. People see DeNiro's character Travis Bickle differently. Some see him as a fairly regular guy. Others see him as a mutant. Maybe it depends on one's own level of anger. Scorsese and screenwriter Paul Schrader aren't ambiguous about it—Bickle is a mutant who can blend in only because he's surrounded by people so overworked or beaten down or self-involved or dwarfed by circumstance that they don't notice that something is very wrong with him. Taxi Driver shows a man dealing with a sickness of anger, suggesting that the urge to commit violence is a cancer that could infest anyone if they aren't careful. It's a good message for times like these.
---
Elusive Whitey Bulger captured in California.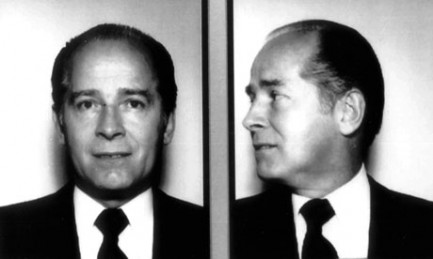 No, Whitey Bulger isn't a thing, but a person. James "Whitey" Bulger, a notorious gangster who had been on the FBI's 10 Most Wanted List for sixteen years and was the template for Jack Nicholson's character in Martin Scorsese's The Departed, was captured last night in Southern California. Bulger had once been leader of an Irish organized crime syndicate called the Winter Hill Gang, and worked for twenty years as an FBI informant in Boston. But he was dropped from the Feds' roster in the early 1990s and dropped out of sight himself in 1995 when his FBI handler John Connolly, Jr. tipped him off that an indictment was coming down. Bulger was arrested yesterday at a Santa Monica apartment complex and now will face a full slate of serious charges—including murder, conspiracy, money laundering, narcotics distribution, and extortion.
Though the FBI has traditionally worked with criminals to help secure evidence against other lawbreakers, the agency's relationship with Whitey Bulger was sharply criticized once it became public. At the time, the FBI was determined to cripple the Italian Mafia in Boston, and saw a partnership with Bulger and his Winter Hill Gang associate Stephen "The Rifleman" Flemmi as an acceptable bargain. But the relationship quickly became messy as the agency turned a blind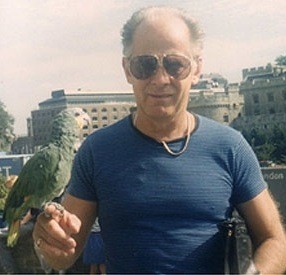 eye to Bulger and Flemmi's ongoing crimes. Flemmi himself testified in court in 1998 that the FBI gave him a free pass on numerous murders and attempted murders. He described it as having a "license to kill."
At one point, who was operating who came into serious doubt, as John Connolly—at Whitey Bulger's behest—passed along a case of wine and an envelope of cash to John Morris, Connolly's supervisor in the FBI. Morris later copped to accepting thousands in bribes from Bulger and Flemmi. And in the most bizarre twist, the already wealthy Bulger somehow won $1.9 million in the Massachusetts lottery but went on the run before he was able to claim his prize, leading to the sight of his sister marching into U.S. Appeals Court in an attempt to win rights to the cash. Safe to say that as convoluted a story as Scorsese filmed in
The Departed
, the truth was infinitely more complex. Whether that truth will ever come out is in doubt. Bulger, eighty-one years old, is certain to die in prison.
---
Robert De Niro was all the rage in this Martin Scorsese tour de force.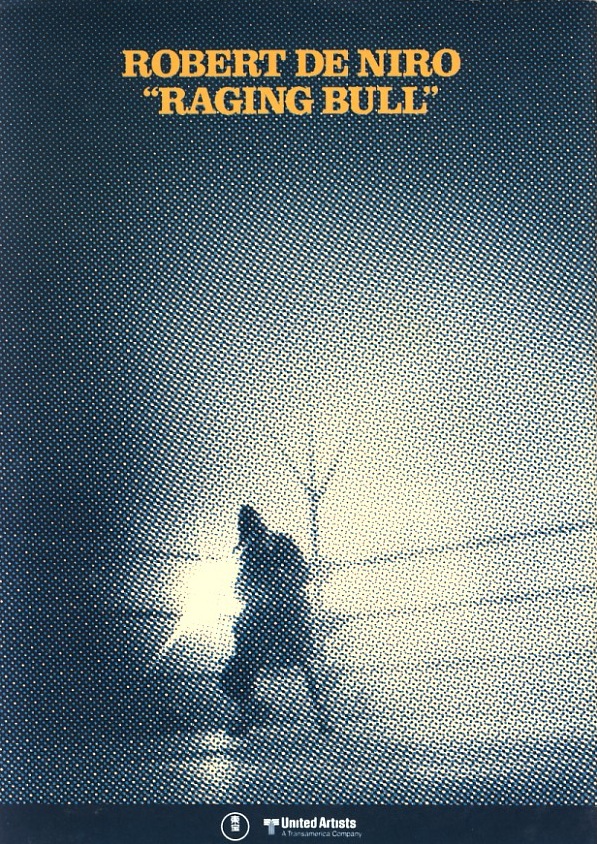 We flirted with the idea of saving this Japanese promo art for Raging Bull until this date next year, but then we stopped kidding ourselves, because, one—we lack self-discipline, and two—who's to say we'll even be here next year? So here you go. We'll have more on this film later, but for now, just dig the art. Raging Bull premiered in Japan today in 1980.
---