We knew Amazon working conditions were terrible, but now there's a monster too?
This is a brilliant Belgian poster for a terrible U.S. monster movie originally called Curucu, Beast of the Amazon, about plantation workers who are being terrorized by a horrible creature—possibly Jeff Bezos. Considering the low pay, hard work, and lack of bathroom breaks, the workers should have gone on strike long before the monster showed up. Unfortunately, before they can get organized the man in charge materializes to set everything straight. That would be John Bromfield, armed with a machete and a strong sense of entitlement, while Not of This Earth's Beverly Garland plays a scientist wandering the same patch of jungle looking for a miracle drug.
You'll need a miracle drug too, if you plan to watch this flick—we recommend mescaline. But really, you don't even have to watch it, because the poster covers all the salient plot points—Garland is attacked by a big rubber snake, Bromfield is attacked by a big stuffed leopard, they get tied up at one point but escape, and the villain dangles some shrunken heads at them before ending up one himself. Rapacious capitalism is saved again. The movie was called Curuçu sorcier de l'Amazone in French and Tovenaar van de Amazone in Dutch. There's no known Belgian premiere date for it, but it opened in the U.S. in late 1956 and probably reached Belgium in the middle of 1957.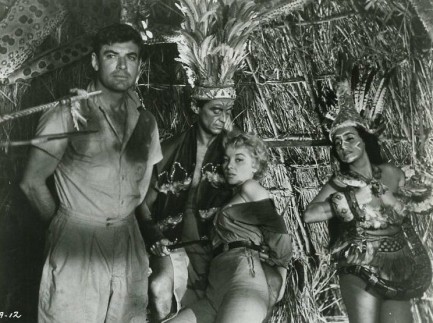 ---
Hi there. Is this planet taken?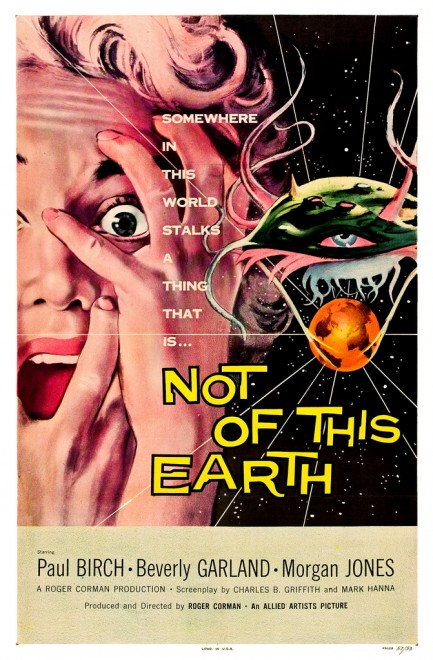 Above is an iconic poster for Roger Corman's sci-fi thriller Not of This Earth, about an alien in human form who is beamed to Earth through a matter transmitter and enacts a scheme to be transfused with human blood. If he derives the hoped for benefits from these transfusions, his entire dying race will come to Earth, in what you might call an interstellar migrant caravan, only rather than fleeing danger and finding good paying jobs their intent is to enslave humanity and steal its blood. This film is one of the all-time cheeseball classics, well worth a viewing, especially when accompanied by drinks and friends. And it's just about 70 minutes long, which is a nice bonus. The poster art, which is the entire point of this post, is by Albert Kallis, one of the great American movie artists. More from him later, or if you prefer, more of his unearthly talent now. Not of This Earth premiered in the U.S. today in 1957.

I'm getting some really high readings on this. We better try the rectal thermometer.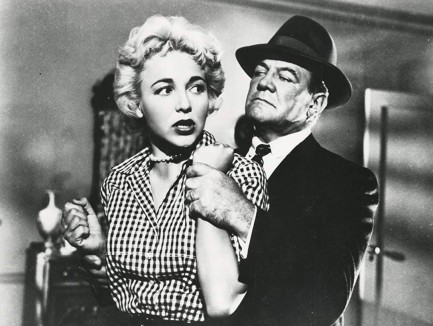 I don't have a rectum, baby. But I have a rection. That's the word in Earthtongue right?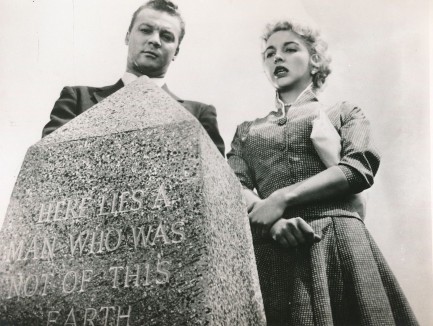 Sure, he wanted to enslave humanity. But it felt good to be wanted.
---
Clearly they have consent issues.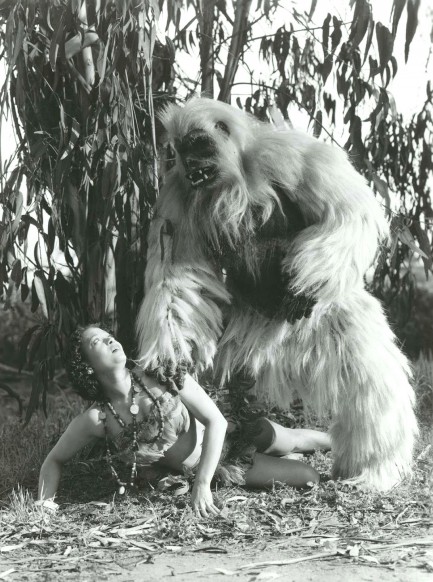 Monsters may be horrible but you can't fault their taste. To borrow a line from one of their number, they're automatically attracted to beautiful. It's like a magnet. We wonder if it's possible their need is an unconscious manifestation of the id of male Hollywood screenwriters. Or were the writers deliberately making commentaries about male power, nuclear paranoia, and environmental degradation? Well, those are questions for smarter people than us. We take monsters at face value. Maybe that's not what we mean—some don't even have proper faces. What we mean is we judge them as individuals.
Most monsters are direct, like Pongo, above, trying to impress Maris Wrixon in the 1945 movie White Pongo, while some, on the other claw, are more circumspect. But the language barrier usually sabotages their delicate efforts. "I know an independently owned café that serves a killer macchiato," comes out as a series of glottal grunts. "I loved La La Land too and I think the naysayers are mainly joyless jazz purists," comes out as a sustained sodden hiss. Even if these vocalizations could give a true indication of the inner depths of a monster's personality, women generally wouldn't give them a shot anyway, because despite what they say, looks really do matter. What's a monster to do?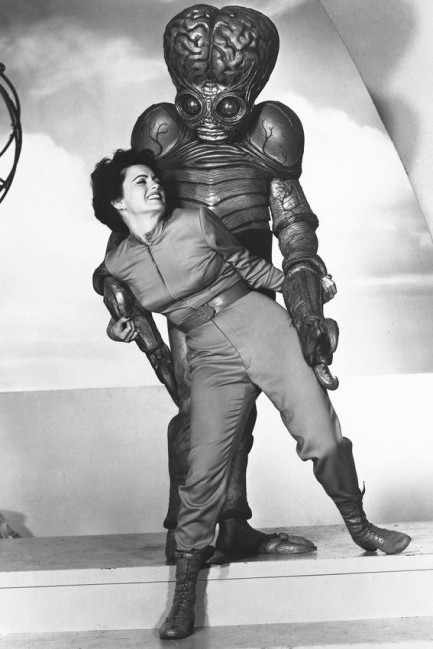 This Island Earth, with Faith Domergue.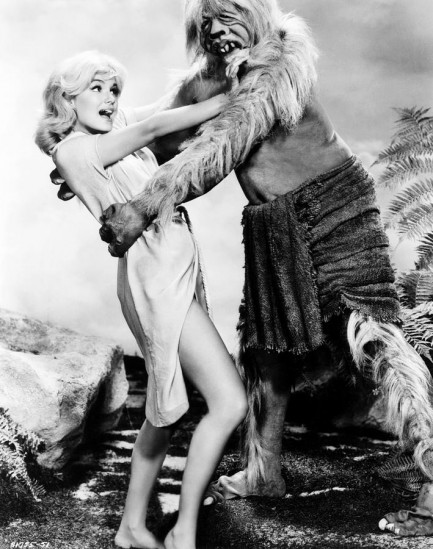 The Time Machine, with Yvette Mimieux.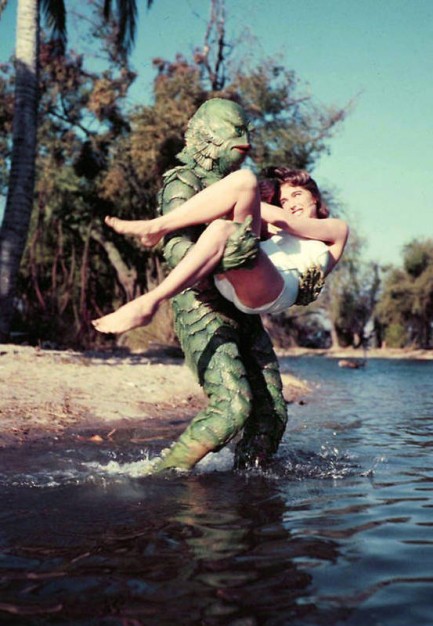 Creature from the Black Lagoon, with Julie Adams.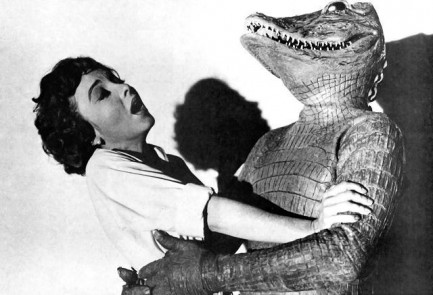 The Alligator People, with Beverly Garland.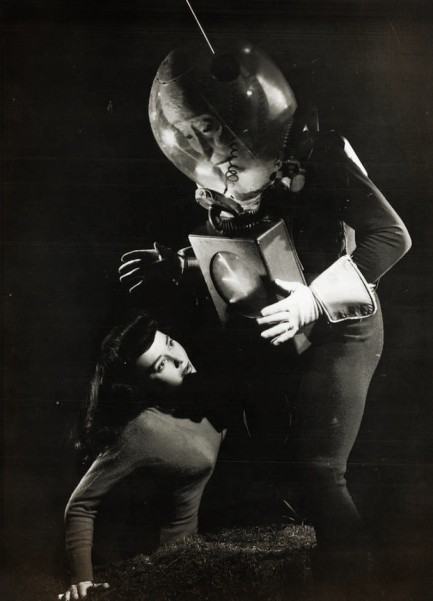 The Man from Planet X, with Margaret Field.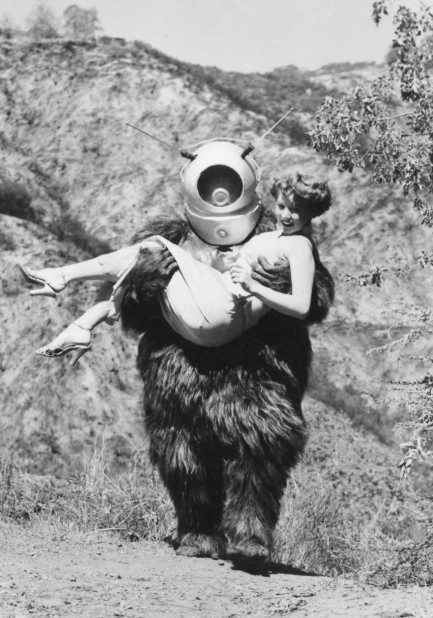 Robot Monster, with Claudia Barrett.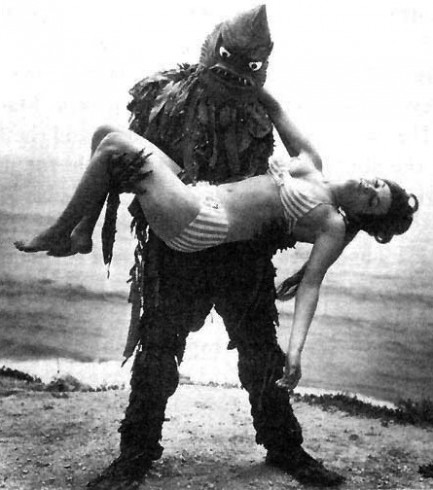 The Beach Girls and the Monster, with Sue Casey.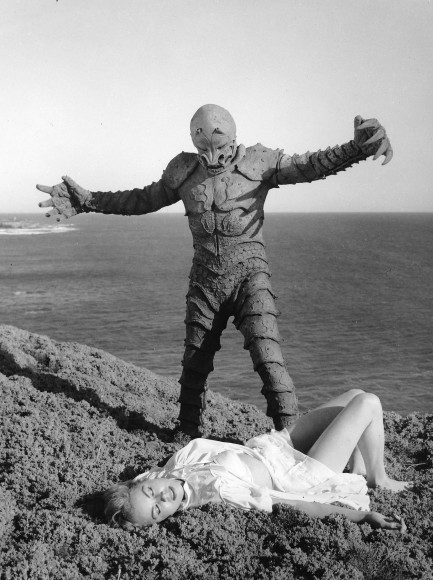 The Monster of Piedras Blancas, with Jeanne Carmen.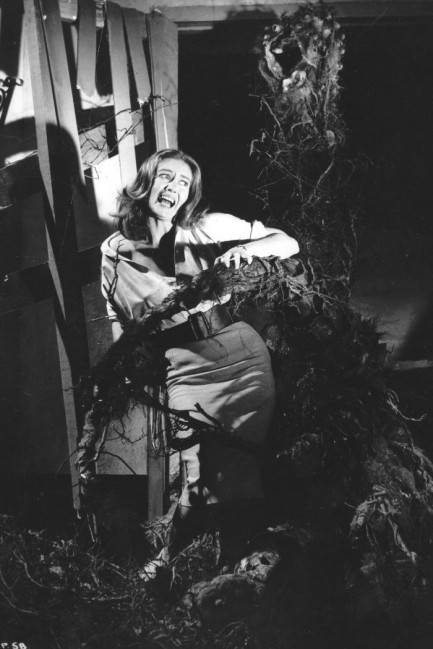 The Day of the Triffids, with Janette Scott.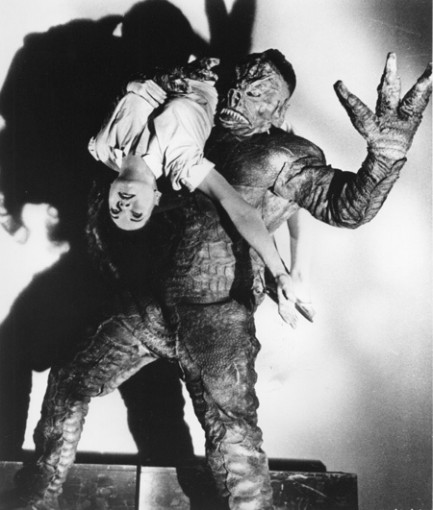 It! the Terror from Beyond Space, with Shirley Patterson.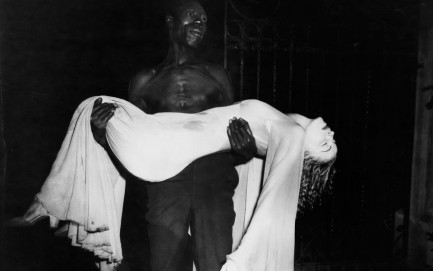 I Walked with a Zombie, with Christine Gordon.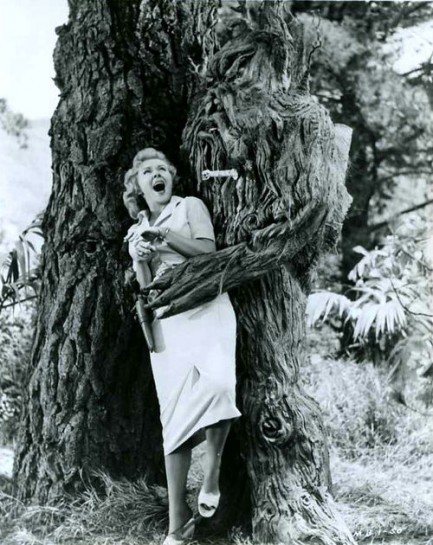 From Hell It Came.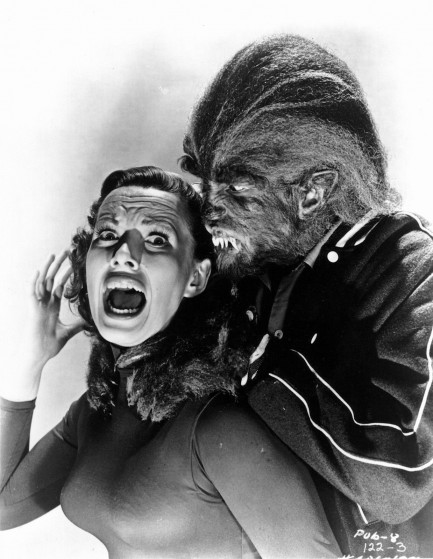 I Was a Teenage Werewolf, with Dawn Richard.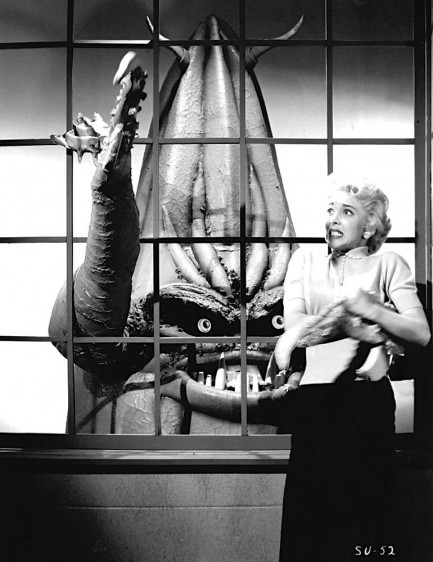 It Conquered the World, with Beverly Garland again crushing a monster's hopes for love and fulfillment.
El retorno del Hombre Lobo, aka Night of the Werewolf.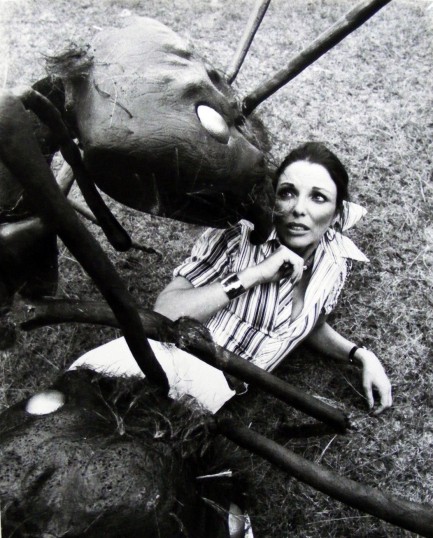 Empire of the Ants, with Joan Collins.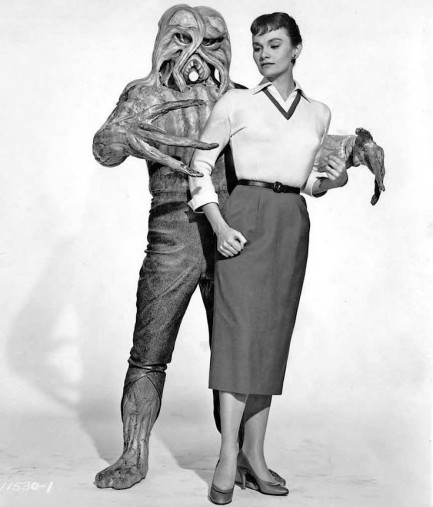 I Married a Monster from Outer Space, with Gloria Talbott.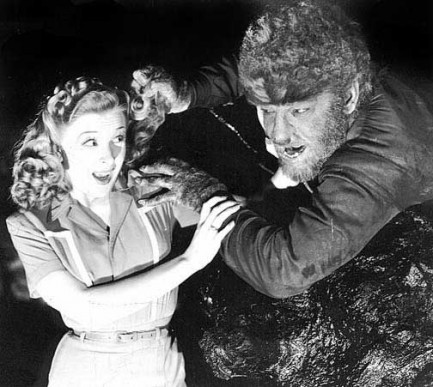 The Wolf Man, with Evelyn Ankers.


---