As your decorator, I recommend putting the rug over there for a splash of color, and the clock over here to remind you that you're basically just worm food.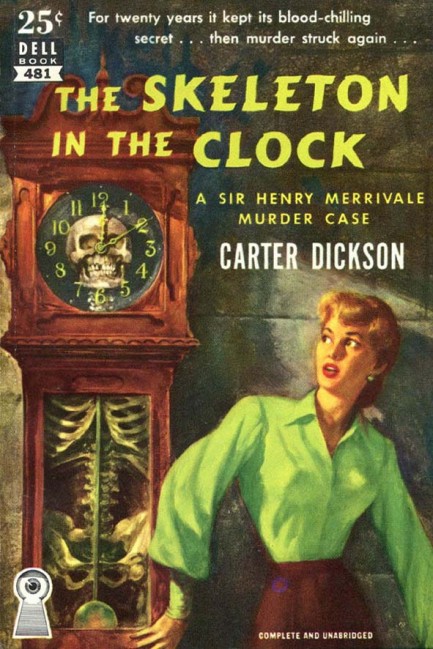 Carter Dickson was the pseudonym of John Dickson Carr, one of the most prolific authors of the pulp and post-pulp periods, as well as what is known as the Golden Age of Detective Fiction. He published novels from 1930 to 1972, and also wrote radio scripts and worked in television and movies. 1958's The Skeleton in the Clock

is not one of his most appreciated books, but we love the Robert Stanley cover art. By the way, there's literally a skeleton grandfather clock in this book, which prompted us to wonder if such a thing existed in real life. After much searching, the answer is no, apparently, but we did remember there was a coffin clock with a skeleton inside in the midnight movie classic

The Rocky Horror Picture Show

. Time is fleeting indeed.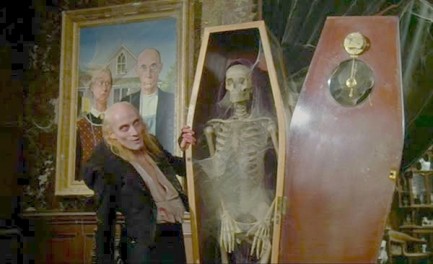 ---
Um, what exactly did you mean when you said your boyfriend was a big dumb ape?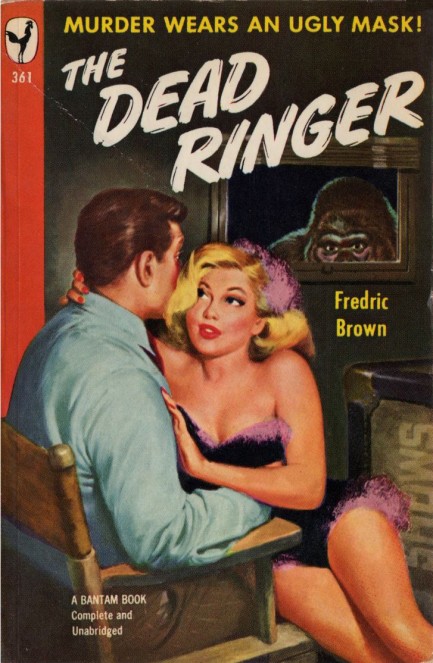 We love this cover for Fredric Brown's 1949 thriller The Dead Ringer, with art by Robert Stanley. Brown wrote about 250 books, including The Fabulous Clipjoint. This one includes the same protagonists as Clipjoint, Ed Hunter and Uncle Ambrose, sticking close to Am's circus roots (he was a carny pitchman before he became an amateur sleuth) as they try to solve a series of slayings plaguing a traveling carnival. This one may be worth a read solely for the bizarre fact that a chimp gets murdered. How many mysteries can say that?
---