The deeper you go into this casino the wilder it gets.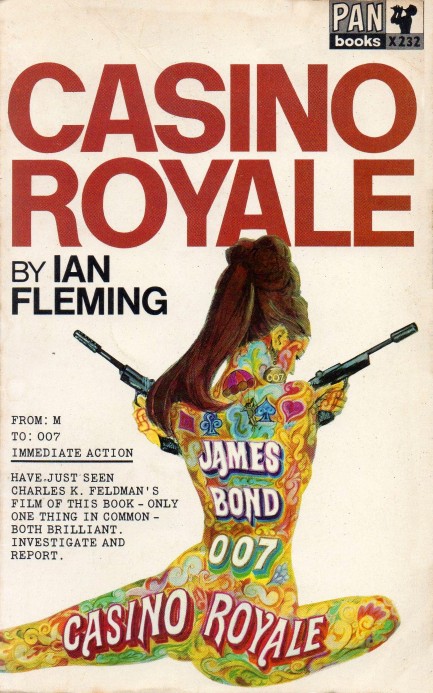 Today we're circling back to James Bond—as we do every so often—to highlight these movie tie-in editions of Ian Fleming's Casino Royale. The movie these are tied into is not the 1963 original with Sean Connery, but the 1967 screwball version with David Niven as Bond and Woody Allen as Bond's nephew Jimmy Bond. If you haven't seen it, just know that it was terribly reviewed, with Time magazine calling it an "an incoherent and vulgar vaudeville." These covers are derived from the Robert McGinnis Casino Royale movie poster, which is an all-time classic. McGinnis created two versions of the poster—one with text and one without, with the painted patterns on the female figure varying slightly. You see both of those below.
The paperback was published by both Great Pan and Signet, and the cover art was different for the two versions. The Great Pan version at top is McGinnis's unaltered work, but the Signet version just above was painted by an imitator, we're almost certain. We'd hoped to answer this for sure by visiting one of the numerous Bond blogs out there, but none of them have really discussed the difference between the 1967 paperback covers. That leaves it up to us, so we're going to say definitively that the Great Pan version was not painted by McGinnis. Whoever the artist was, they did a nice job channeling the original piece, even if the execution is at a much simpler level.
Moving back to the posters, if you scroll down you'll see that we decided to focus on the details of the textless version to give you a close look at McGinnis's detailed work. The deeper you go the more you see—dice, poker chips, glittery earrings, actor portraits, and more. If you had a huge lithograph of this on your wall and a tab of acid on your tongue, an entire weekend would slip past before you moved again. This is possibly the best work from a paperback and movie artist considered to be a grandmaster, one the greatest ever to put brush to canvas. If anyone out there can tell us for sure who painted the Signet paperback—or whether it is indeed McGinnis—feel free to contact us.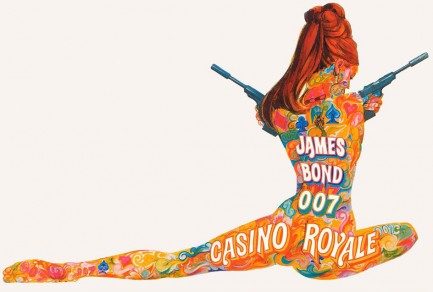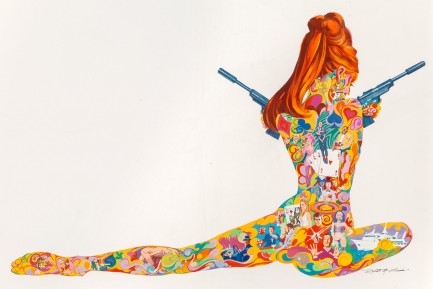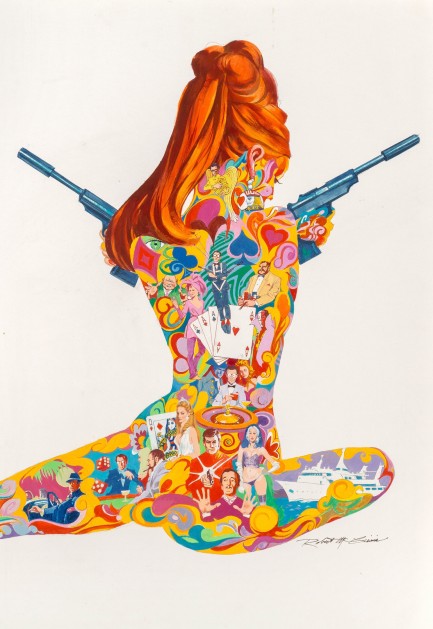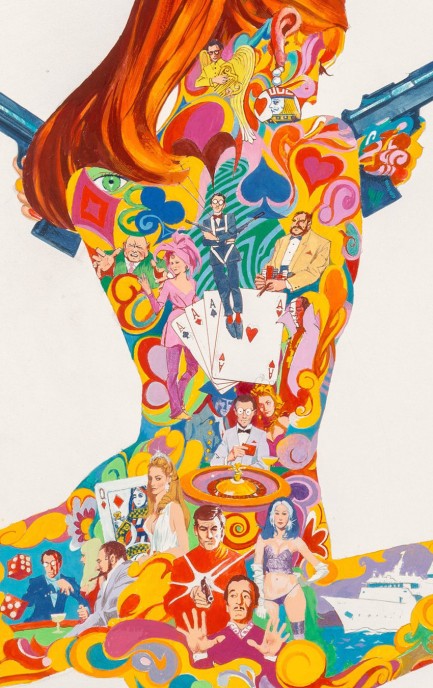 ---
It's possible to have too many Bonds.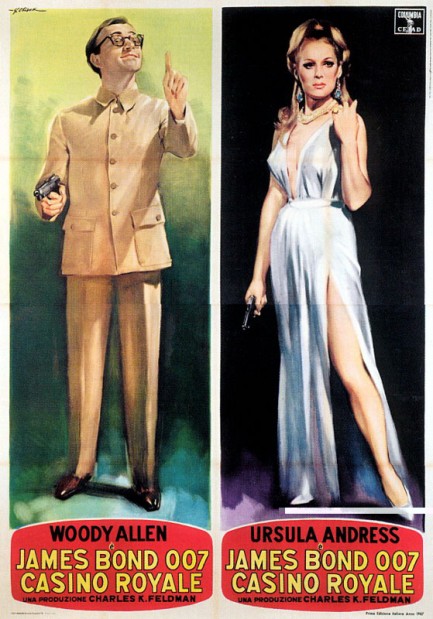 1967's Casino Royale wasn't a global Christmas movie in the sense that today's films are, however it did premiere Christmas week in ten European countries, as well as today in Japan. The movie wasn't good. Basic idea: Sean Connery is an imposter, so the real James Bond in the form of David Niven is coaxed out of retirement, and he comes up with a plan to confuse his arch enemies SMERSH by renaming all British agents—male and female—James Bond. Time's review of Casino Royale was headlined "Keystone Cop Out," and The New York Times' Bosley Crowther was just as scathing, noting that "since it's based more on slapstick than wit, with Bond cliché piled upon cliché, it tends to crumble and sprawl."

But one thing about holiday blockbusters—past and present—is that they're expensively promoted. The many posters produced to sell
Casino Royale
were top notch. A U.S. poster painted by the legendary Robert McGinnis remains one of his most iconic
pieces,
but we also like these Italian quattro foglio promos painted by the extensively and expensively collected Giorgio Olivetti. We saw a set of these asking $8,500 at an auction site. By contrast, below are several U.S. promos, not paintings but photo-illustrations, on which the film's secondary players get starring roles. They aren't nearly as collectible as the movie's paintings, but they're pretty, so we're sharing them as well.




---
Woody Allen grabs a tiger by the tail.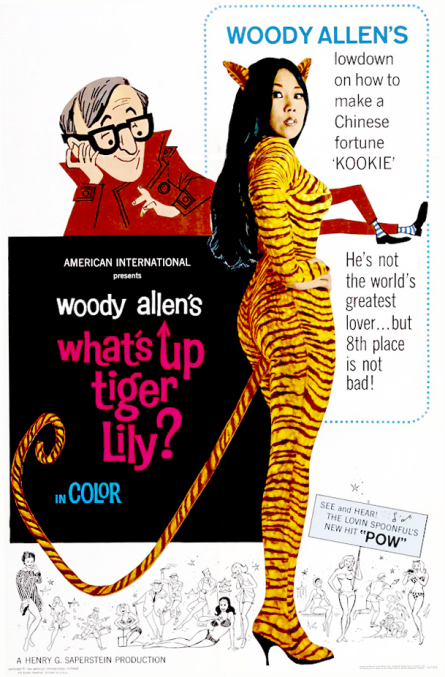 Long before Quentin Tarantino mined Asian cinema, Woody Allen had the crazy idea to re-dub and re-edit a Japanese crime thriller called Kokusai himitsu keisatsu: Kagi no kagi—aka International Secret Police: Key of Keys—and change the plot so that it revolved around an egg salad recipe. Though silent films had been dubbed with dialogue before, Allen spliced and diced a J-pulp cop flick starring Mie Hama, Akiko Wakabayashi, and others into something new and crazy, and in the process invented Mystery Science Theater 3000 twenty-two years before Joel Hodgson. This was Allen's first film, and could well have been his last if the idea flopped. But instead he struck gold, today in 1966. The rest is film history.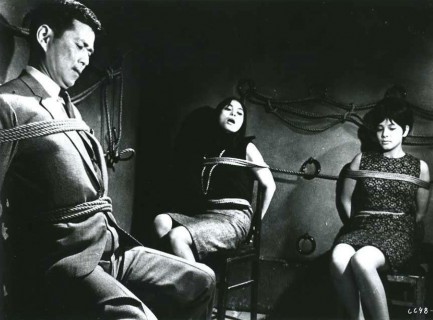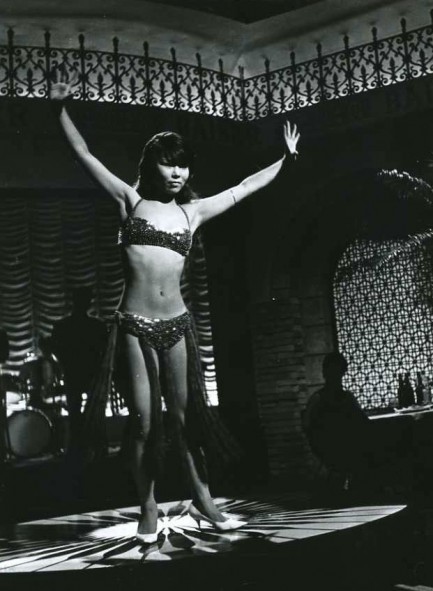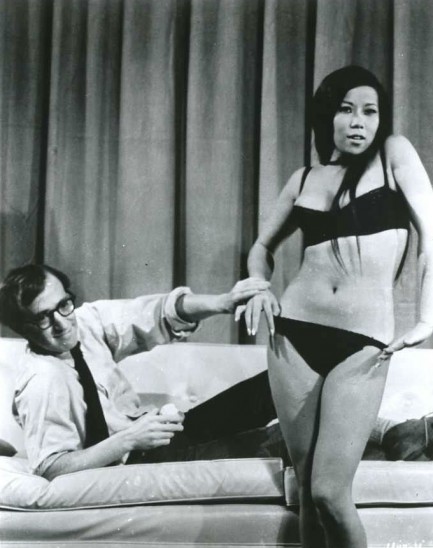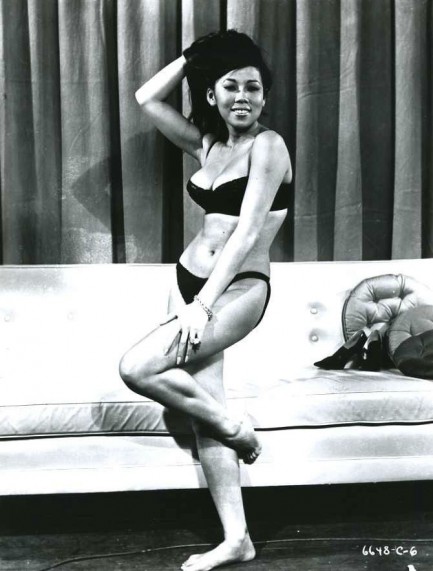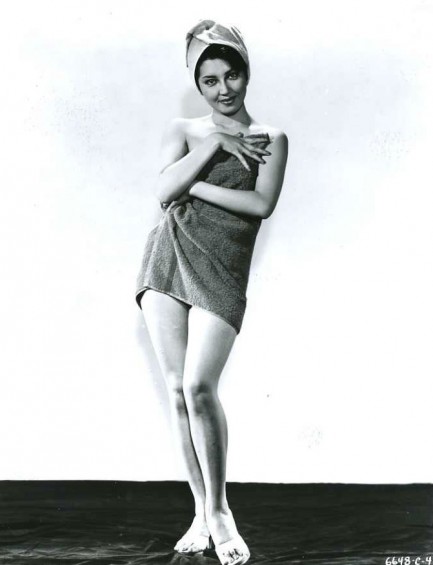 ---