Even in decline Confidential had eyes and ears everywhere.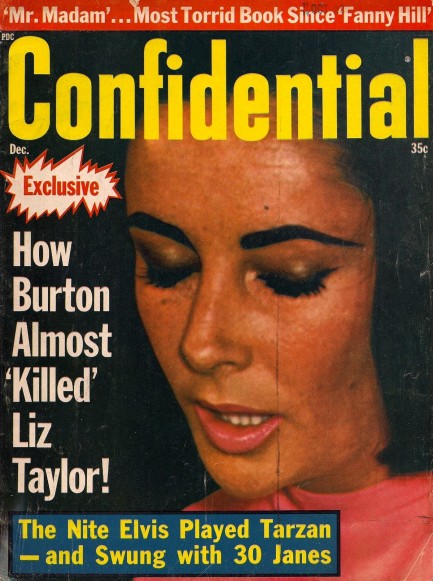 Liz Taylor and her tan star on this cover of Confidential published this month in 1964. The magazine was just a shadow of its former self by this point, but the inside stories still manage to raise eyebrows and give the impression of tabloid spies in every corner of Hollywood. Simon Lee Garth's exposé accuses Richard Burton of being an abusive drunk, but that was not a scoop—other tabloids had written the same. But elsewhere, investigative journo Beverly Hillis (nice, right?) shares the amusing story of Elvis Presley throwing a party at which only women were invited. Apparently "swivel hips", as Confidential refers to him, paraded around in a series of bizarre costumes and generally acted the fool, prompting some (but crucially not all) of his guests to leave in a huff. In another story Jack Asher writes about bottomless swimsuits worn by gay men as a response to the topless women's suits that had appeared on European beaches, and also tells readers the fashion house Lanvin Paris had begun selling a bottomless suit for women. We don't buy that one for a minute, but there are some interesting photos of women wearing breast-baring dresses. Elsewhere in the issue you get tabloid fave Jayne Mansfield and her husband Mickey Targitay, Peter Sellers sexing himself into a heart attack with Britt Ekland, Barry Goldwater playing dirty politics, and an impressively tasteless graphic of Malcolm X. All below.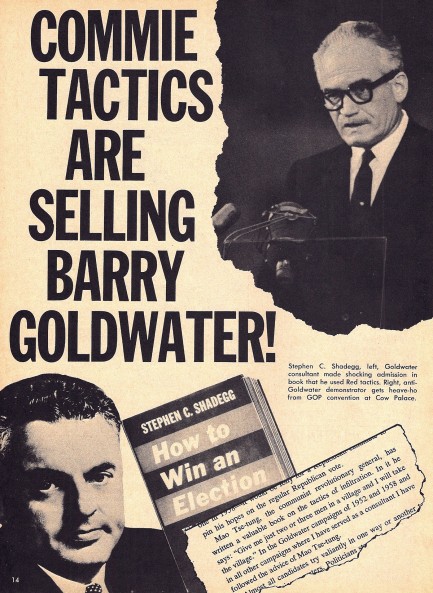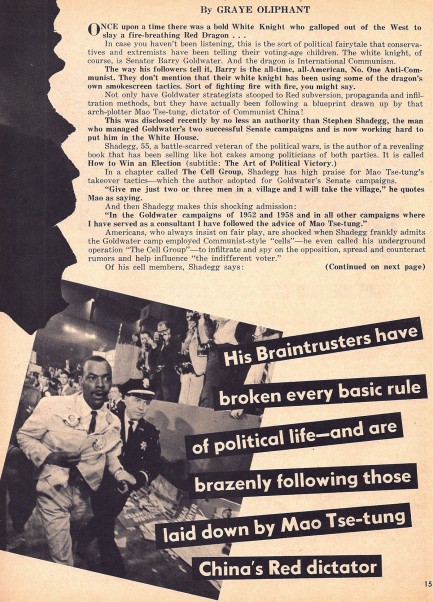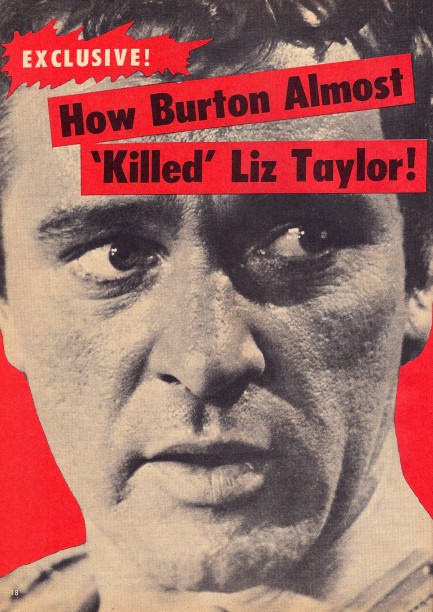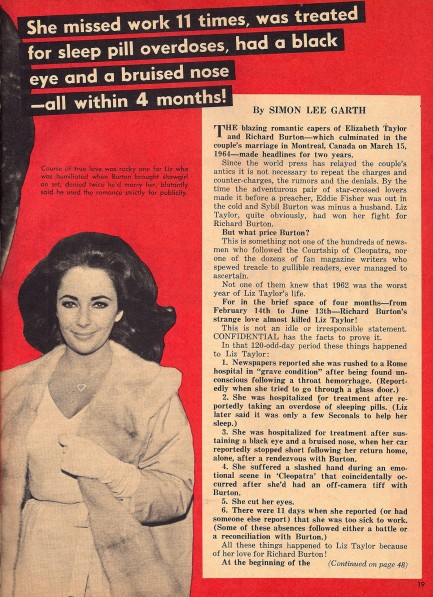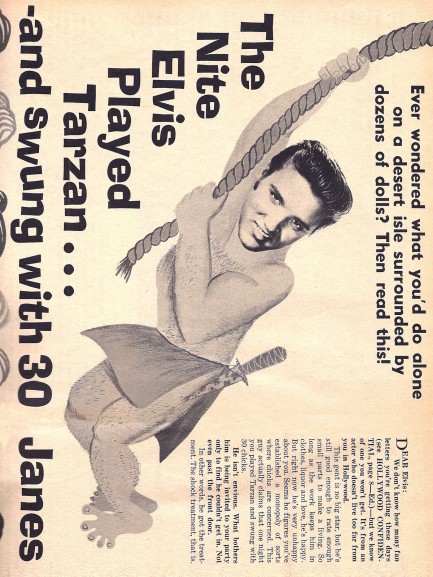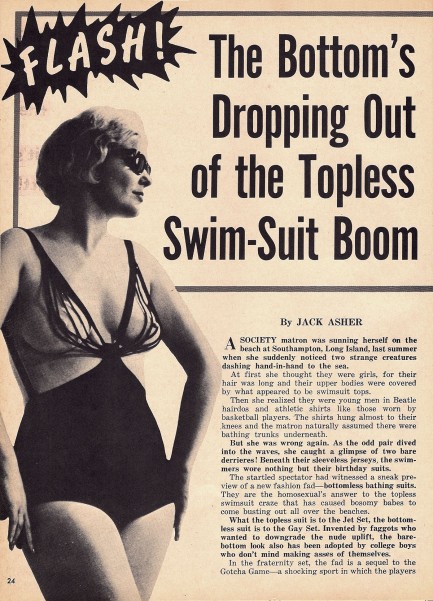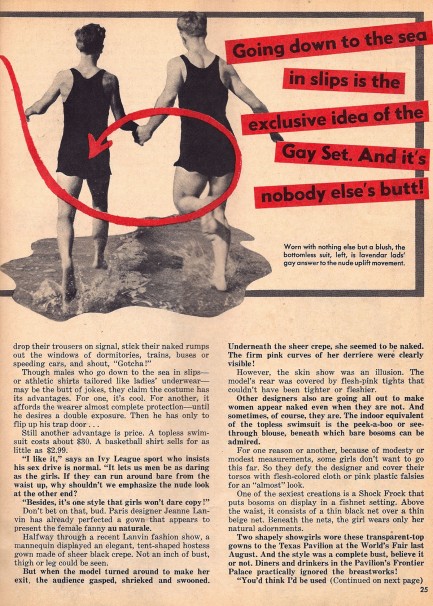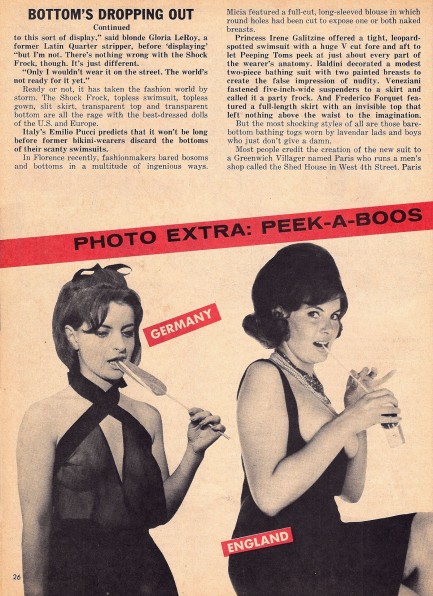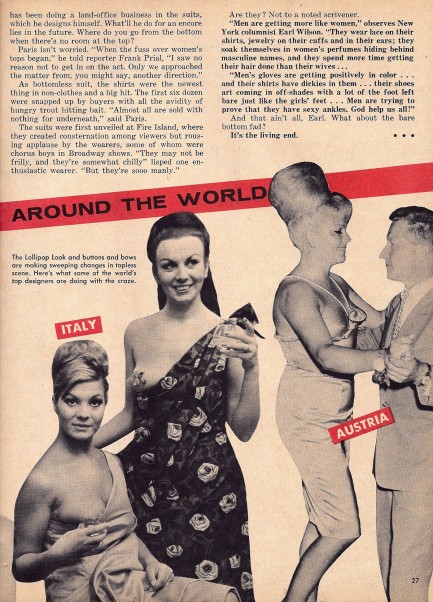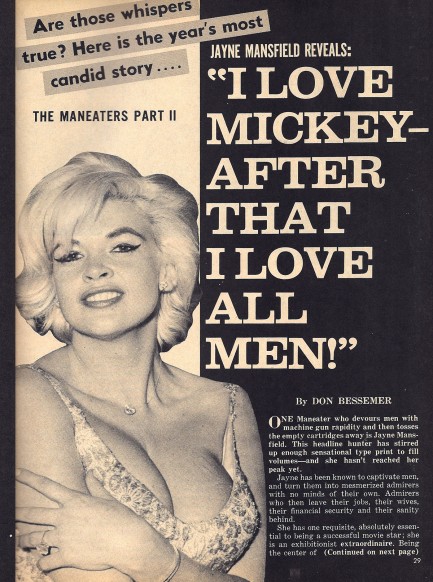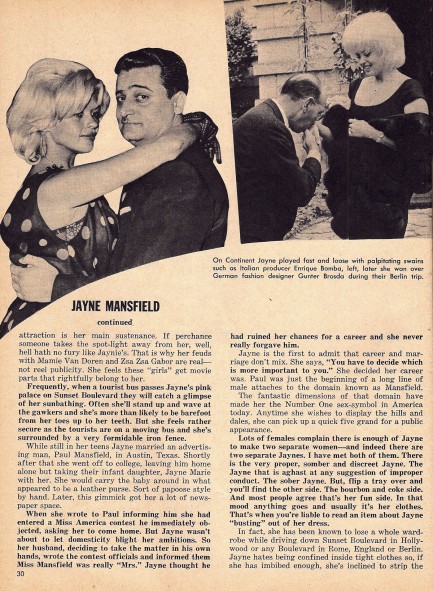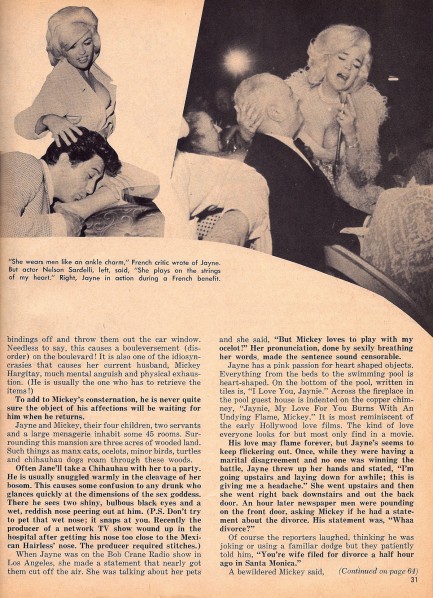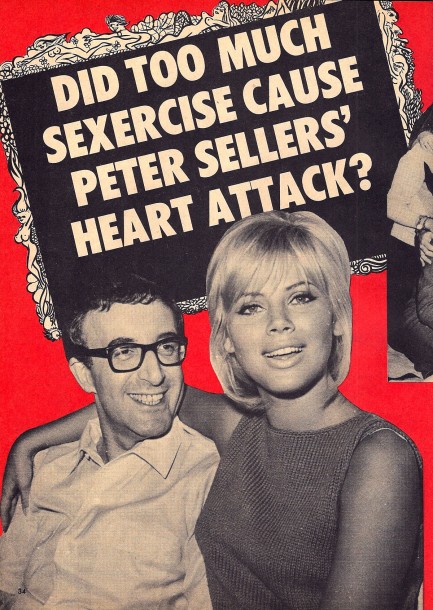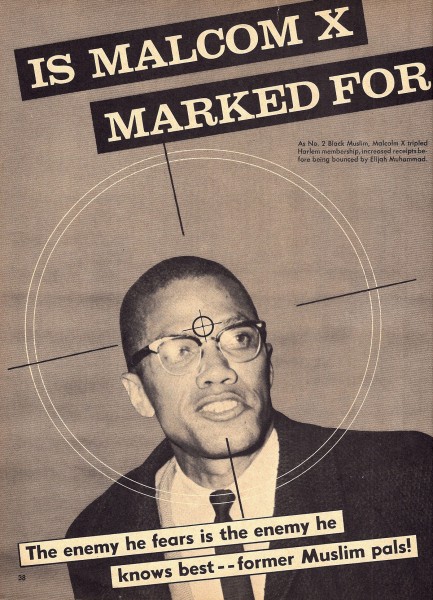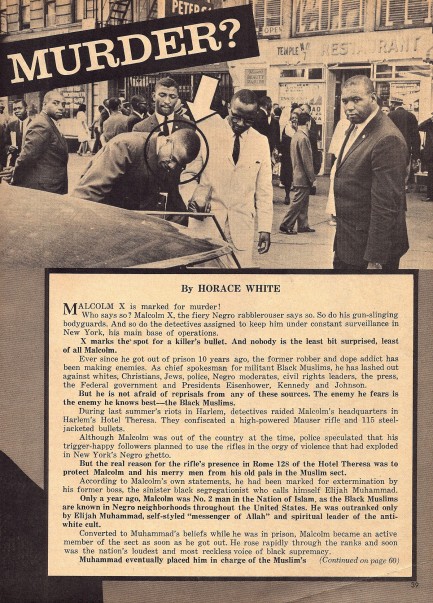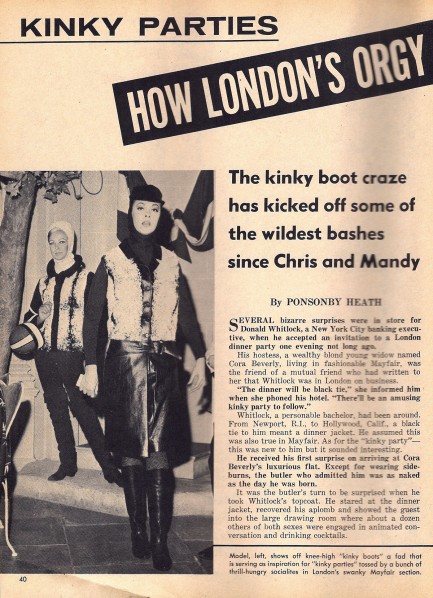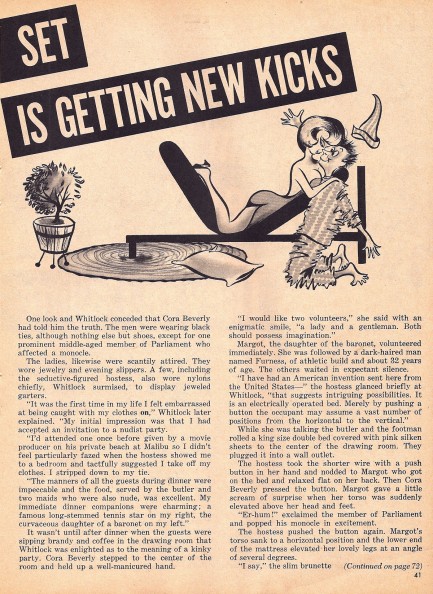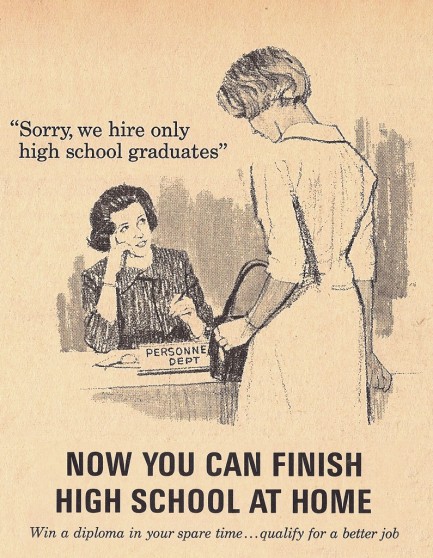 ---
It's possible to have too many Bonds.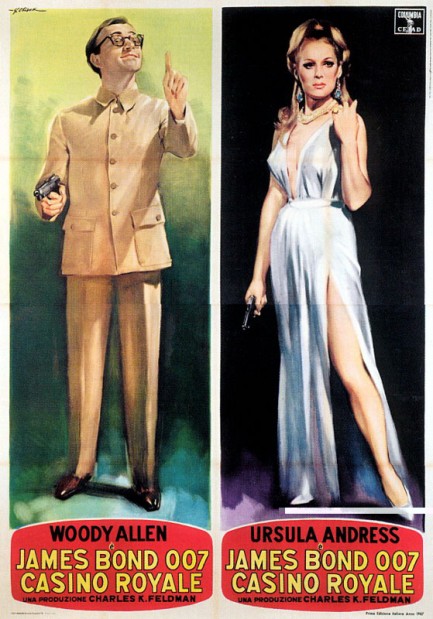 1967's Casino Royale wasn't a global Christmas movie in the sense that today's films are, however it did premiere Christmas week in ten European countries, as well as today in Japan. The movie wasn't good. Basic idea: Sean Connery is an imposter, so the real James Bond in the form of David Niven is coaxed out of retirement, and he comes up with a plan to confuse his arch enemies SMERSH by renaming all British agents—male and female—James Bond. Time's review of Casino Royale was headlined "Keystone Cop Out," and The New York Times' Bosley Crowther was just as scathing, noting that "since it's based more on slapstick than wit, with Bond cliché piled upon cliché, it tends to crumble and sprawl."

But one thing about holiday blockbusters—past and present—is that they're expensively promoted. The many posters produced to sell
Casino Royale
were top notch. A U.S. poster painted by the legendary Robert McGinnis remains one of his most iconic
pieces,
but we also like these Italian quattro foglio promos painted by the extensively and expensively collected Giorgio Olivetti. We saw a set of these asking $8,500 at an auction site. By contrast, below are several U.S. promos, not paintings but photo-illustrations, on which the film's secondary players get starring roles. They aren't nearly as collectible as the movie's paintings, but they're pretty, so we're sharing them as well.




---
Waiting for the Snowdon to fall.
You'd never put blue, orange and yellow together in an outfit, but those colors coordinate nicely on this Uncensored from August 1971. The magazine had launched in 1953 and become a heavy hitter in the tabloid market by the end of the decade, but by now was running on fumes. However, that didn't stop it from taking swipes at big targets—in this case England's royal family in the person of Princess Margaret, Countess of Snowdon.
Born Margaret Rose, the princess had a rebellious spirit and had married late—at age twenty-nine—to a commoner named Anthony Armstrong-Jones. Jones was a photographer, and if you're going to slander a photographer, of course you call him a pornographer. There's no evidence Jones—who became Lord Snowdon—was head of a smut ring, as Uncensored claims, but he did shoot his share of nudes, like the image of Gloria Higdon below, dating from 1959.
His marriage to Princess Margaret was known to be on shaky ground, and by the time the above cover appeared, the couple were leading separate lives. Margaret indulged in a series of indiscreet affairs, and had unconfirmed liaisons with the likes of Mick Jagger, David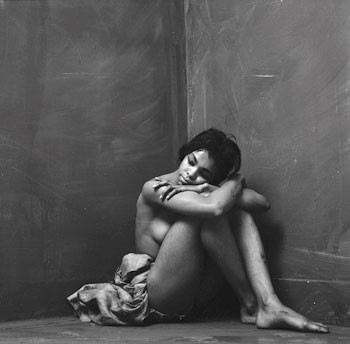 Niven, and Peter Sellers. Snowdon, on the other hand, became a royal favorite, shooting official portraits for the Queen and other family members.
Lord Snowdon and his wife finally divorced in 1978, and Princess Margaret died at the relatively early age of seventy-two after many years of drinking and consuming prescription drugs. We may actually revisit her at some point—her life reads like just the sort of melodrama we're interested in here.
---