You wouldn't mind terribly if we steal your nickname?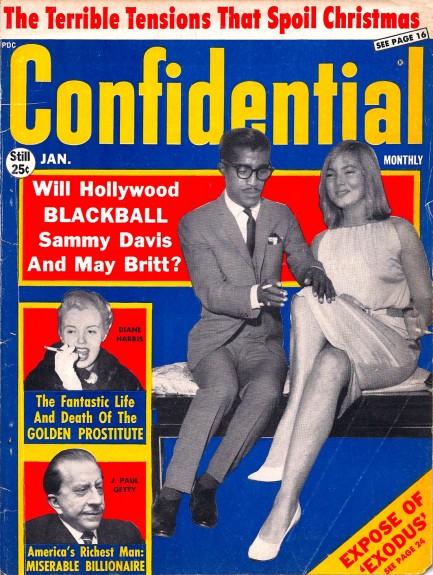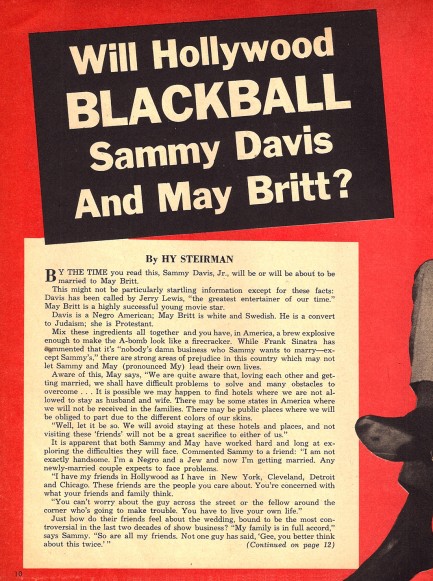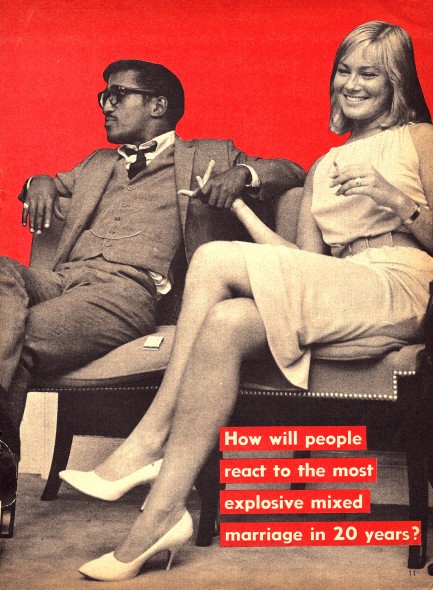 Today we have a January 1961 issue of Confidential for you, with cover stars Sammy Davis, Jr. and May Britt. Since we've already discussed Sammy and May of late, and even made her a recent femme fatale, we'll skip past them and focus on another interesting story—the tale of Diane Harris, who shot to notoriety as a witness in the infamous Minot Jelke pimping trial of 1952. We wrote about it back in 2009—Jelke was an oleomargarine heir who was cut off from his trust fund and decided to turn his girlfriend Patricia Ward into a prostitute in order to make ends meet. Ward became known as the "Golden Girl of Vice" and "The Golden Girl of Café Society," which is why it's interesting that Confidential calls Diane Harris "The Golden Prostitute." Apparently Jelke had the Midas touch.
Confidential wastes no time in its article. It begins: She gave herself a title… Lady Diana Harrington. The New York D.A. gave her another… the Golden Girl of Café Society. Houston police gave her a third, less flamboyant title… prostitute. Uh oh—the New York District Attorney's nickname for Harris is identical to Patricia Ward's nickname. After a few more paragraphs of reading, it becomes clear that Confidential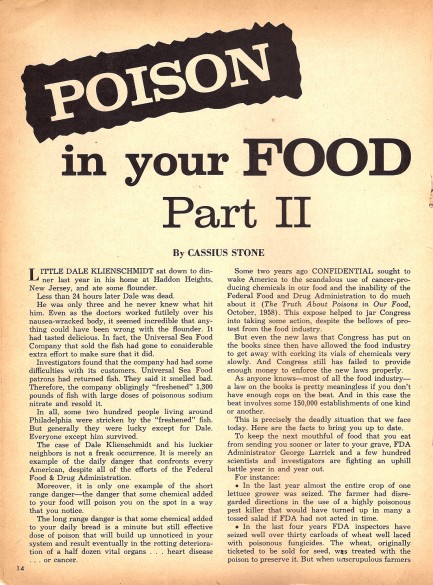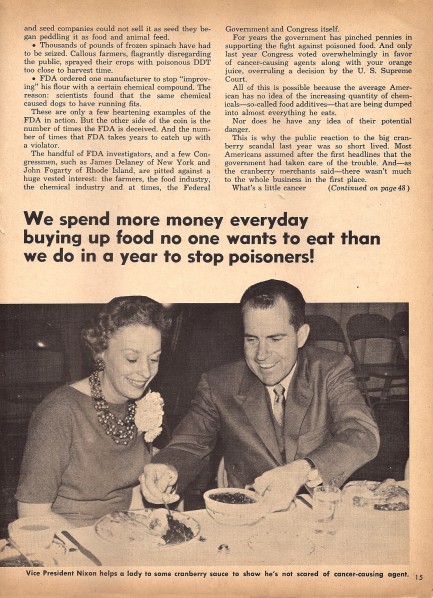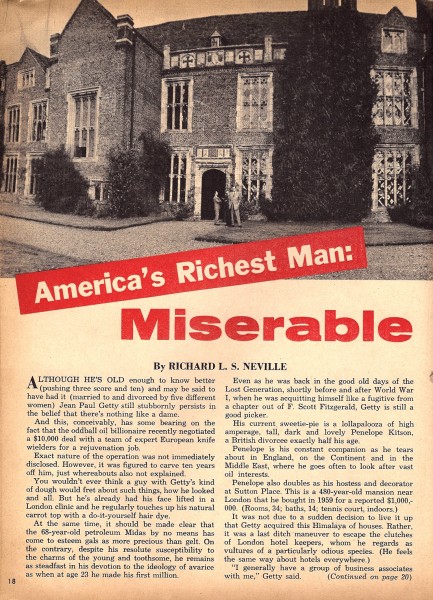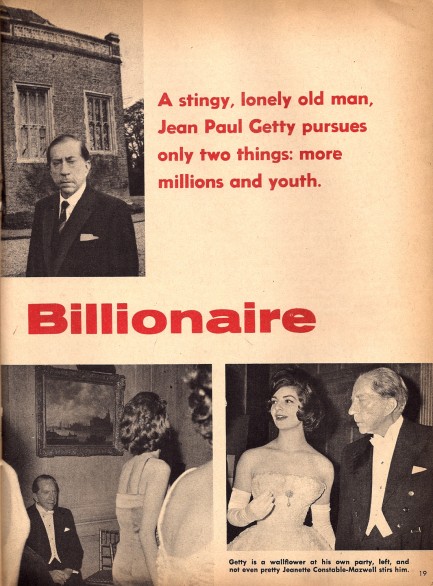 believes the Golden Girl is Diane Harris—not Patricia Ward. While it's true that Harris did use some aliases, including Lady Diana Harrington and Mary Lou Brew, nowhere is the name Ward mentioned as a pseudonym.
After searching high and low for some idea of whether we were dealing with one woman or two, we finally saw in the IMDB page on the 1995 Jelke biopic Café Society that Patricia Ward and Diana Harris were played by separate actresses—Lara Flynn Boyle and Cynthia Watrous. So was there some confusion in 1961 about who exactly the Golden Girl was? Looking back at our original post on the subject, the photo of the Golden Girl on the cover of Hush-Hush

shows a blonde.

Confidential

has numerous photos of their Golden Girl Diane Harris, and a single photo they identify as Pat Ward. Just plain Pat—no Golden, no nickname at all. And she's a brunette. So not only does

Confidential

identify the Golden Girl of Café Society as Diane Harris—turns out so did that March 1961

Hush-Hush

. We just didn't realize it at the time.
Our mistake came when we first researched the Jelke trial and found a New York Times movie review that identified Pat Ward as the Golden Girl. From that point we just ran with it and never thought to doublecheck. Until today. Now, based on available evidence, it seems that at some point over the intervening years the historical record got twisted and the label Golden Girl was applied to Patricia Ward, where it stayed even up to the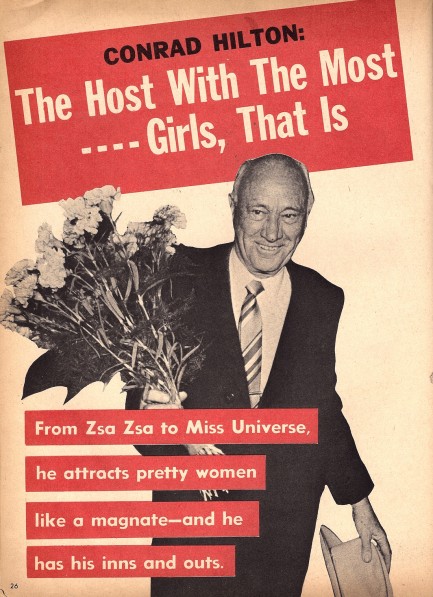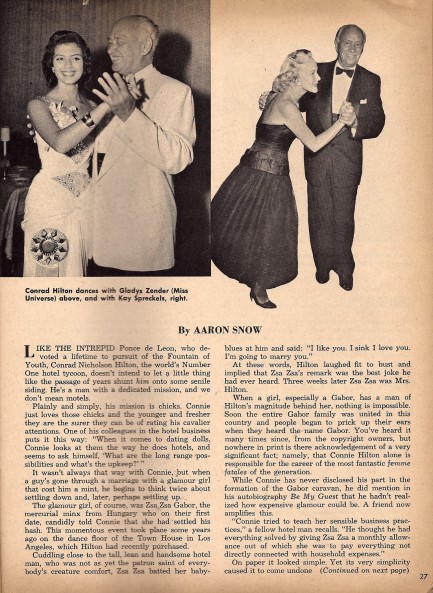 point of a Hollywood motion picture misidentifying her. She was indeed Minot Jelke's girlfriend, whereas Harris was just a fellow high dollar prostie (and corroborating witness), so perhaps some clever scribe, or even the writers of the 1995 movie, decided that such a catchy nickname would be better applied to the girlfriend. At least that's the way it looks to us.
If we're right, is any of this important? Does it matter that Harris was fleeced of her nickname, or possibly that a movie took liberties and those liberties were later assumed to be facts? Do we expect an award? No, not really, but it's interesting. Confidential barely recounts the events of the trial. The story is actually about Diane Harris being found dead in a Houston apartment eight years afterward, in September 1960. She was still a prostitute at the time. Confidential tells us: The blonde's nude body was in bed, a green sheet and a pink blanket covered her. Pictures of her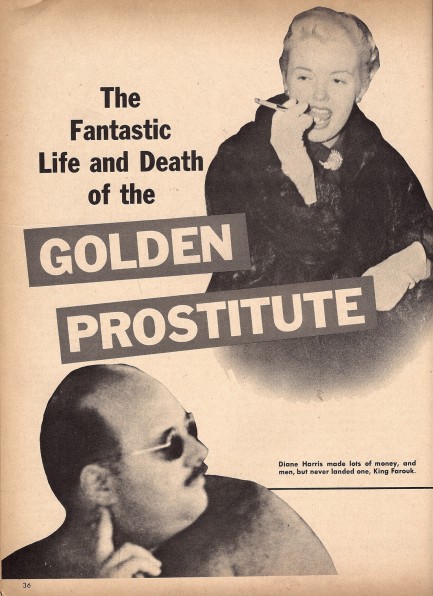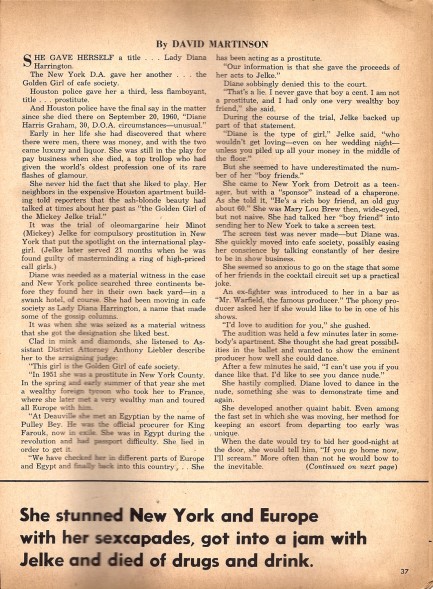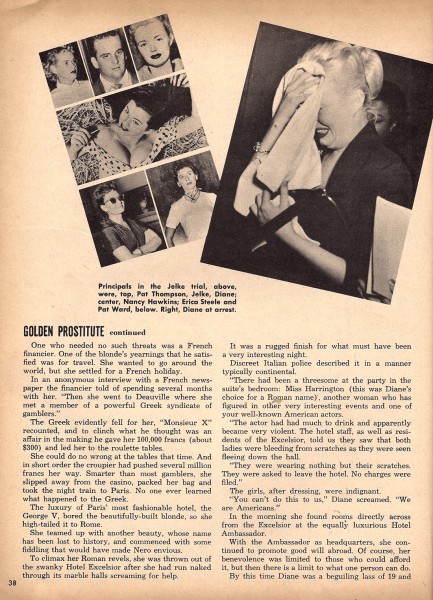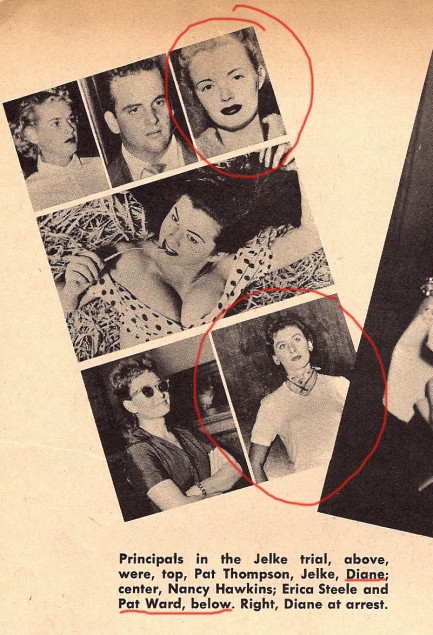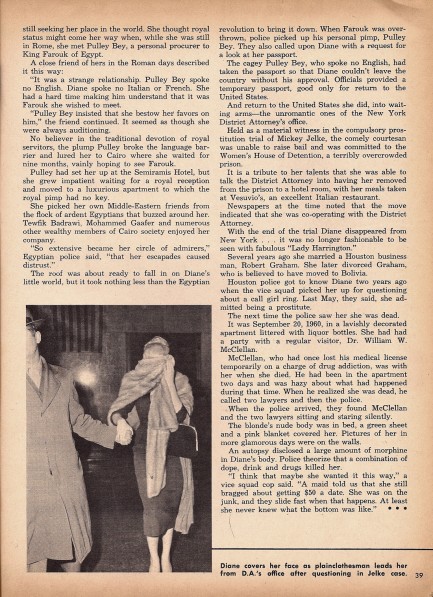 in more glamorous days were on the walls. An autopsy disclosed a large amount of morphine in her body. Police theorize that a combination of drink and drugs killed her.
Diane Harris had wanted the best life had to offer, and money meant everything. All her friends and acquaintances knew that about her. According to her maid, even at the end she still bragged about once being able to command fifty dollars per date. An obsessive desire for luxury drove her into the arms of rich, uncaring men, and eventually, in order to maintain her high flying lifestyle, into prostitution. The one piece of her that endured long after she died naked and surrounded by bottles and pills was her famous nickname—The Golden Girl of Café Society. But she eventually lost that too.
New York City
,
Houston
,
Confidential
,
Hush-Hush
,
New York Times
,
Patricia Ward
,
Diane Harris
,
Lady Diana Harrington
,
Richard Nixon
,
J. Paul Getty
,
Minot F. Jelke
,
Conrad Hilton
,
Lara Flynn Boyle
,
Cynthia Watrous
,
Sammy Davis Jr.
,
May Britt
,
tabloid
,
trial
,
prostitution
---
Police Gazette tries to draw correlation between meat and murder—of humans.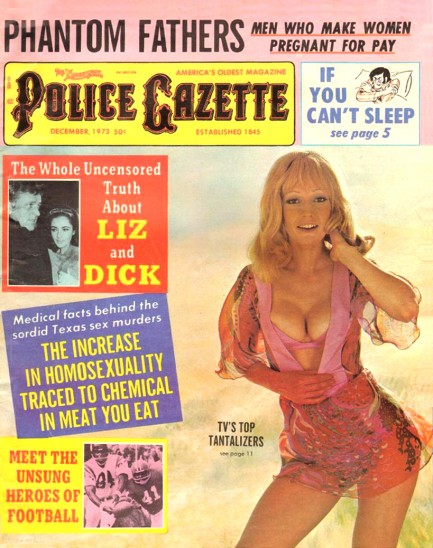 The good folks at the National Police Gazette

are in rare form on this December 1973 cover. For instance, the teaser "The Truth About Liz and Dick" carries a rather interesting double meaning. Taylor was always bashed in the tabloid press for being a bit of a harlot, however, leaving aside the obvious sexism of the sentiment, her reputation was probably undeserved. Her fifth husband Richard Burton pointed out, during the height of the furor over their affair and marriage, that Taylor had loved only five men in her life and married them all, whereas certain actresses who had never been married might as well have had yield signs outside their bedrooms to deal with all the traffic. We're paraphrasing. He was just trying to point out the chasm between perception and reality. Of course, the press didn't care about that and dutifully continued to portray Taylor as a dragon lady.
But that isn't the story that interests us—we've talked about Taylor here and here, and that's enough for this year. Check the text in the blue box. The editors pair a teaser about some murders in the Houston, Texas area with one suggesting chemicals in meat can turn you gay. You're probably gay before you eat the meat, but that point notwithstanding, this is one of the most insidious pieces of gay-bashing you're ever likely to find, because the murders to which Gazette

editors are referring are none other than the Corll/Brooks/Henley killings of 1970-1973. They became known simply as the Houston Mass Murders, and they were the worst serial killings in American history at the time. We mean worst in terms of numbers—twenty-seven confirmed dead. And the sexual nature of the crimes had anti-gay forces ready to take to the streets.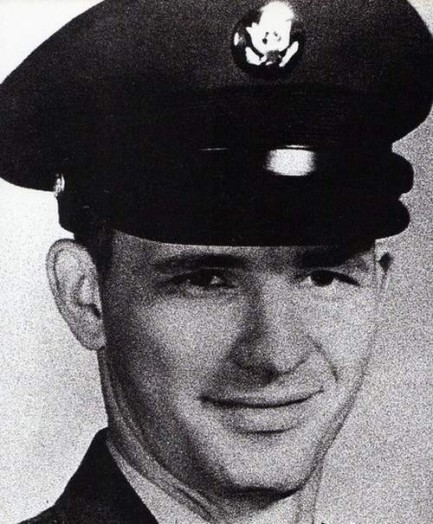 The story is stranger than anything we could invent—it involves a man, two boys, and an unholy pact between the three. When Elmer Wayne Henley met Dean Corll and David Brooks in 1970, Corll and Brooks had already killed nine Houston teenagers, including two boys Henley knew. Corll, pictured at left, was the leader, with the younger Brooks functioning as more of an assistant whose job was to lure attractive teenaged victims. Henley, who was fifteen at the time, was supposed to be just another victim, but Corll took a particular liking to him and recruited him. How he knew Henley would be amenable to the arrangement is one of those eternal mysteries. Henley could have simply appeased Corll long enough to get out of his clutches, then called the police. But in yet another validation of unerring serial killer instinct, Henley actually did join in the crimes. Like Brooks, his job was to lure fresh victims. For every boy he delivered, Corll paid two-hundred dollars.
The arrangement worked fine until one night in mid-1973, when Henley brought his girlfriend and a male acquaintance to Corll's house. We're a little fuzzy on why that happened. It may have had something to do with the girlfriend deciding that night to run away from home, and Henley being somewhat baffled as to where to take her. At any rate, it's clear he didn't plan for Corll to harm her. However, Corll was enraged that Henley had brought two friends over. Keeping a low profile was crucial. After an argument, he seemed to calm down and began to drink and socialize. The teenagers got plastered and passed out—and awoke tied up. Corll screamed that he was going to torture and kill them all, but a desperate Henley convinced Corll he was still a loyal accomplice and would rape and kill his girlfriend while Corll dealt with the other boy. Corll agreed, but once untied, Henley got his hands on Corll's pistol and shot him six times, leaving him in the very dead state you see below.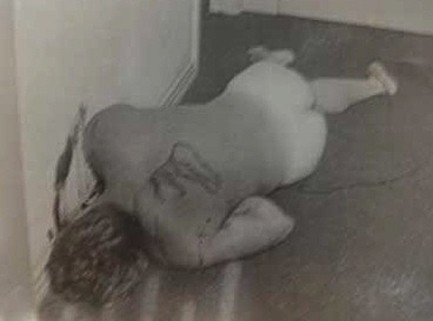 By the time the December Police Gazette

hit the streets, all of America was in an uproar over the murders. Corll had shot some boys, strangled others, and tortured them all in the most painful ways, including shoving glass rods up their urethras. All had been raped. And this meant Corll's sexuality became central. So, taking all that into consideration, you can see that the

Gazette is really being quite inflammatory on their cover. It would have been equally valid to discuss whether it is heterosexuality that leads to murder—after all, in terms of sheer numbers, straight folks have gay folks beat all to hell in the killing department. But as we've pointed out before, reason doesn't sell tabloids, so the Police Gazette gleefully tarred an entire community in pursuit of profits. Now, as far as how they

tie all this to chemicals in meat, well, that's just too silly to get into today. Maybe some other time.
Above: investigators unearth the skull of one of Corll's victims.


U.S.A.
,
Texas
,
Houston
,
Police Gazette
,
Elmer Wayne Henley
,
Dean Corll
,
Elizabeth Taylor
,
Richard Burton
,
gay
,
murder
,
tabloid
---
A strange kind of love.
Here's another piece of evidence that humanity isn't becoming more depraved—we've always been that way. This Inside Detective from June 1966 tells the story of Candy and Mel. You've probably never heard of them, but there was a time when everybody in America knew their names. Candy Mossler was a Houston, Texas socialite married to a millionaire named Jacques Mossler. Unfortunately, the marriage wasn't going well, so she turned to her live-in nephew Melvin Powers for a little lovin'. Though she was twice his age, she was also beautiful, so Melvin was happy to oblige his aunt, and the two of them embarked on a full-blown incestuous affair that was obvious to every servant in the family mansion but not to the oblivious Jacques.
When Mossler did finally discover the truth he went to a lawyer for advice and was told the scandal would destroy his status, so he stewed and the affair went on under his roof. Jacques finally moved to his Key Biscayne vacation flat, but not long afterward turned up dead. Candy told police she suspected a burglar of the crime, but the police weren't buying because Jacques had been stabbed thirty times then brained with a heavy glass bowl, acts not likely to be committed by a home invader. So Candy changed her story, and said she suspected Jacques was having an affair with a male lover who had knifed and glassed him. Police were willing to believe this, but as they collected more and more evidence the finger of suspicion began to shift inexorably toward Candy. Knowledge of her incestuous affair with Mel, along with a good look at what she stood to inherit now that Jacques was on a slab helped satisfy cops that they had their killers.
Candy, of course, could afford the very best legal representation, though because of frozen bank accounts it meant hocking her diamonds and furs. But she was able to retain Percy Foreman, a well-known defense attorney of the day who later unsuccessfully defended James Earl Ray from charges that he assassinated Martin Luther King, Jr. In the end, it may have been Candy's charm that carried the day more than Foreman's defense. She made herself endlessly available to the press, always wearing a glamorous smile, and public opinion turned in her favor. She and Melvin Powers were both found not guilty of murder charges. No killer was ever found, nor even sought, because the police knew they had their perps and didn't bother looking elsewhere, acquittal notwithstanding. It was the trial of the century in South Florida and Houston, at least until the next one came along. As for the love affair, Candy and Mel drifted apart over the years and she died in 1976 of an accidental overdose of migraine medication. But for a time she was a legitimate one-name celebrity—just Candy, the society dame who killed and got away with it.
U.S.A.
,
Texas
,
Florida
,
Houston
,
Key Biscayne
,
Inside Detective
,
Candy Mossler
,
Jacques Mossler
,
Martin Luther King Jr.
,
James Earl Ray
,
Percy Foreman
,
Melvin Powers
,
true crime magazine
,
murder
,
trial
---