A gun and an attitude will take you far.
This is the rarest of the rare. We've shown you many movie posters foreign to the country in which the original film was made. The most common amongst those have been French, Italian, and Japanese posters for American films. We've also seen a few U.S. and British posters for Japanese films. But we've never seen a French poster for a Japanese film, and that's what you have here. And it isn't just any film. It's for the iconic 1973 Miki Sugimoto pinku actioner Sukeban–Kankain Dasso, known in English as Girl Boss: Escape from Reform School, and titled here Girl Boss - Les Étudiantes en cavale. That would translate: "girl boss - students on the run."
This was painted using the original Japanese poster as inspiration by Constantin Belinsky, a talent we've discussed a couple of times before. He was born in Bratslav, Ukraine, learned his craft in art school in Chișinău, which was then in Romania but is now in Moldova, and worked professionally in Paris. He painted posters for classic dramas like Laura and Pickup on South Street, but later in his career specialized in genre films such as Creature from the Black Lagoon. He was born in 1904, so we suspect this poster was among his last pieces. But it won't be his last on Pulp Intl. We have more to show you later.


---
The shorthand version is her talent never translated.
This promo photo shows Ukrainian actress Anna Sten, who's someone we've talked about before. She was a big star in Europe, but an inability to conquer her heavy accent curtailed a ballyhooed attempt at Hollywood success. It's a story with a fascinating footnote, which we talked about here. The image dates from 1932.
---
She fizzled on the screen, but achieved immortality in song.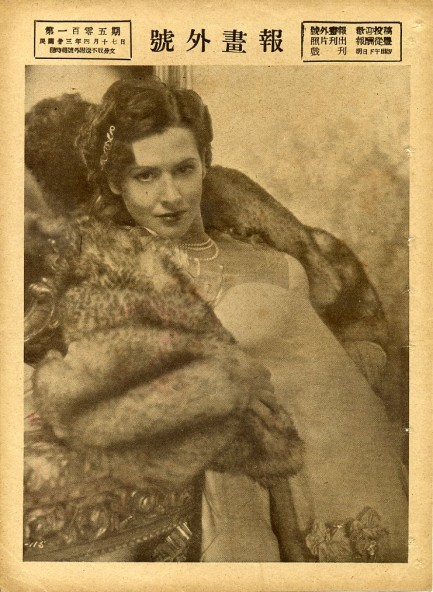 A nice piece of Chinese pulp fell into our hands. It's a shot of Ukrainian actress Anna Sten, née Anna Stenska or Anna
Sudakevich
, from a Chinese newspaper circa 1934. Sten began in silent movies in Germany, transitioned smoothly into talkies, but saw her career founder after mogul Samuel Goldwyn brought her to Hollywood to make her a star. It was the accent that did her in. She tried like hell but couldn't shake it. But even if she never wowed them in Tinseltown, and her roles are mainly forgotten, she lives forever in song thanks to Cole Porter, who mentioned her in his timeless
hit
"Anything Goes." Anna's bit comes in about two thirds through, with the lines:
When Sam Goldwyn can with great conviction,
instruct Anna Sten in diction,
then Anna shows,
anything goes.
Not quite a star on the Walk of Fame, but as consolation prizes go, it's pretty damned good. Anna Sten died today in 1993, aged 84.


---