Phillip Marlowe gets involved in shady business.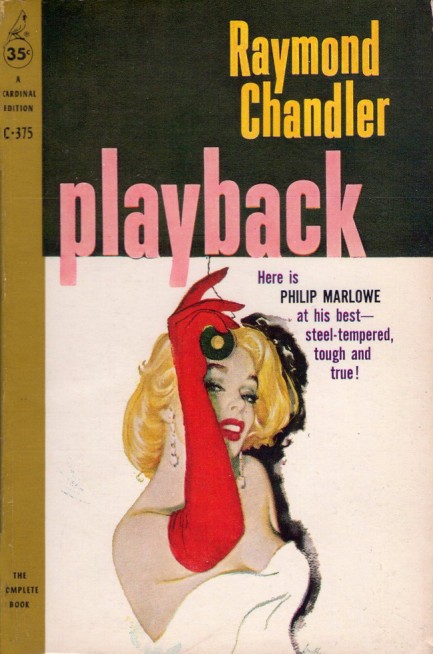 Above, a very nice piece of William Rose cover art incorporating a window shade for Raymond Chandler's Playback, from Cardinal Books, 1960. This is the last Phillip Marlowe novel Chandler wrote. It first appeared in Britain in 1958 as a hardback. Basically, it's a missing persons case set in California in which Marlowe is put on the trail of a woman being pursued by various shady figures from her past. Many critics consider it lesser Chandler, but it has its plusses. The mystery blog Bloody Murder agrees, and you can read a detailed positive review there by following this link.
---
Change is inevitable—especially if you're dealing with Ian Fleming.
Ian Fleming was not an author to be trifled with. We talked about how he shifted the rights for Casino Royale from Popular Library to Signet. Well, here we go again. The above 1957 Perma paperback of Diamonds Are Forever with excellent William Rose cover art is rare because Fleming shifted the publishing to Signet after Perma changed the title of Moonraker to Too Hot to Handle. Since this happened after the Casino Royale fiasco you'd think the editors would have known better.
Perma: Ian, Moonraker is a terrible title. It sounds like a sci-fi novel.
Fleming: You listen here, you sniveling little pup—
Perma: This is my job, okay. I'm telling you a bad title hurts your whole brand.
Fleming: Well, I have an idea for a book called Goldfinger. I suppose you think that's a bad title too?
Fleming: Why you annoying insect. And Octopussy? You don't like that either?
Perma: Sounds pornographic. It's ludicrous.
Fleming: You have two tin fucking ears is what's ludicrous! And Chitty-Chitty-Bang-Bang?
Perma: The worst of the bunch, and pornographic. I'm sorry, Ian—
Fleming: Chitty-Chitty-Bang-Bang? Pornographic? That's the last goddamned straw, you pimply little Yank!

---
Okay, *gasp*, you win, *wheeze*, there is a tide…
Evocative cover art painted by William Rose for Agatha Christie's 1948 mystery There Is a Tide, aka Taken at the Flood. Other possible akas include: I Was Only Choking My Dear, Blue Crush, All Hands on Neck, and Squish You Were Here. Are we lucky or just good?

---