We deal in human slaughter. But when the killing business is slow we also hire out to open Champagne bottles at parties.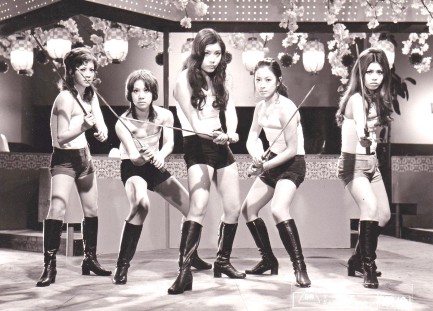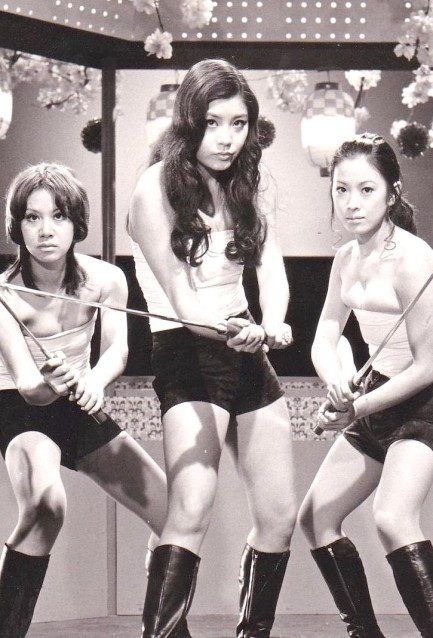 We ran across this menacing promo image online showing the titular quintet of delinquent girl bosses from Delinquent Girl Boss: Worthless To Confess, originally titled Zubekô banchô: zange no neuchi mo nai, and which premiered in Japan today in 1971. Reiko Oshida is front and center, flanked by Yukie Kagawa, Mieko Tsudoi, Masumi Tachibana, and Yumiko Katayama. We've shared plenty of promo art from the film, and discussed what it's about. You can see all that by clicking its keywords below. And if you get the urge to be trendy and open a Champagne bottle with a sword, try to do better than these people.


---
They don't make happy music but it'll stick with you for a long time.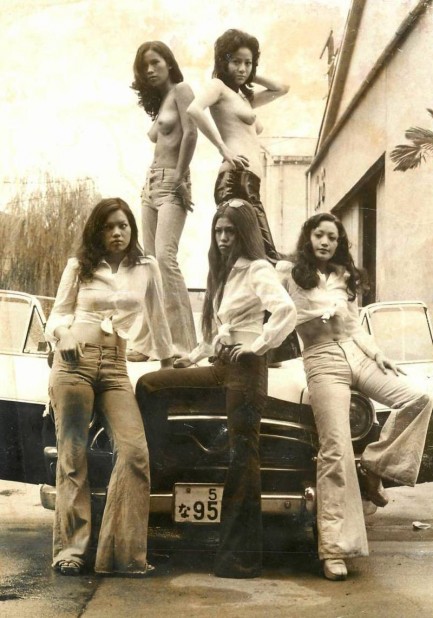 Above, a Toei Company promo photo for Zenka onna: koroshi-bushi, aka Criminal Woman: Killing Melody, featuring one of the great girl gangs of pinku cinema—comprising, counterclockwise from upper right, Reiko Ike, Miki Sugimoto, Masami Soda, Chiyoko Kazama, and Yumiko Katayama. We have some beautiful material on this flick, here, here, and here. It premiered today in 1973.


---
Katayama finds herself with too much skin in the game.

Above you see two posters for the Japanese movie Tokugawa irezumi-shi: Seme jigoku, which is known in English as Inferno of Torture, and, occasionally, Hell's Tattooers. We aren't going to get too deeply into the film. It's where Japanese cinema delves into bondage and tattoo fetish layered with gore, and deals with two Edo-era master tattooists who play out a bitter rivalry on the skin of Yumiko Katayama, as well as other unfortunates. If you can tolerate the frontloaded blood and torture, the latter two thirds of the movie may be worth watching for the tattoos, which verge on magical rather than merely ornate. The set design and Teruo Ishii's direction are good too. The tateken sized promo at top is rare, if not even nonexistent online until this very moment, so we thought we'd share it. Tokugawa irezumi-shi: Seme jigoku premiered in Japan today in 1969. Below you see Katayama in a nice pose, untattooed.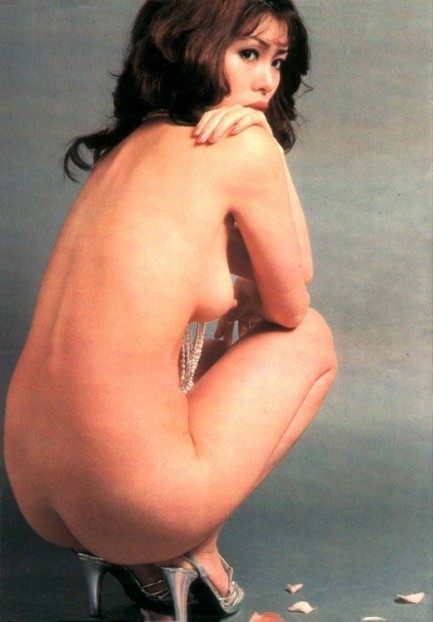 ---