Clothes encounters of the Hollywood kind.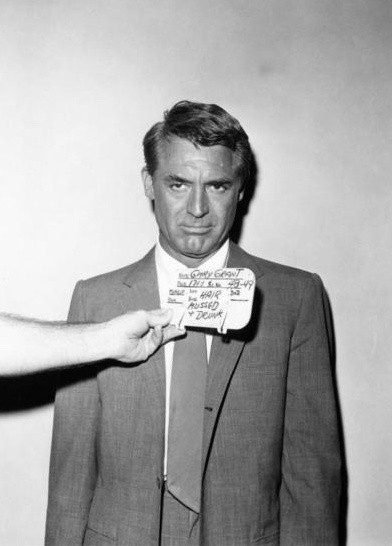 We've been gathering rare wardrobe and hairdresser test shots from the golden era of Hollywood, and today seems like a good day to share some of what we've found. It was standard procedure for all the main performers in a movie to pose for such photos, but the negatives that survive tend to belong to the most popular stars, such as Cary Grant, who you see at right. You'll see Marilyn Monroe more than amply represented below. What can we do? She's possibly the most photographed Hollywood figure ever, and she was beautiful in every exposure. But we've also found shots of a few lesser known stars, such as Giorgia Moll and France Nuyen.

Some of the shots are worth special note. You'll see Doris Day as a mermaid for The Glass Bottom Boat, Liz Taylor as a kid for National Velvet and an adult for Cat On a Hot Tin Roof, Farrah Fawcett in lingerie, Sheree North in both front and rear poses, and Yul Brynner looking like an actual man by sporting a body that had to that point seemingly known neither razor nor wax (he ditched the fur for his actual onscreen appearances). Usually the photos feature a chalkboard or card with pertinent information about the production and star, but not always, as in the case of Brynner's photo, and in Audrey Hepburn's and Joan Collins' cases as well. If the names of the subjects don't appear on the chalkboards you can refer to the keywords at bottom, which are listed in order. We may put together another group of these wardrobe shots later.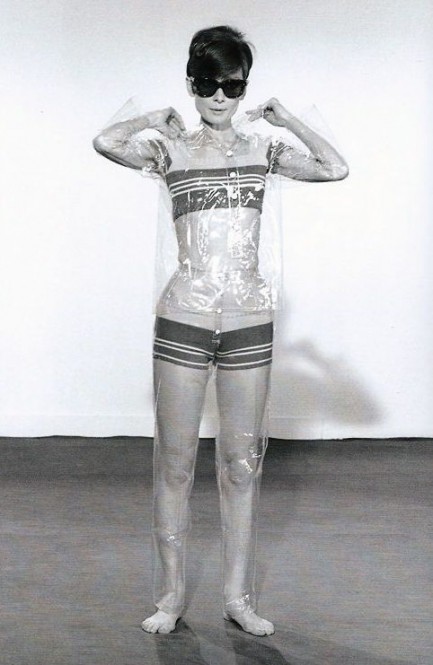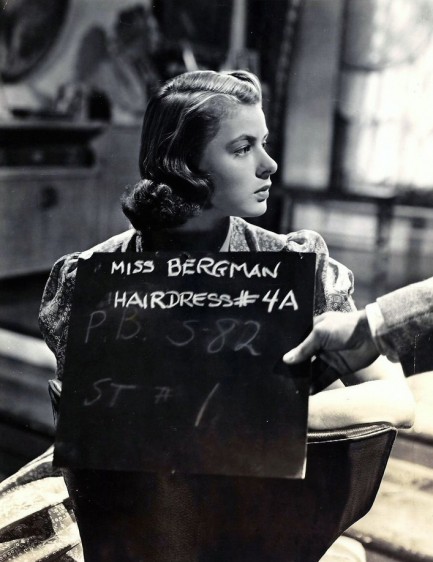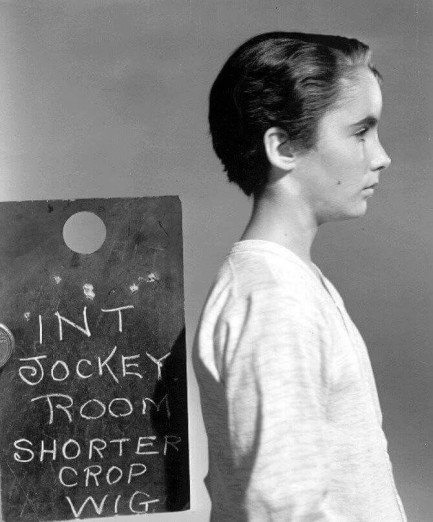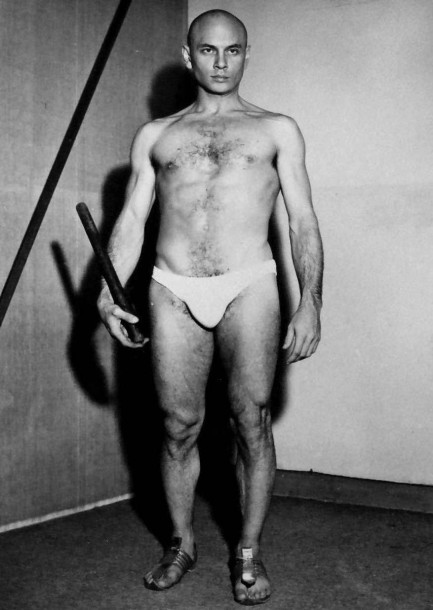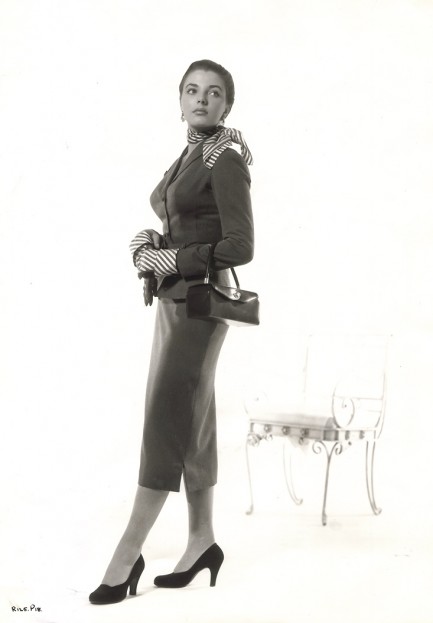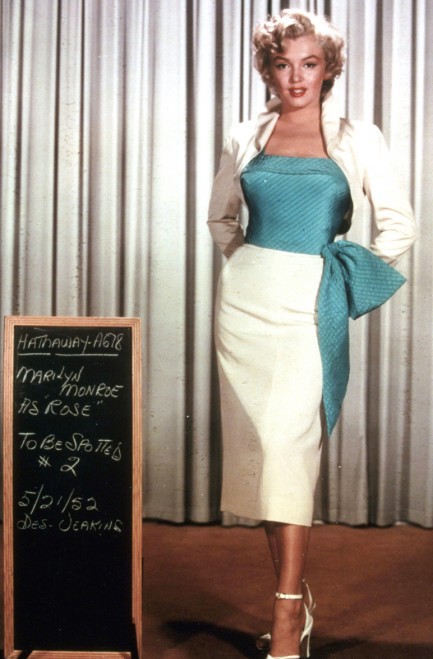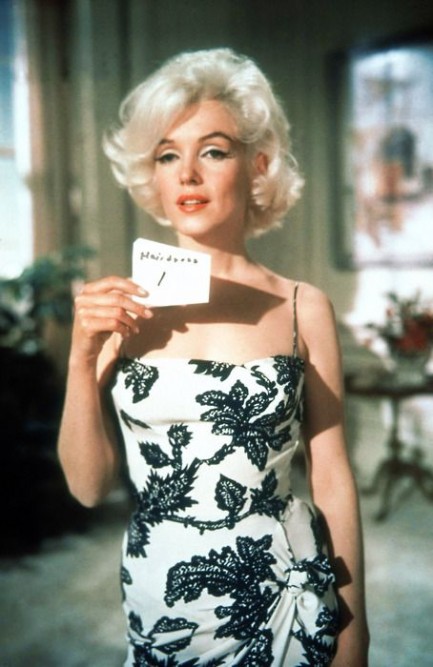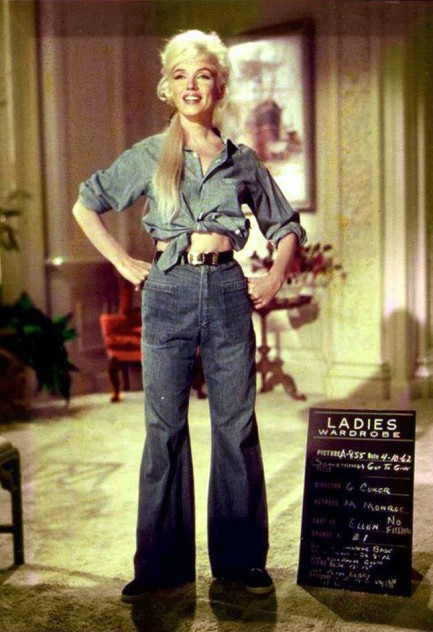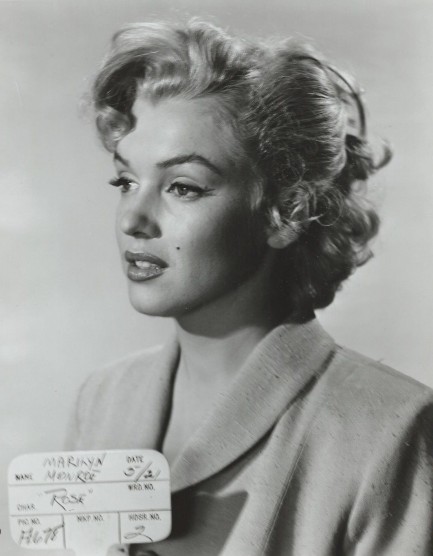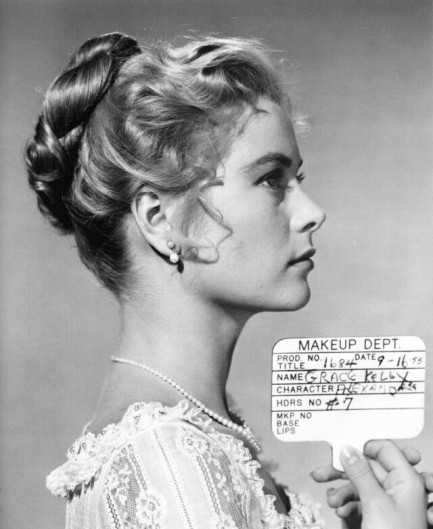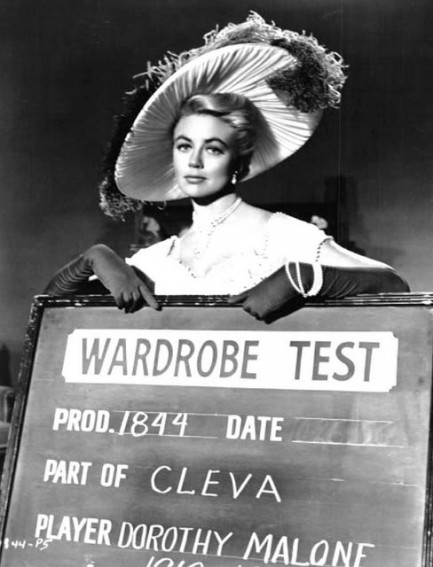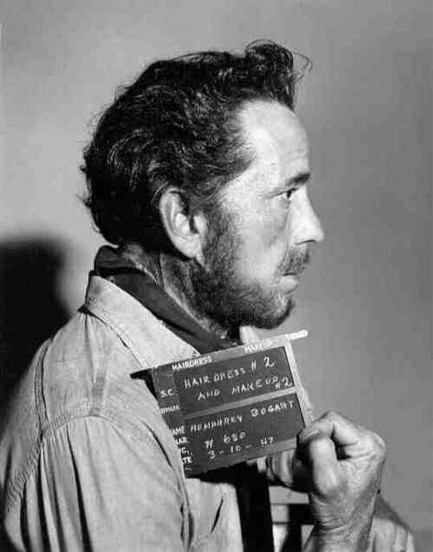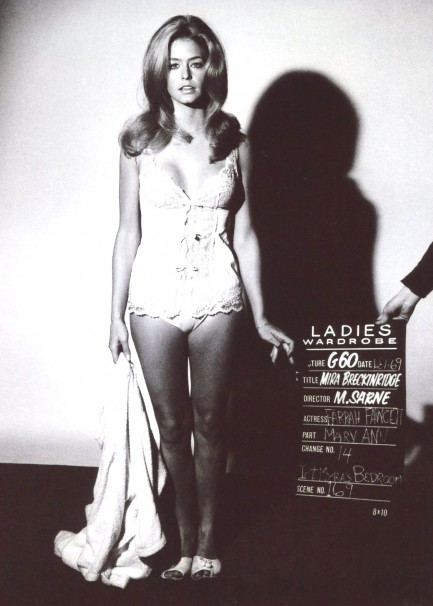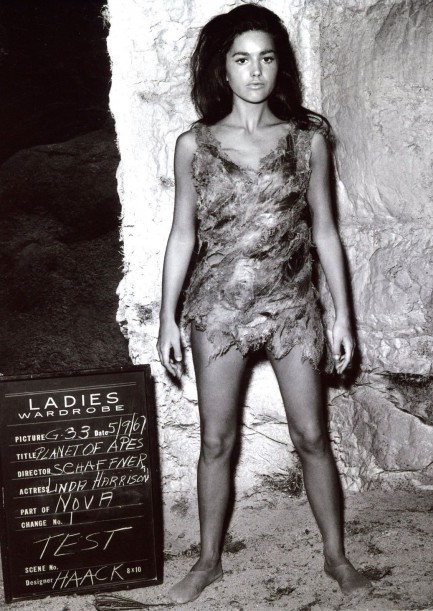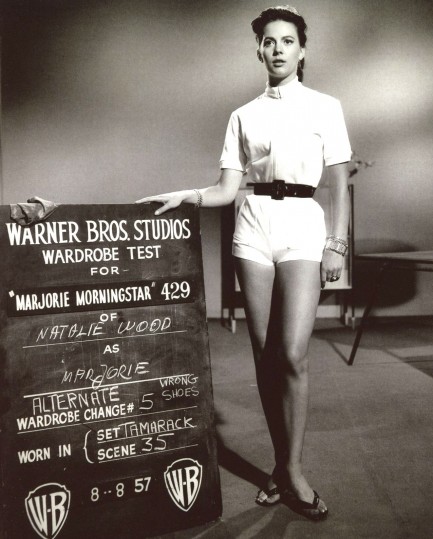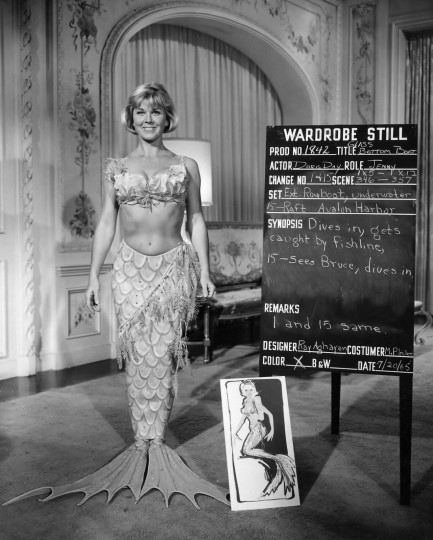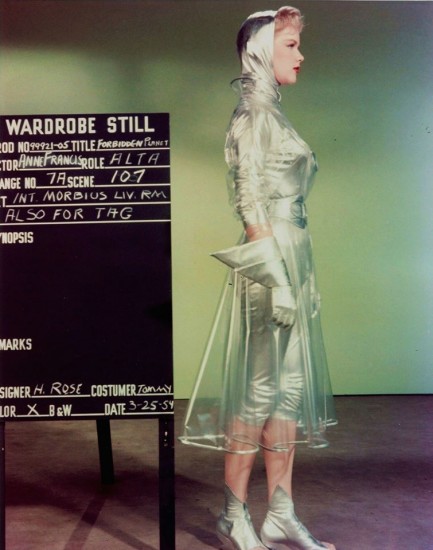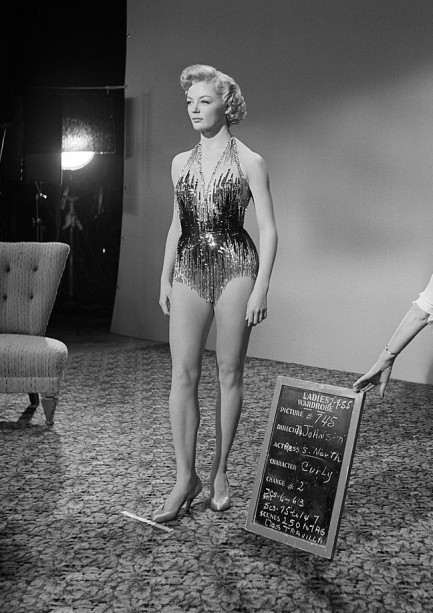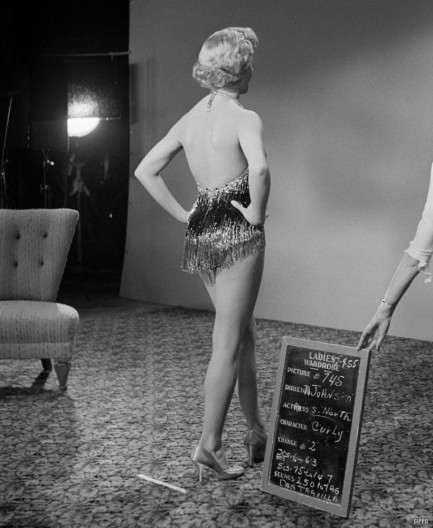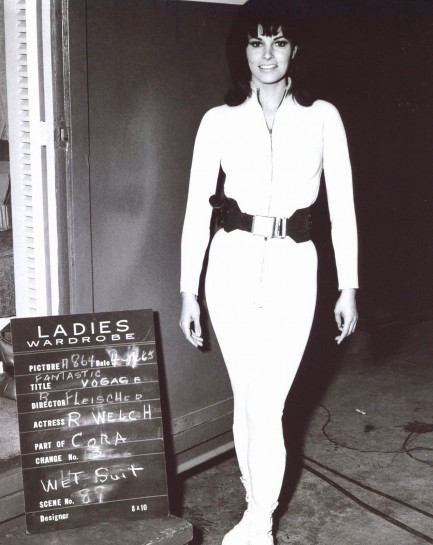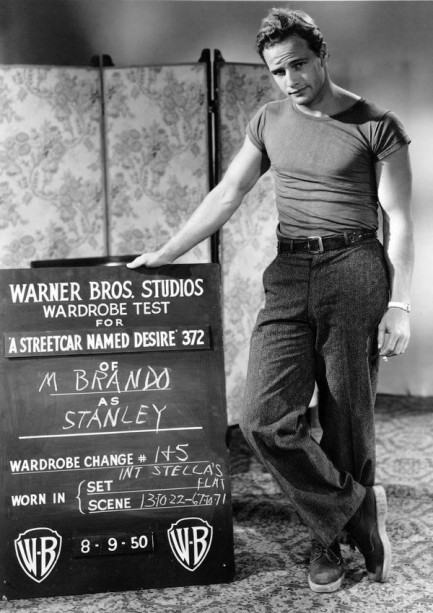 ---
Live by the gun, die by the gun.
The sci-fi thriller Westworld—for which you see a rare Japanese poster above—was sourced from a novel by Michael Crichton and uses the same idea he would later update for his novel Jurassic Park—i.e. the attractions at a high-tech amusement park go awry and start slaughtering the guests. One of those robotic amusements is played by Yul Brynner, who is programmed to start fights then, inevitably, be shot down by Westworld guests after croaking, "Draw!" It's all fun and games at first, but when a computer virus attacks the park's robots Brynner returns from the repair shop pissed-off and harboring a notion to ventilate the customer who killed him twice. As compelling as this set-up seems, Westworld isn't flawless. While Brynner is excellent as the villain and James Brolin is adequate in a supporting role, lead actor Richard Benjamin seems to be sedated, and Crichton, who directed, somehow manages to give the whole project the feel of a television movie. The stuntwork is partly to blame for this. Crichton makes ample usage of hoary gags like the candied glass bottle shattered over the head and the balsa wood chair smashed across the back, even though more sophisticated approaches were being utilized at the time in other, better films. But we recommend Westworld anyway, and we absolutely love the poster—it's appearing here for the first time on any website, and it's definitely in our top ten, even if the movie isn't. Westworld premiered in Japan today in 1973.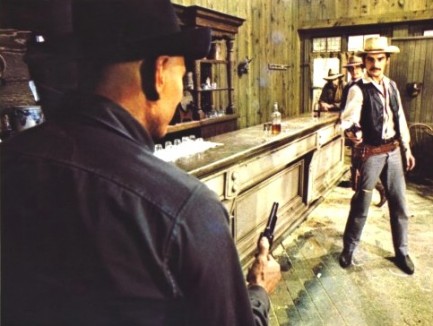 ---
I've seen the bottle and the damage done.
Above we have a copy of the tabloid magazine Behind the Scene from this month 1957, with cover stars John Wayne, Elvis and Yul Brynner. The shocking tales about Brynner have mainly to do with his claims of being a real life man of action, born on the Russian island of Sakhalin to Mongol ancestors. The truth was more mundane, but the lies helped Brynner establish himself as a star, so it's hard to fault his tactics. As far as Elvis goes, he was dogged by rumors of Mafia ties later in his career, but this mention of a connection as far back as 1957 was a surprise to us. As always, people on both sides of the issue are willing to shout their version of the facts to the mountaintops, but nobody really knows who's telling the truth. We'll check with Elvis himself on this, since he lives just over in the next town, and has since faking his own death in 1977.
The interesting story here is the one about Gail Russell and John Wayne. Their acquaintanceship began when they starred in Angel and the Badman together in 1947, and continued when they reunited for Wake of the Red Witch in 1949. Whether they were more than just friends, nobody really knows. At the time Wayne was married to Esperanza Baur Díaz, and the relationship was marred by drinking and fighting, including one incident when Baur shot at Wayne. When the time inevitably came for them to divorce, it turned into one of the nastiest splits in years, with Baur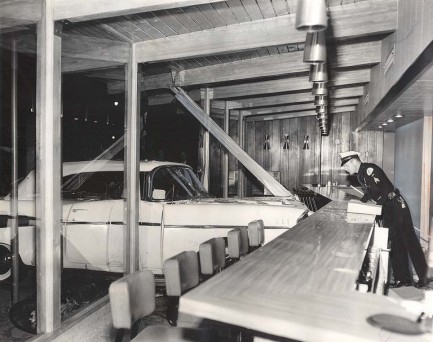 accusing Wayne of being a violent drunk who beat her and fucked around with various women, including Russell, and Wayne accusing Baur of hanging around sleazy dive bars in Mexico, hooking up with strange men, and spending his money to entertain them.
The divorce was in 1953,

but

Behind the Scene,

with this cover

,

is offering its readership dirt from an event that was still fresh in the public's minds because it had been such a knock-down-drag-out spectacle. Russell had never weathered the limelight well, and she used booze to cope. Her long term drinking problem was exacerbated by the turbulence surrounding the Wayne-Baur split. Two weeks after the divorce she was arrested for drunk driving. It caused Paramount to decline renewing her contract, and she kind of floated around for a few years, trying to hook on with a new studio but drinking steadily all the while. In 1955 she rear-ended another car and fled the scene, and in early 1957 she drove her car though the plate glass windows of Jan's Restaurant in Hollywood. You see the aftermath above.
With hindsight, it's clear Russell was in a death spiral, but in the Tinseltown of that day the situation was perhaps not so obvious. In August 1957, Russell was found unconscious in her home, passed out after a
drinking binge. Even in Hollywood, she had now crossed the line from being merely a party girl to having a problem. She was persuaded to join AA, but it was too late—she couldn't stop drinking, and in August 1961 was found in her L.A. apartment, having died from liver damage, aged 36. Russell once said of herself: "I was a sad character. I was sad because of myself. I didn't have any self-confidence. I didn't believe I had any talent. I didn't know how to have fun. I was afraid. I don't exactly know of what—of life, I guess." So it seems she knew what her problem was, but was powerless to conquer it, and in the end, became just another beautiful star that flamed out.


---