From Hollywood brawls to wet celebs Lowdown gives readers their money's worth.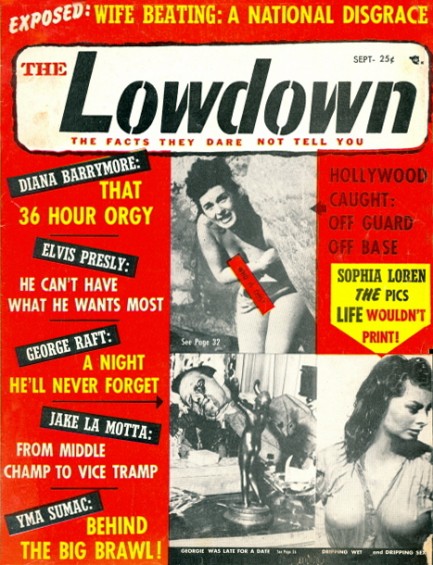 This issue of The Lowdown from September 1957 has three stories of particular note, we think. First, readers learn about Diana Barrymore's fast, out-of-control life, which she had shared with the world earlier that year in an autobiography entitled Too Much, Too Soon. She had just gotten out of a long stint in rehab, and the book was a sort of catharsis, as well as an attempt to let the show business world know that she was cleaned up and ready to work again. But the revelations in the book were of a sort that had never before been encountered by the American public in an autobiography, and the controversy never really faded. Even Mike Wallace asked Barrymore in a televised interview if, like the title of her book, it all wasn't a bit much. Three years later, at age 38, Barrymore died from an oh-so-familiar lethal Hollywood combo of booze and sleeping pills.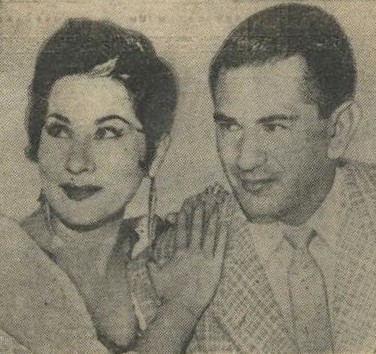 Readers
are also told about a brawl at the house of Peruvian singer Yma Sumac. She had just filed from divorce from her husband Moisés Vivanco and had gone by to pick up a few items. In no time at all, she, singers Esmila Zevallos and Benigno Farfan, and private detective Fred Otash got into a hair-pulling scuffle, with the family dog at the center, to boot. Even the
L.A. Times
covered the fight. It seemed no couple could be more in need of a permanent split than Vivanco and Sumac, but the divorce didn't take—they remarried later the same year.
And finally Lowdown takes Life magazine to task for not having the guts to publish racy photos of Sophia Loren from her 1957 romance Boy on a Dolphin, about a woman in the Greek Isles who while diving for sponges discovers a potentially valuable, ancient gold statue of a boy on a dolphin. We're talking Sophia Loren in wet clothes. And really, that brings us to the entire reason we're featuring Lowdown today—so we have an excuse to publish one of the photos in question. There it is below, and now your Friday has gotten that much brighter, right? More from Lowdown soon.

Update: a great color photo from the film just showed up online. We've added that at bottom.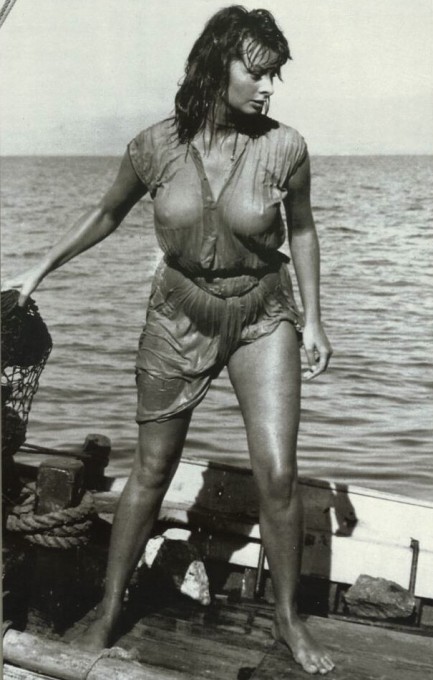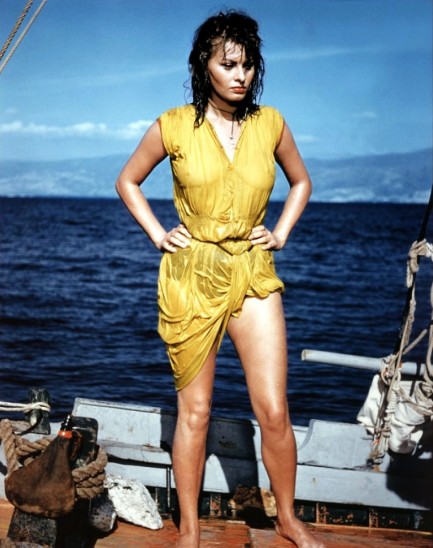 Peru
,
Greece
,
Boy on a Dolphin
,
Too Much Too Soon
,
Life Magazine
,
Sophia Loren
,
Diana Barrymore
,
Yma Sumac
,
Moisés Vivanco
,
Esmila Zevallos
,
Benigno Farfan
,
Fred Otash
,
Mike Wallace
,
tabloid
,
cinema
---
Skating on thin ice.
Rave, for which you see a cover above, was a low budget U.S.-based magazine that launched in 1953 as a celeb publication, quickly moved into scandal and gossip, but didn't survive beyond 1956, as far as we can tell. The graphic design was revamped twice, and so we suspect it just never found its niche in a crowded tabloid market. But it wasn't for lack of providing celebrity rumormongers what they craved. This August 1955 issue discusses Serge Rubinstein's murder, Anita Ekberg's bombshell status, Jackie Gleason and more, but of special note are two stories: one about Sonja Henie, and another about Sheree North.
Sheree North, not well known today, was a dancer-turned-actress who in the mid-1950s was groomed (like so many other women) as the next Marilyn Monroe. She even made the cover of Life with the caption: "Sheree North Takes Over from Marilyn Monroe." But it didn't happen. Though North had a couple of hit films, her on-deck status was quickly usurped by another bottled blonde named Jayne Mansfield. North had done some burlesque early in her career, and Rave claims she had a few stag reels floating around. We don't know about that, but there was a 1951 clip called the "Tiger Dance" that certainly pushed the bounds of contemporary sexiness. We found an upload of it, and you can see it here.
The story on Sonja Henie is a bit more interesting. A Norwegian-born world and Olympic champion figure skater, Henie shot to international fame at age fourteen and turned that recognition into a Hollywood career. She became extremely popular as a screen star, and the same drive that sparked that success fueled her personal life. She married three times and had numerous affairs, including with Tyrone Power and allegedly
with champion boxer Joe Louis. But the mystery man Rave hints at on its cover is none other than Liberace, just above. If you know anything about Liberace then we know what you're thinking. But if Liberace was gay or bi—something he denied until his dying day—then dating women would have been a completely understandable strategy to avoid being outed and losing his career.
Henie, on the other hand, rarely let controversy get in the way of her decisions if she thought the result would ultimately be a net gain. This is possibly why she publicly greeted Adolf Hitler with a Nazi salute at a Berlin exposition in 1936, and why she sought Joseph Goebbels' help in distributing one of her films in Germany. Yet you have to assume that anyone who would hang out with and possibly sleep with Joe Louis didn't have rock solid racist views. But as millions died, her behavior can only be seen as shameful. However she returned to Norway with Holiday on Ice in 1953 and again the year Rave published the above cover and was warmly greeted, if not quite totally forgiven. Henie died of cancer in 1969, but as another fascinating product of a complex time, we suspect her name will come up on this website again.
Norway
,
Germany
,
Berlin
,
Olympics
,
Rave
,
Life Magazine
,
Sonja Henie
,
Liberace
,
Joe Louis
,
Sheree North
,
Marilyn Monroe
,
Jayne Mansfield
,
Anita Ekberg
,
Serge Rubinstein
,
Tyrone Power
,
Adolf Hitler
,
Joeseph Goebbels
,
nazis
,
burlesque
---