Whatever the language, the meaning is clear.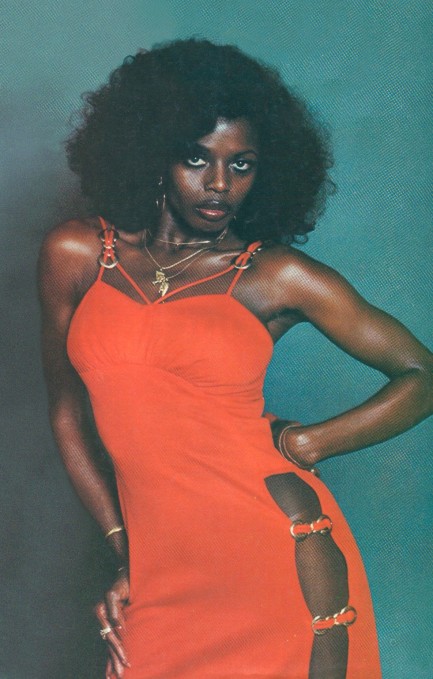 Despite her exotic name, Azizi Johari is American, born in New York City and raised in Seattle. Her movie career consisted of bit parts, with her most noted appearances coming in the 1976 John Cassavetes film The Killing of a Chinese Bookie, and the 1981 blaxploitation b-movie Body and Soul, which was a remake of the 1947 film noir classic. She originally gained recognition in 1975 as a Playboy model, appearing as the magazine's Playmate of the Month in June 1975, but the above photo was used on the front of Players magazine in 1978. Oh, and on the subject of her name, "Azizi" is Arabic and means "precious," while Johari is a Kiswahili word that means "jewel." She's well named.
---
Making a killing at the track is harder than they think.
Tonight the Noir City Film Festival is also screening Stanley Kubrick's 1956 crime procedural The Killing. The title refers not to murder but to making a killing—i.e. a highly profitable score. Sterling Hayden leads a cast that includes Coleen Gray, Elisha Cook, Jr., and Marie Windsor. Hayden and crew hope to rob a race track, and to do this they lay out a precise plan that includes causing a brawl at the track bar as one distraction, and shooting a horse mid-race as another. What could go wrong, right? But the crazy plan makes sense, and if you have trouble following it a stentorian narration breaks down the action for you. We didn't mind that so much—the entire premise of the movie is that it's a faux-documentary, so the voiceover is something you have to accept. But the trumpets and tympani on the soundtrack—wow—are way overcooked. Still, this is a nice piece of noir, occasionally running on parallel timelines, with plenty of directorial style from a twenty-eight-year-old Kubrick. Some might take issue with the film's heavyhanded irony, but it's all somewhat redeemed by the perfection with which Hayden delivers his final line. The Killing didn't do well at the box office, however as often happens with films from directors who later become icons, opinions have shifted over the decades. But even if modern day critics are in agreement that The Killing is a top effort, it still won't be everyone's cup of tea. You'll just have to judge for yourself.
---