Cosby and Culp go all out in gritty detective thriller.
Hickey & Boggs is not a good name for a movie unless it's a buddy action/comedy. You'd never look at the title and think: hardcore crime thriller. It makes us think of one time when we were brainstorming with an actor friend, trying to think of the worst possible title for an action/buddy comedy, and we came up with "Jackson and Frisbee." But title notwithstanding, hardcore drama is what you get with Hickey & Boggs. The plot, courtesy of future 48 Hours director/co-writer Walter Hill, follows two down-at-the-heels dicks played by Bill Cosby and Robert Culp as they're hired to locate a missing woman who somehow may hold the key to recovering $400,000 in loot from a bank heist. In typical detective movie fashion, Cosby and Culp deal with cops, crooks, and ambushes as they work their way to the center of a mystery that progresses from danger to personal tragedy.
You'll sometimes see Hickey & Boggs described as a modern film noir, but it doesn't fit the brief. The two detectives are cynical, broke, and alienated, and there are several night sequences, but we're not sure if those elements are enough to automatically make a noir. There's very little high-contrast cinematography, no flashbacks, no narration, no shadowplay, no dream sequences, no extremely skewed angle shots, and no legit femme fatale. Getting into specific iconography, there's no rain, no silhouetting, no mirrors or blinds, no smart aleck bartenders or cab drivers, and virtually no sexual innuendo.
If Hickey & Boggs is a film noir then scores of other 70's crime movies are too, from Serpico to Magnum Force. And if the net is that wide then film noir is a pointless distinction. The American Film Institute, whose categories are expert-derived, calls Hickey & Boggs a drama in the action and detective sub-genres. And, yes, they do categorize neo-noir. Hickey & Boggs didn't make the cut. It's very good, though. It takes an unblinking look at the unglamorous side of Los Angeles and de-mystifies the private dick business—for about the umpteenth time, but very effectively just the same. As long as you're willing to watch Cosby—and we're not suggesting you should be—it's worth your time. It premiered today in 1972.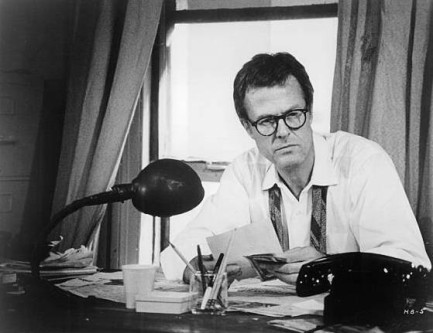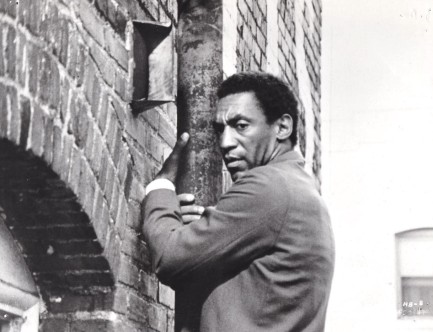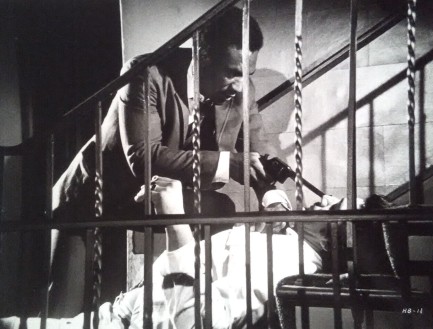 ---
It's shocking how many Hollywood stars did smack.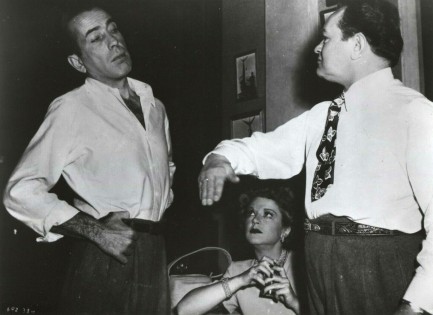 Everybody wants to slap somebody sometime. Luckily, actors in movies do it so you don't have to. The above shot is a good example. Edward G. Robinson lets Humphrey Bogart have it in 1948's Key Largo, as Claire Trevor looks on. In vintage cinema, people were constantly slapping. Men slapped men, men slapped women, women slapped women, and women slapped men. The recipient was usually the protagonist because—though some readers may not realize this—even during the '40s and 50s, slapping was considered uncouth at a minimum, and downright villainous at worst, particularly when men did it. So generally, bad guys did the slapping, with some exceptions. Glenn Ford slaps Rita Hayworth in Gilda, for example, out of humiliation. Still wrong, but he wasn't the film's villain is our point. Humphrey Bogart lightly slaps Martha Vickers in The Big Sleep to bring her out of a drug stupor. He's like a doctor. Sort of.
In any case, most cinematic slapping is fake, and when it wasn't it was done with the consent of the participants (No, really slap me! It'll look more realistic.). There are some famous examples of chipped teeth and bloody noses deriving from the pursuit of realism. We can envision a museum exhibit of photos like these, followed by a lot of conversation around film, social mores, masculinity, and their intersection. We can also envison a conversation around the difference between fantasy and reality. There are some who believe portryals of bad things endorse the same. But movies succeed largely by thrilling, shocking, and scaring audiences, which requires portraying thrilling, shocking, and frightening moments. If actors can't do that, then ultimately movies must become as banal as everyday llife. Enjoy the slapfest.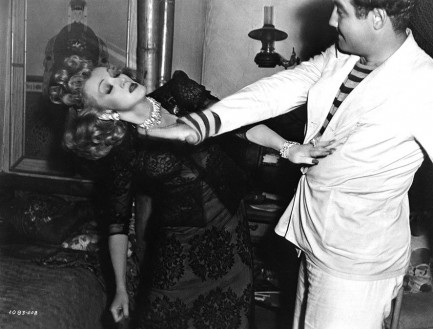 Broderick Crawford slaps Marlene Dietrich in the 1940's Seven Sinners.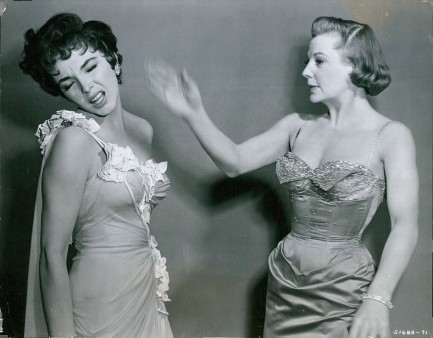 June Allyson lets Joan Collins have it across the kisser in a promo image for The Opposite Sex, 1956.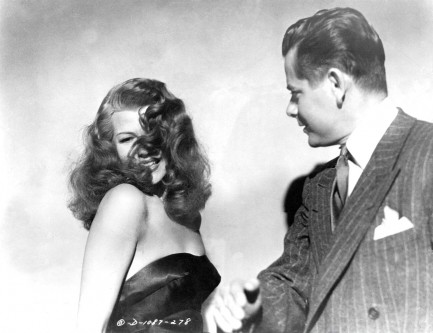 Speaking of Gilda, here's one of Glenn Ford and Rita Hayworth re-enacting the slap heard round the world. Hayworth gets to slap Ford too, and according to some accounts she loosened two of his teeth. We don't know if that's true, but if you watch the sequence it is indeed quite a blow. 100% real. We looked for a photo of it but had no luck.
Don't mess with box office success. Ford and Hayworth did it again in 1952's Affair in Trinidad.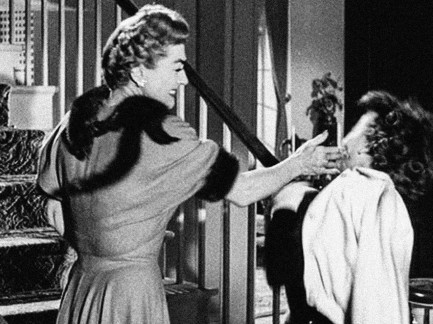 All-time film diva Joan Crawford gets in a good shot on Lucy Marlow in 1955's Queen Bee.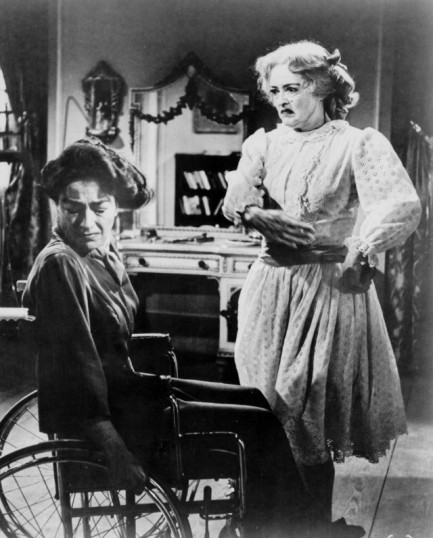 The answer to the forthcoming question is: She turned into a human monster, that's what. Joan Crawford is now on the receiving end, with Bette Davis issuing the slap in Whatever Happened to Baby Jane? Later Davis kicks Crawford, so the slap is just a warm-up.
Mary Murphy awaits the inevitable from John Payne in 1955's Hell's Island.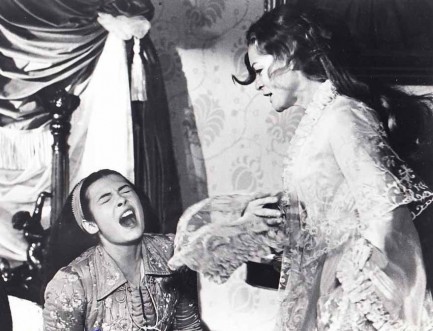 Romy Schneider slaps Sonia Petrova in 1972's Ludwig.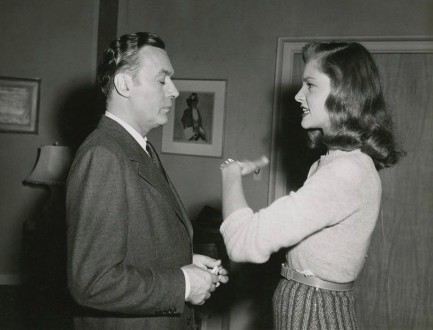 Lauren Bacall lays into Charles Boyer in 1945's Confidential Agent and garnishes the slap with a brilliant snarl.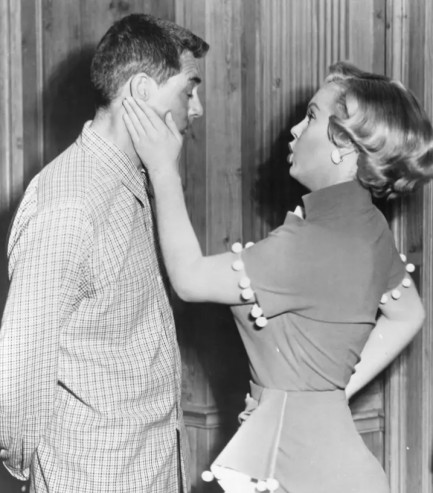 Iconic bombshell Marilyn Monroe drops a smart bomb on Cary Grant in the 1952 comedy Monkey Business.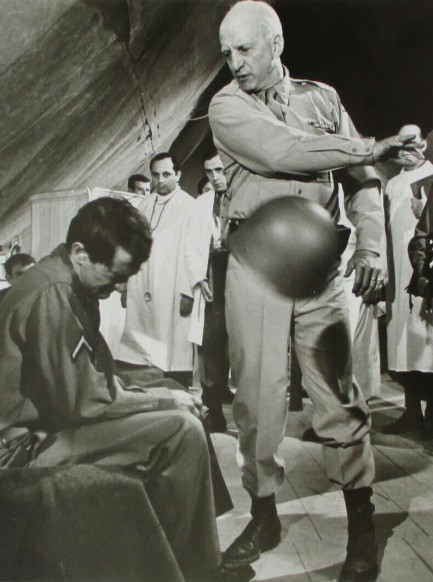 This is the most brutal slap of the bunch, we think, from 1969's Patton, as George C. Scott de-helmets an unfortunate soldier played by Tim Considine.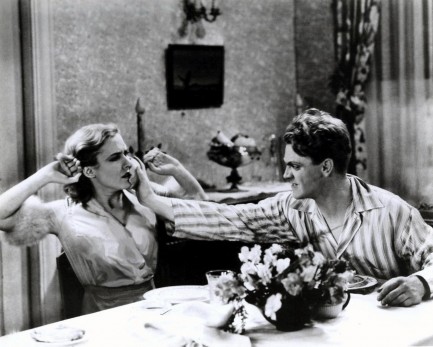 A legendary scene in filmdom is when James Cagney shoves a grapefruit in Mae Clark's face in The Public Enemy. Is it a slap? He does it pretty damn hard, so we think it's close enough. They re-enact that moment here in a promo photo made in 1931.
Sophia Loren gives Jorge Mistral a scenic seaside slap in 1957's Boy on a Dolphin.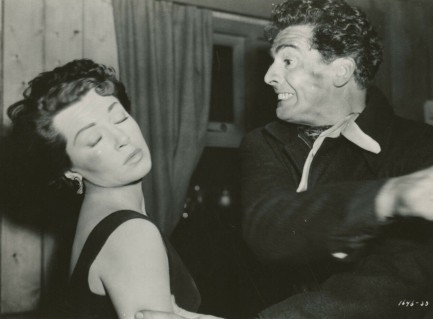 Victor Mature fails to live up to his last name as he slaps Lana Turner in 1954's Betrayed.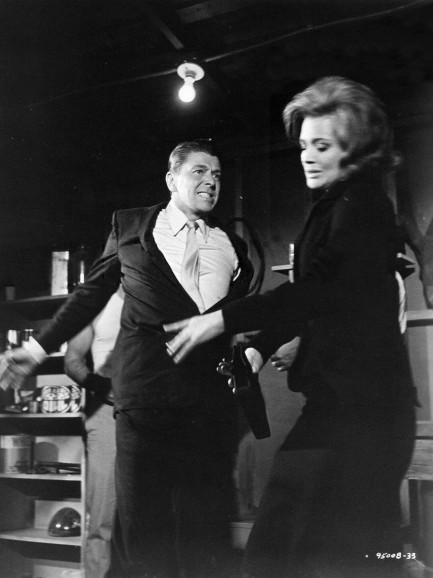 Ronald Reagan teaches Angie Dickinson how supply side economics work in 1964's The Killers.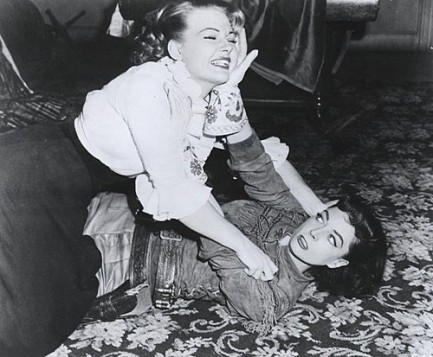 Marie Windsor gets in one against Mary Castle from the guard position in an episode of television's Stories of the Century in 1954. Windsor eventually won this bout with a rear naked choke.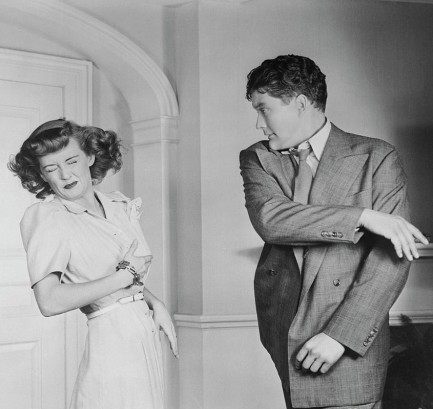 It's better to give than receive, but sadly it's Bette Davis's turn, as she takes one from Dennis Morgan in In This Our Life, 1942.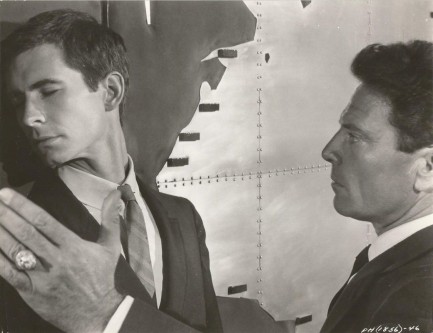 Anthony Perkins and Raf Vallone dance the dance in 1962's Phaedra, with Vallone taking the lead.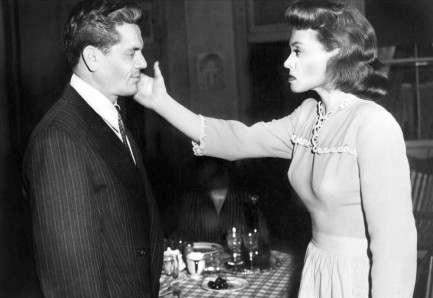 And he thought being inside the ring was hard. Lilli Palmer nails John Garfield with a roundhouse right in the 1947 boxing classic Body and Soul.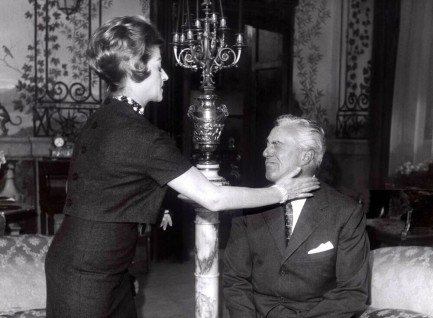 1960's Il vigile, aka The Mayor, sees Vittorio De Sica rebuked by a member of the electorate Lia Zoppelli. She's more than a voter in this—she's also his wife, so you can be sure he deserved it.
Brigitte Bardot delivers a not-so-private slap to Dirk Sanders in 1962's Vie privée, aka A Very Private Affair.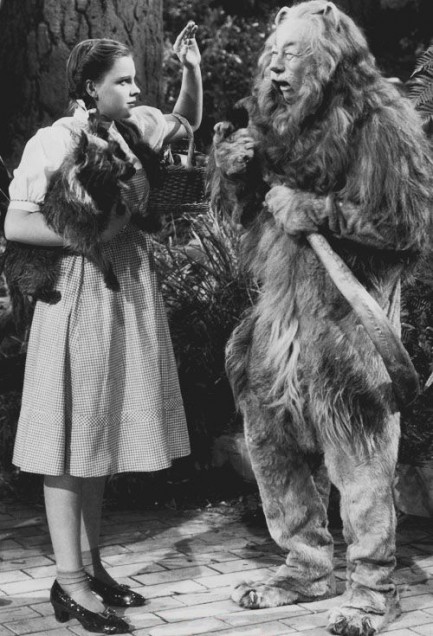 In a classic case of animal abuse. Judy Garland gives cowardly lion Bert Lahr a slap on the nose in The Wizard of Oz. Is it his fault he's a pussy? Accept him as he is, Judy.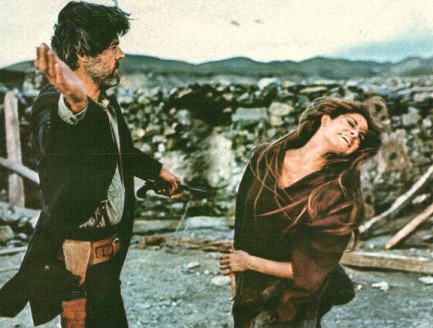 Robert Culp backhands Raquel Welch in 1971's Hannie Caudler.
And finally,
Laurence Harvey dares to lay hands on the perfect Kim Novak in Of Human Bondage.


---