In Cloak and Dagger Gary Cooper plays a physicist who causes a violent chain reaction of a different kind.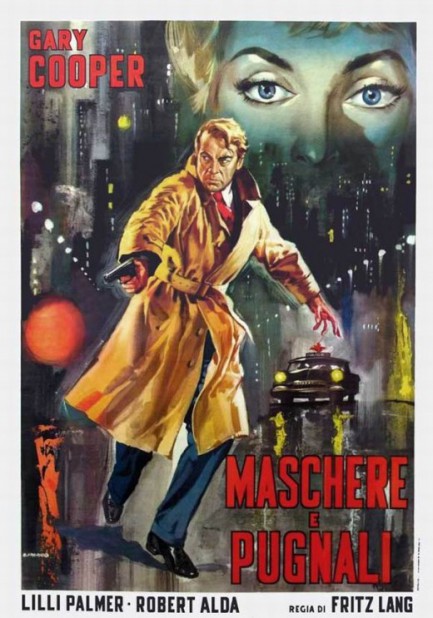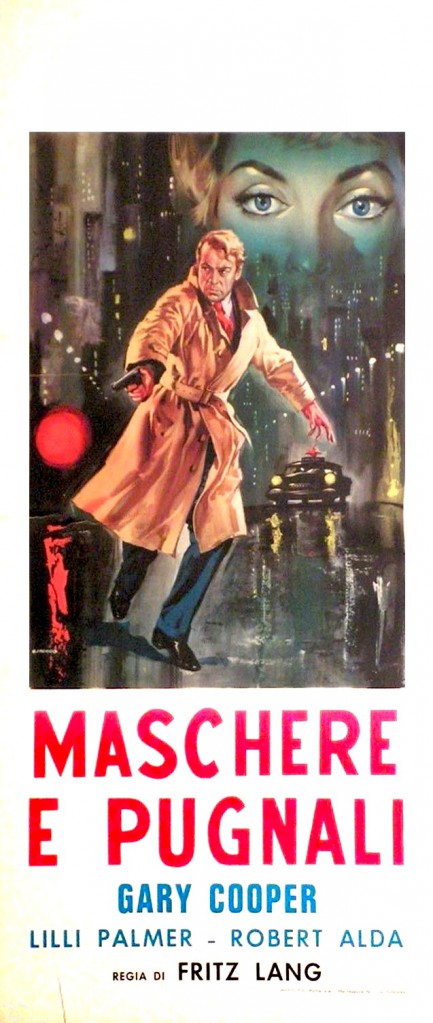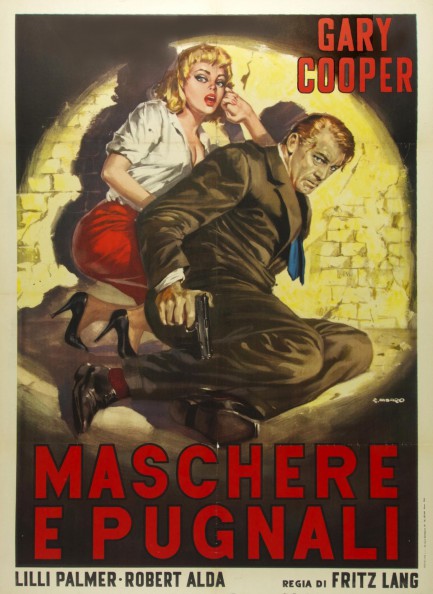 These posters promote the Italian run of the American War World II propaganda thriller Cloak and Dagger. The film even admits to being propaganda, with a dedication to the OSS in the ending credits. But since all states produce propaganda, and each generation's is clumsy and laughable to those who come later, the silly flag waving here isn't really the problem—rather it's a tepid central romance, an unlikely plot, and an overcooked musical score that loudly punctuates every mood and movement of the characters. There are other flaws, especially with Gary Cooper's fighting physicist, who begins the movie as a lab egghead but by the halfway point inexplicably unveils better fighting skills than the seasoned fascist killers on his trail. But whatever—willing suspension and all that. At least these action sequences are well staged—in fact, they're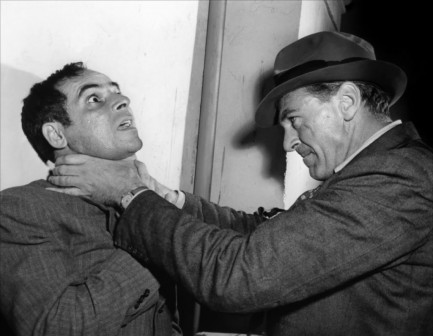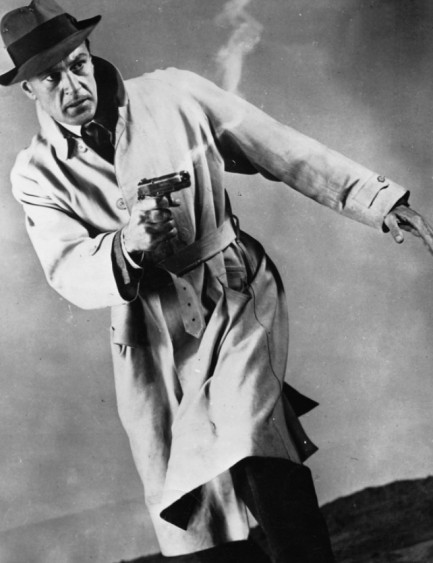 the highlight of the movie. And if you don't mind Coop's unsubtle moralizing about courage, country, sacrifice, and love, then Cloak and Dagger may hold some charms for you. For our part, we think seeing a cynic converted to the cause à la Casablanca is infinitely more interesting than a true blue patriot trying to convert others, but that's the difference between drama and propaganda—in the latter the hero's doubts are merely cursory if they exist at all. The promo posters above are by Renato Casaro, the one directly below is by Luigi Martinati, who we'll revisit soon, and the last is illegibly signed, which means it goes into the unknown category. We'll try to figure out who painted that and get back to you. Cloak and Dagger premiered in the U.S. in 1946 and made it to Italy as Maschere e pugnali today in 1948.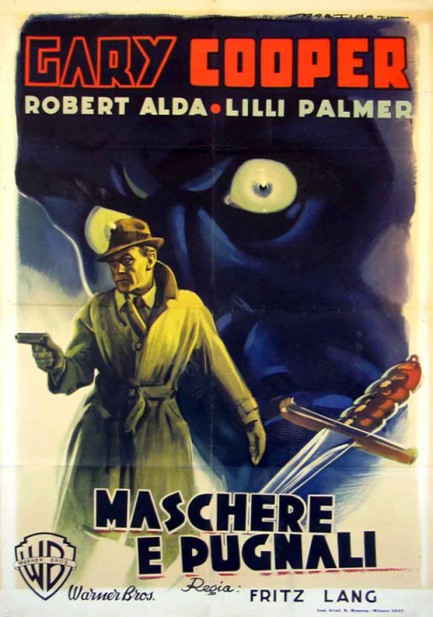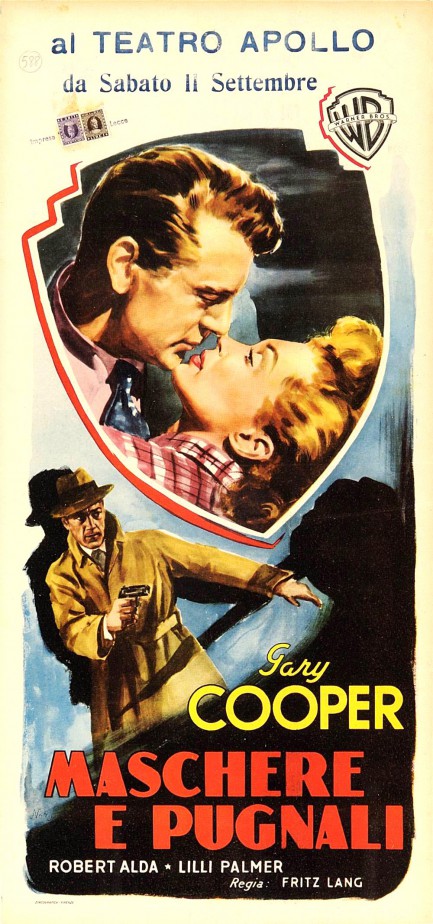 ---
Frank Sinatra and Rex Harrison have a little disagreement.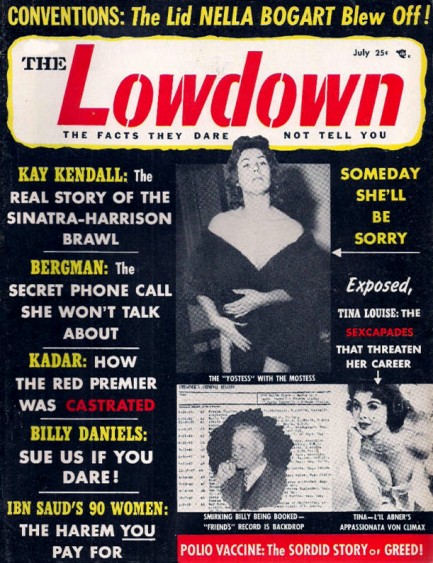 This July 1957 issue of Lowdown

shines light in every corner of show business with stories about singer Billy Daniels, stage star Tina Louise, screen actress Kay Kendall, and call girl Nella Bogart. It also delves into international politics with stories on Hungarian leader János Kádár and King Abdulaziz, aka Ibn Saud, of Saudi Arabia. But you know we love Sinatra stories, and so what interests us most is the piece about Frank Sinatra and British actor Rex Harrison brawling. Turns out it wasn't a brawl, so much as a scuffle. In brief, Harrison slapped Sinatra twice because he thought Frank was hitting on actress Kay Kendall, who happened to be Rex's girlfriend. The legend goes that Kendall and Sinatra were on a balcony chatting when Harrison appeared and tried to lead her away. Kendall had been appreciating Sinatra's shirt, and she mentioned to Harrison how much she liked it. Sinatra deadpanned, "It's just an old shirt. Off-white. Sort of yellow." Harrison slapped him, and Sinatra said, "It's still yellow." Another slap and Sinatra walked away.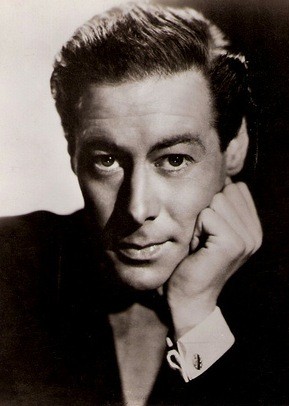 Some tabloids, including Lowdown

, suggested that Sinatra's "yellow" comment was meant as a reference to Harrison's behavior with Carole Landis back in 1948. What had Harrison done? Well, he was married to Lilli Palmer back then but was having an affair with Landis. One night Landis swallowed forty Seconal pills, and Harrison and Landis's maid found her non-responsive the next day. Harrison thought he felt a faint pulse, but rather than call paramedics immediately, he futilely searched her phone book for the information of her personal doctor, his aim being to keep the situation private. After failing to find a number he bailed and left the maid to deal with the situation. Yellow indeed. It's highly doubtful Sinatra had any of that in mind, and in fact, he professed respect for Harrison, both before and after the slapping, so we have to chalk the tabloid rumors up to overactive imaginations.
Still though, one can't be surprised that Harrison was defensive. He knew he was gossiped about around town, not only because of Landis, but because he routinely ruined other women's lives as well. He was a serial cheater. In fact, he didn't really consider it cheating. To him, a man's right was to have any woman he wished, marriage vows notwithstanding. Not only was he wedded to Lilli Palmer while sleeping with Carole Landis, but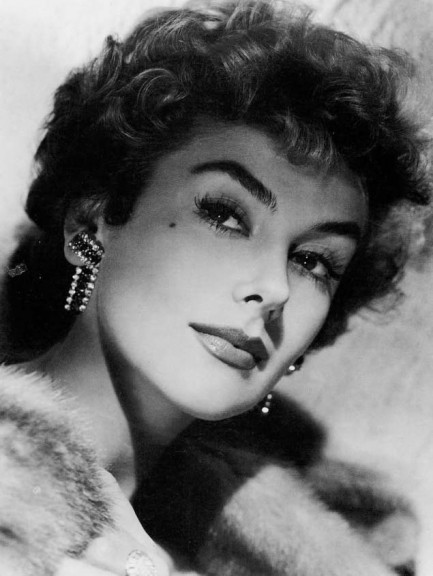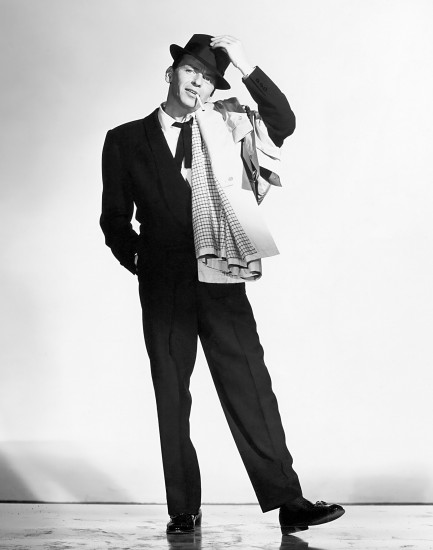 he was still married to her while sleeping with Kay Kendall. We could go on, but that's all we'll do on Harrison today. Rest assured, though, that he'll turn up in future tabloids. With stories emanating from a seemingly endless collection of emotionally battered wives, lovers, friends, co-stars, waiters, chauffeurs, maids, and doormen, his reappearance is inevitable.
---
All he had to give was everything he had.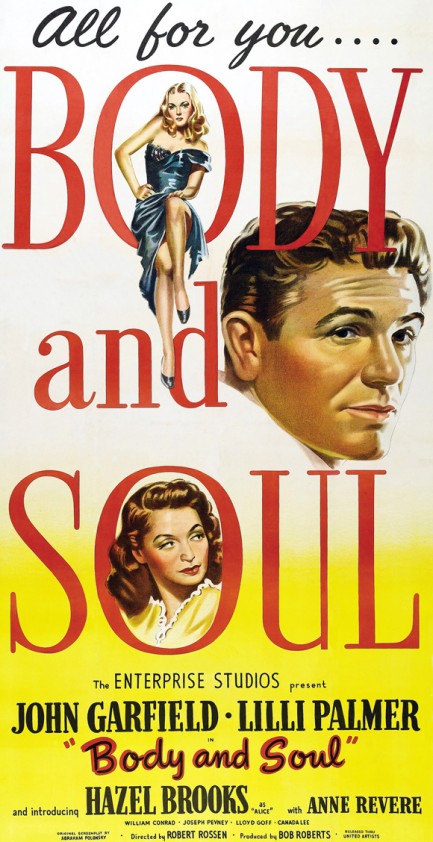 Was boxing ever honest? We doubt it. How could a sport with the scoring done in secret be anything but a scam? Body and Soul tells the story of a champion boxer named Charley Davis whose rise has occurred under the thumb of organized crime and who is now required to lose his title to a brash, 20-year-old upstart. That doesn't sit too well with Charley, who may be corrupt and mob-owned, and who has wrecked everything good in his life for money and a femme fatale, but whose talent is real. One of the first and best boxing movies, Body and Soul—with John Garfield as Charley, Hazel Brooks as the femme fatale Alice, and Lilli Palmer as his loyal girlfriend—is a nearly flawless classic. After his performance here, and in the previous year's The Postman Always Rings Twice, Garfield's film career should have been long and decorated, but in 1950 he was blacklisted during the Communist witch hunts that swept Hollywood, and by 1952 he was dead from a heart attack. Body and Soul premiered in the U.S. today in 1947.
---