Eva Braun gets the cover of Police Gazette, but it's really another Hitler issue in disguise.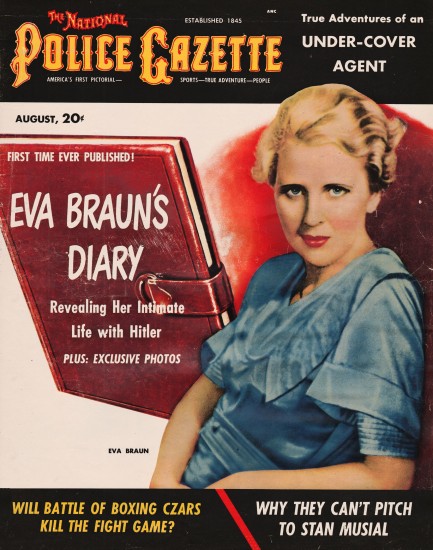 Ahh, the National Police Gazette. What a quirky publication. We've talked before about how America's longest running magazine unrelentingly used Adolf Hitler to move issues. Well, in this one from fifty years ago this month, they're at it again, claiming to have found the secret diaries of Hitler's mistress Eva Braun. The first sentence of the story goes like this: Of all the fanatically loyal people who attended Adolf Hitler and are still with him in his present hideout, none have known him so intimately as the young, voluptuous blonde from Munich, Eva Braun

. You caught that, right?

And are still with him in his present hideout? They must mean that bunker in Antarctica. If nothing else, you have to admire the editors' perseverance. They started on the whole Hitler-survived-the-war theme pretty much the moment the armistice was signed, and as late as 1968 were still banging the same drum. But here's the oddity surrounding this. Of all the Hitler Gazette

s we've found—twenty-five at last count—none are from before 1945. Not that some don't exist. But we haven't seen any. It's like Hitler was totally off the

Gazette

's radar the entire time he was alive. Curious, no
?
A few scans below, including one of showgirl and actress Gloria Pall, who we may get back to later.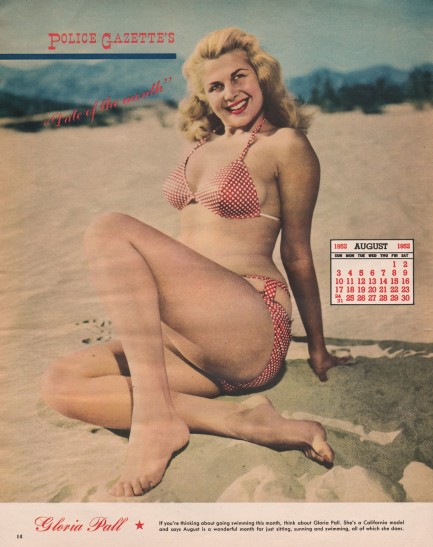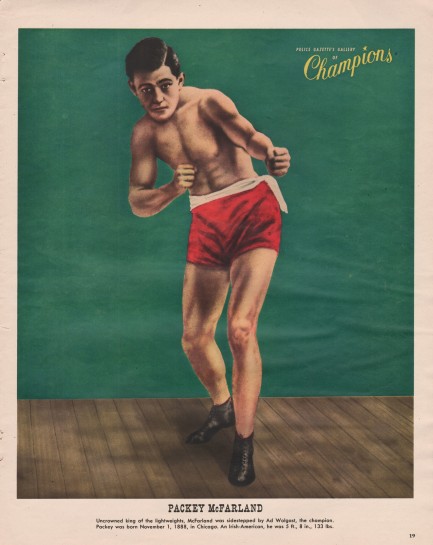 ---
Did Hollywood really freeze out the most popular starlet in the world?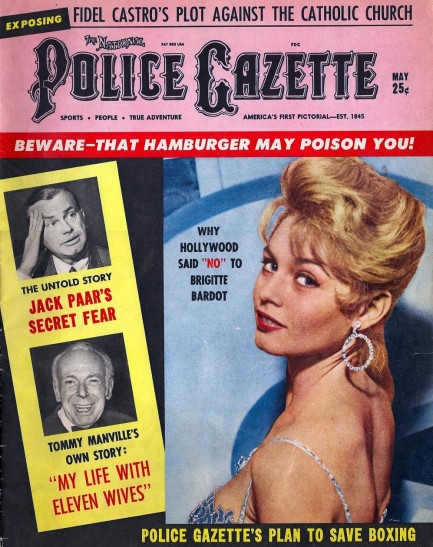 The National Police Gazette reveals on this cover from today in 1960 that Hollywood said no to Brigitte Bardot. The accompanying story quotes an unnamed independent producer, who says that the problem is that Bardot's deficient acting skills limited her to sex kitten roles, but American censorship meant Hollywood couldn't make those kinds of movies. He adds that, at $150,000 salary per project, Bardot is too expensive for Hollywood. A second "well-informed source" tells Gazette that studios are afraid of Bardot's unbridled sexuality, claiming that her image is "so sexually devastating, that [Hollywood] quivers in fear before the slight, curvaceous French girl with the moist, pouted lips." So, basically two of three reasons Police Gazette gives for Bardot not featuring in Hollywood films have to do with the influence of legions of American prudes. So maybe it wasn't really a case of Hollywood saying no to Bardot as much as it was saying yes to sexual repressives. Bardot, it should be noted, simply continued on as the biggest star in the world. Elsewhere in this issue you get the plot-of-the-month attributed to Fidel Castro, tales of Adolf Hitler and Eva Braun, Jack Paar's fears, and a nice portrait of Babe Ruth and Lou Gehrig. Scans of all that below, and more Gazette coming soon.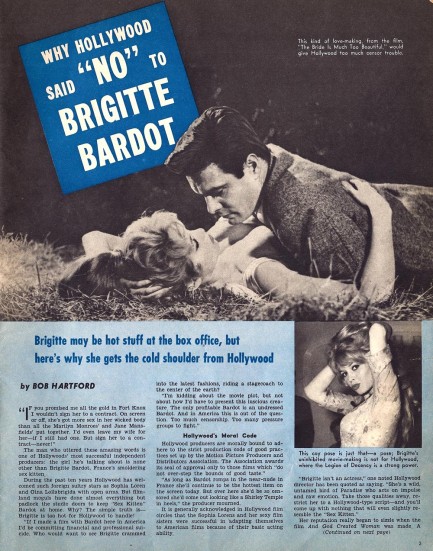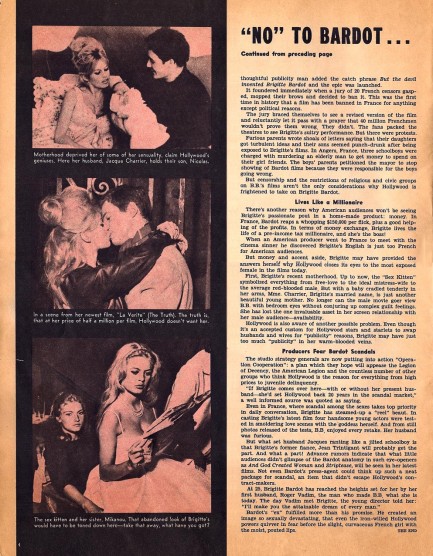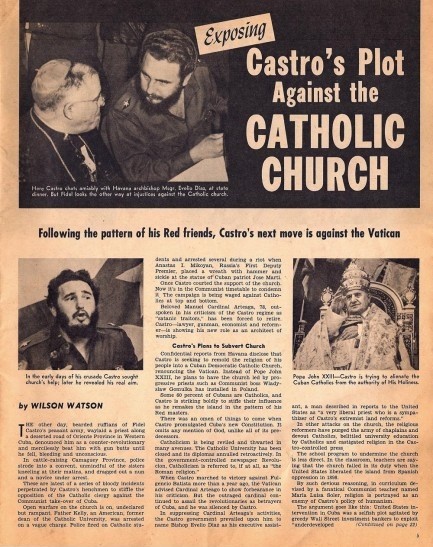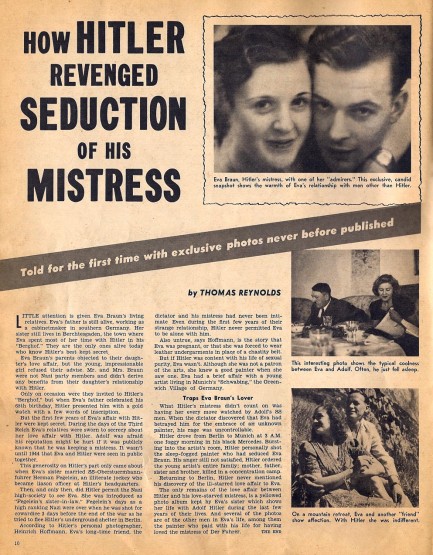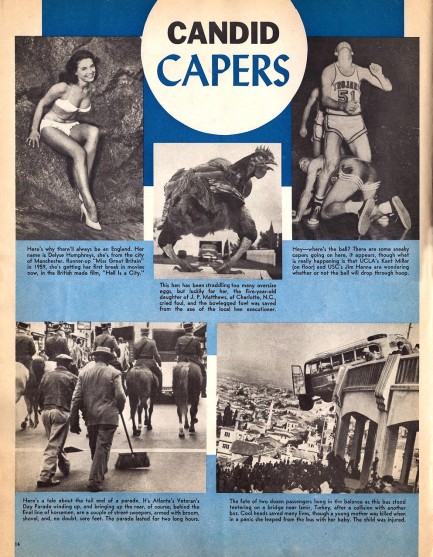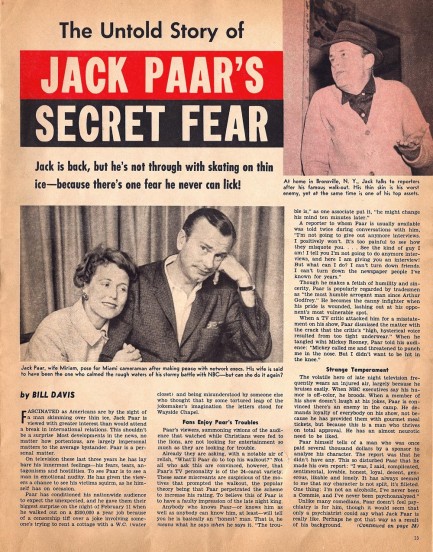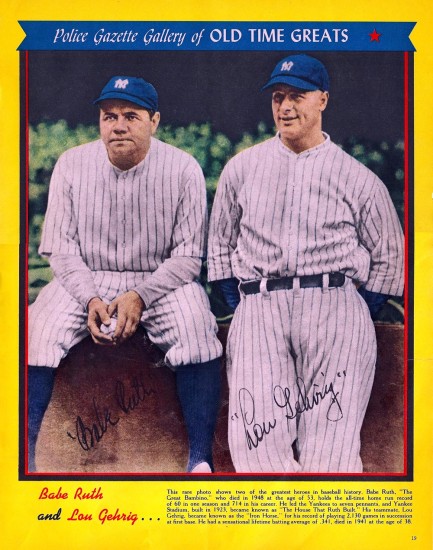 Cuba
,
France
,
Police Gazette
,
Fidel Castro
,
Brigitte Bardot
,
Babe Ruth
,
Lou Gehrig
,
Jack Paar
,
Eva Braun
,
cinema
,
tabloid
---