I didn't know that a girl like you could make me feel so sad...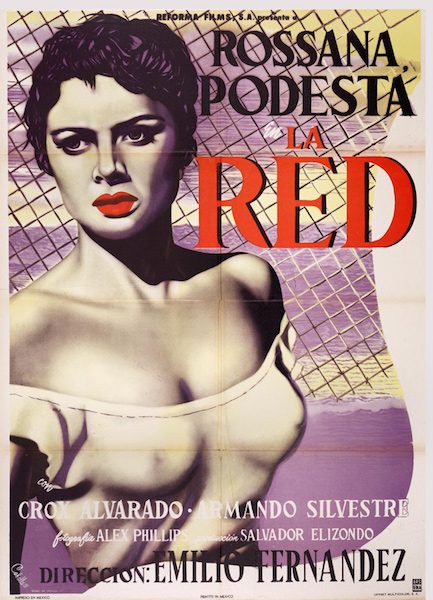 A couple of weeks ago we shared a Mexican movie poster we weren't 100% sure was actually from Mexico. This time we're sure—this beautiful promo Antonio Caballero painted for the melodrama La red says right in the lower left corner "impreso en México." In that previous write-up we also talked about how popular locally produced films were in Mexico before the industry was suffocated by U.S. business and political interests, and this effort is an example. It was made by Reforma Films S.A., based in Mexico City, and starred Libyan born Italian actress Rossana Podesta, Costa Rican actor Crox Alvarado, and U.S. born actor Armando Silvestre. Enticing a burgeoning international star like Podesta over from Europe indicates how established the Mexican film industry was in 1953, when La red was made.
Interestingly, when the movie played in the U.S. it was titled simply Rosanna, which makes sense, because it would be nothing without Podesta. It struck us that even though Toto didn't write their song of obsession "Rosanna" about Podesta, they might as well have. The film begins when a group of men botch a robbery, a shootout commences, and one of the bandits, Antonio, played by Alvarado, tries to help his wounded comrade. But the dying man gasps to Antonio, "Save yourself—for Rossana." So we know she's a special woman even before seeing her. Antonio does save himself and goes to live on the seaside with Podesta, where the two harvest sea sponges. It's idyllic, but as a wanted thief he has to lay low, which means sending her alone to town to sell their catch. And the men in the town are... well... see below: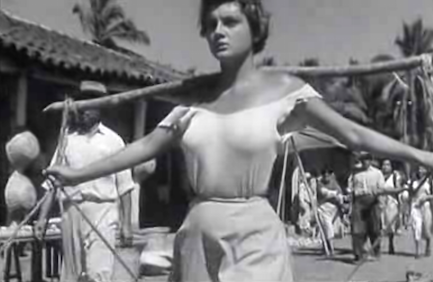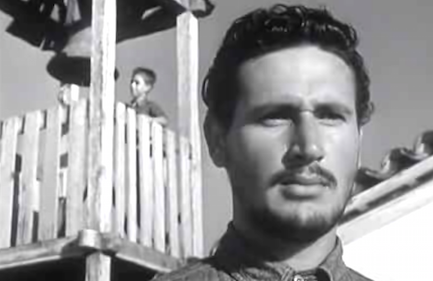 I am intrigued by this spicy redhead.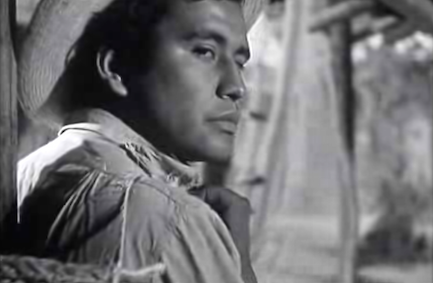 I too find myself somewhat taken with this mysterious chile pepper of a woman.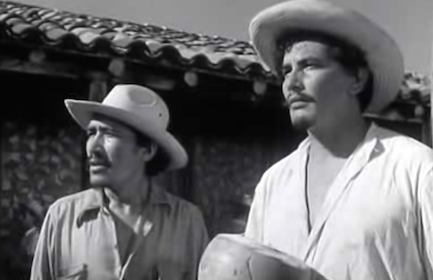 Perhaps I'll invite her to coffee and a cronut. That's a cross between a croissant and a donut, my friend, and living out there on the idyllic seashore as she does, I bet she's never had one.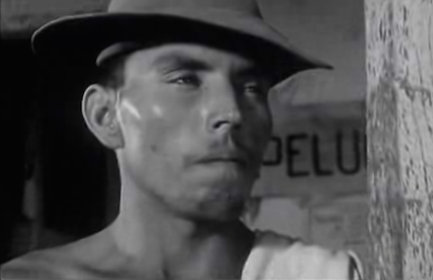 I wonder if she's a fan of our great romantic poet Salvador Díaz Mirón?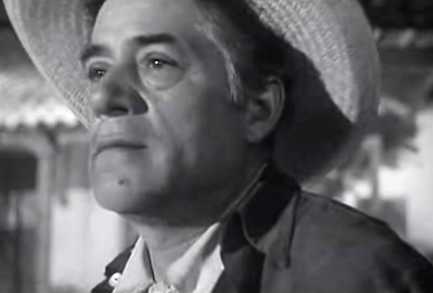 I'm certain she has no idea how quickly European skin can burn in this tropical climate.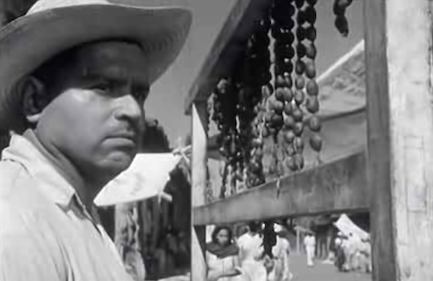 I'm admittedly less high minded than other men, and mainly wonder what she looks like naked, and whether the carpet is red too.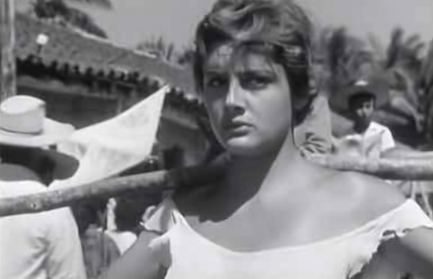 What the hell are all these guys staring— Oh. I think it's me.
Clearly, these trips into town are menacing affairs for Podesta. If you were to screen the sequences at an anti-sexual harassment seminar, every guy in the joint would bow his head in shame. Important to note, though, that within the narrative these aggressively pervy guys are depicted in a negative light, with even the soundtrack music growing ominous. When one of Antonio's robbery compatriots shows up in town, he gets into a shootout that leaves two men dead, and therein are sown the seeds of future troubles. We won't say more, save that the film is stagy, stylized, operatic, almost devoid of dialogue, and largely remembered because of Podesta's role. It all worked well enough to earn the Prix International du film le mieux raconté par l'image, aka the Award for Visual Narration, at the Cannes Film Festival.

Moving on to the poster, have a look at a previous Mexican promo we shared last year. It's here. We'll wait. Back? You'd think it was the same person who painted both, but the reason we wanted you to glance at the other one is because it exemplifies the strange phenomenon of artists within the same film industry biting each other's styles. It happened in Italy and Sweden too. Either through direct influence from the studios, or through osmosis due to mutual association, several Mexican artists delved into this art deco tinged style. Check out Leopoldo Mendoza Andrade here. Interesting, right? You'll see what we mean even more clearly when we share posters from other Mexican artists, for example Juan Antonio Vargas. That'll be soon. La Red premiered in Mexico today in 1953.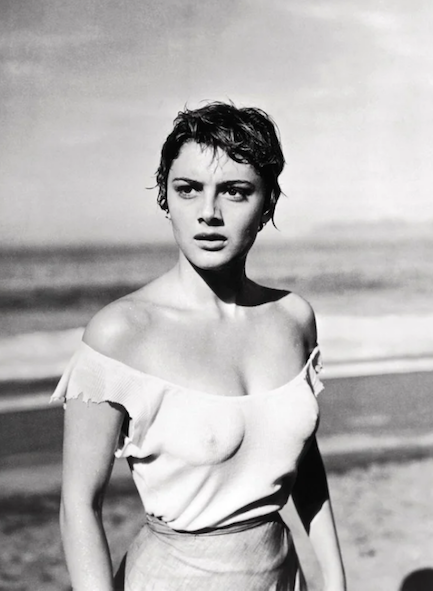 ---
Getting it is hard. Keeping it is even harder.
This rare Japanese poster for the Italian caper flick 7 uomini d'oro, aka Seven Golden Men, tells you at a glance everything you need to know—men with guns, a pile of gold bars, and Rossana Podesta in a lace catsuit. The movie is about a group determined to rob a gold depository in Switzerland, and stars Podesta along with Philippe Leroy, Gabriele Tinti, and an Ocean's 11-style cast of others. All the elements here are ones you've seen before—the impenetrable underground vault, the international hotshot thieves, the hi-tech gizmos and gadgets, and the haute couture costume changes from the leading lady. Breezy direction from Marco Vicario and a winning performance from Podesta make everything, familar though it all may be, work like a charm. We also liked the music, the cool exteriors in Geneva and Rome, and the fact that the heist has already begun as the movie opens. The thieves' plan is clear pretty quickly; how they're going to pull it off as obstacles proliferate is what becomes the crux of the fun.
7 uomini d'oro
is well worth the time. After opening in Italy in 1965, it
had its Japanese premiere today in 1966.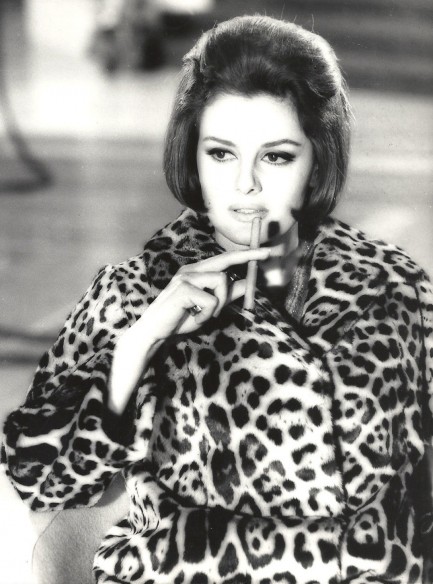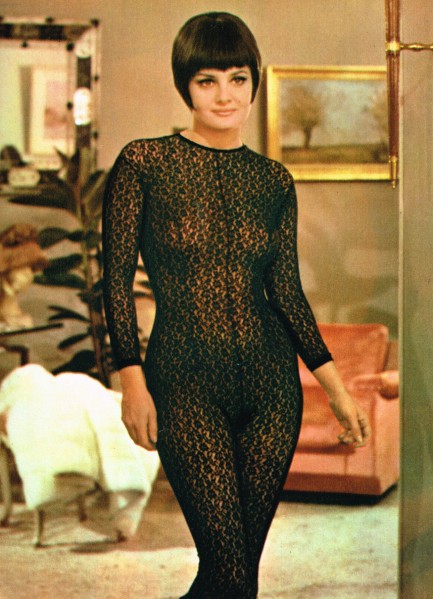 ---
Continental Film Review mixed serious cinema scholarship with cheesecake.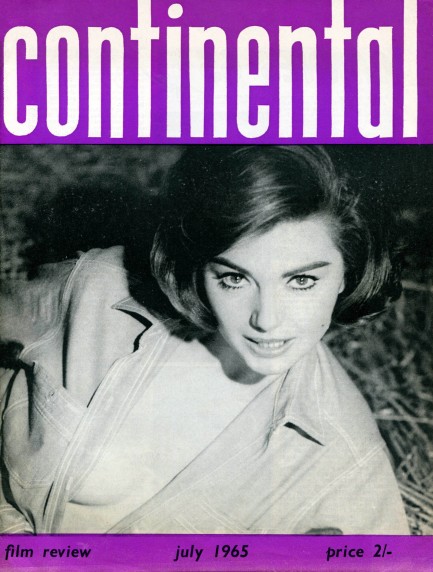 We located this July 1965 copy of the British cinema magazine Continental Film Review, and found two good reasons to post it—the great Sylva Koscina cover shot, and the adverts for London's x-rated Compton Theater, at bottom. In between you get Ugo Tognozzi, Rossana Podesta, Luciana Gilli and more. CFR was actually one of the most serious and informed film magazines of its era, but instead of sharing scans of pages and pages of text, we posted the photos. However, in this issue are articles on the San Sebastian and Berlin film festivals, Canadian and Québécois cinema, and near-scholarly treatments on Italian neorealist director Vittorio De Sica, and Pier Paolo Pasolini's award winning biblical film The Gospel According to St. Matthew. Doesn't that all sound great? See a CFR with Christina Lindberg here, and Laura Gemser here.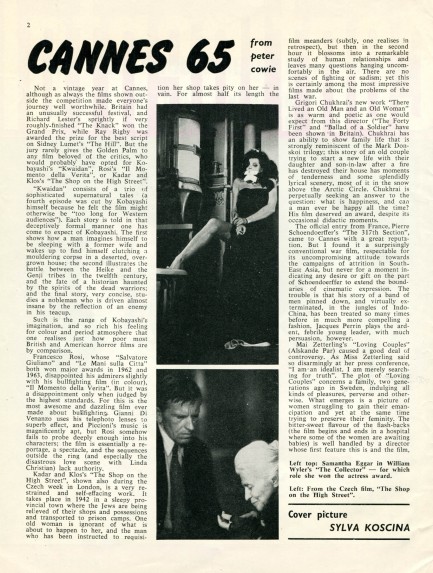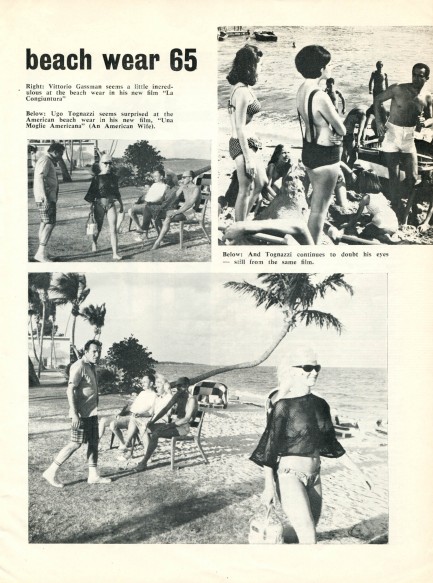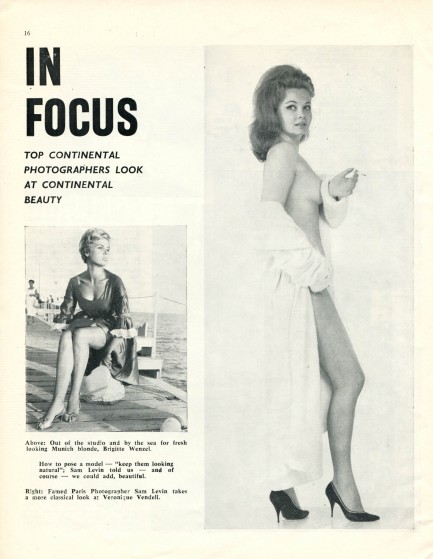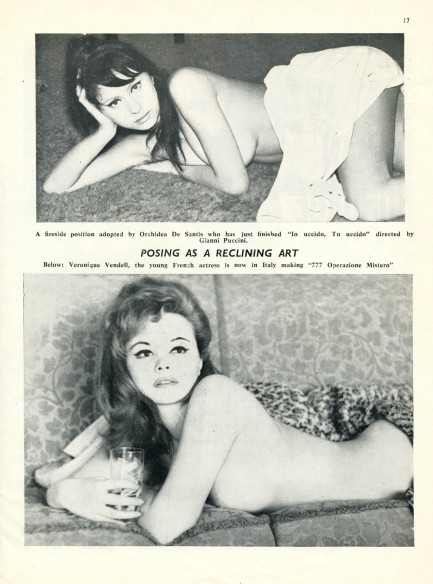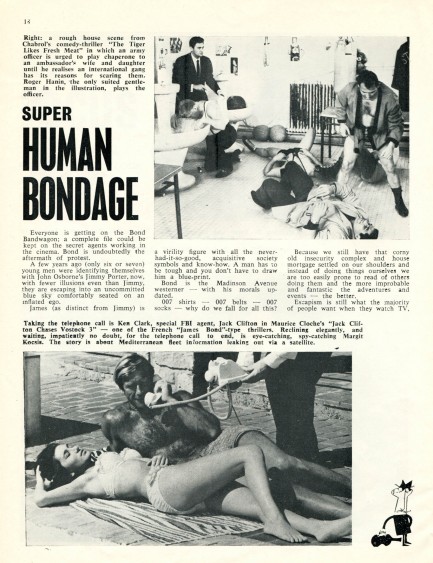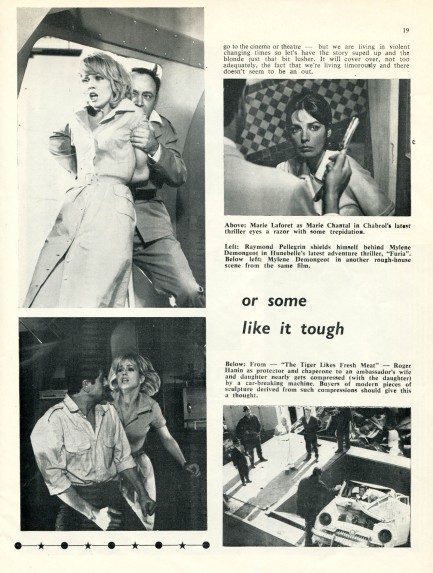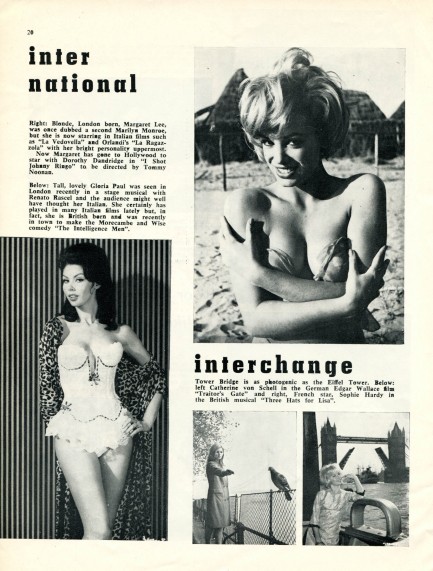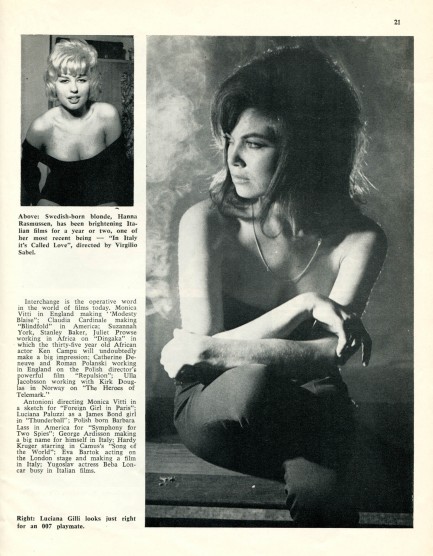 ---