Just because they're kidnappers doesn't mean they're bad people.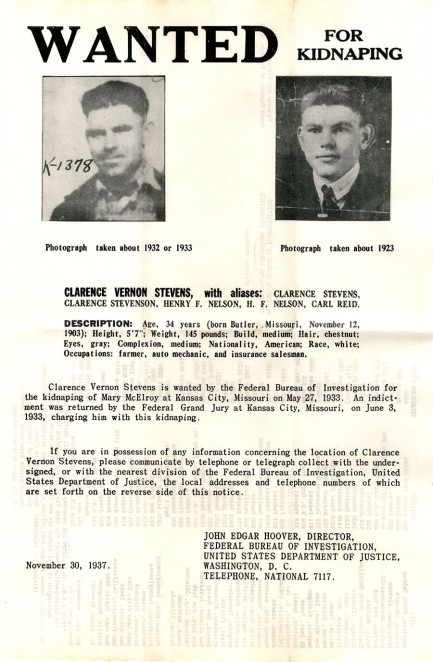 This FBI wanted poster was issued for Clarence Vernon Stevens today in 1937, in connection with a kidnapping case dating back to 1933. Clearly, the FBI were having no luck finding their target. In May 1933 Stevens and three accomplices had kidnapped Kansas City rich girl Mary McElroy right out of her bathtub one night and demanded a hefty $60,000 ransom from her father for her safe return. In the end they got $30,000, but they also got caught—all except for Stevens. While his accomplices were tried and sentenced to, respectively death, life, and eight years, police scoured the state for Stevens. Eventually they decided he might have hidden himself somewhere in the Pacific Northwest. The FBI got involved in the search, resulting in the above poster.
Mary McElroy had developed a bond with her kidnappers and lobboed for more lenient sentences for the three that had been caught on the grounds that they had treated her decently. She successfully petitioned Missouri governor Guy Brasfield Park to have the death penalty handed one of her captors commuted to life, explaining in a letter, "Through punishing a guilty man, his victim will be made to suffer equally. [snip] In pleading for Walter McGee's life I am pleading for my own peace of mind." She was very likely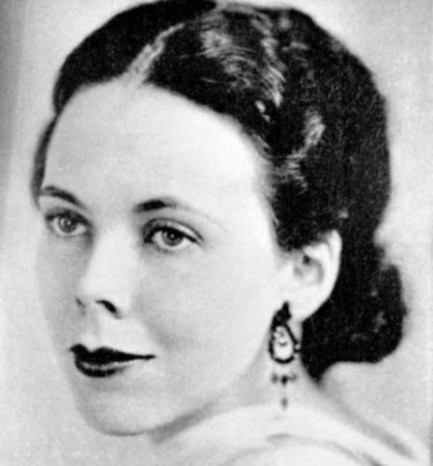 being truthful about her mental state—after the event she suffered from all sorts of mental disorders, problems she attributed to concern for the imprisoned men she now considered friends. We're sure a modern headshrinker would have a more in-depth explanation, something along the lines of PTSD.

Whether McElroy's problems originated from the kidnapping itself or from subsequent anxiety concerning the state punishing them on her behalf, the rest of her life did not go well. She had several nervous breakdowns—as such incidents were called back then—never moved out of her father's house, and became addicted to opium. In January 1949 she committed suicide at age thirty-two by shooting herself in the head with a pistol. She left a note that read, "My four kidnappers are probably the four people on earth who don't consider me an utter fool. You have your death penalty now - so - please - give them a chance. Mary." But her death brought about no change in her kidnappers' status. One had already been paroled as scheduled, but the other two remained in prison. As for Clarence Vernon Stevens, he was never caught.


---
Two mobsters meet a messy end on the boulevard of broken dreams.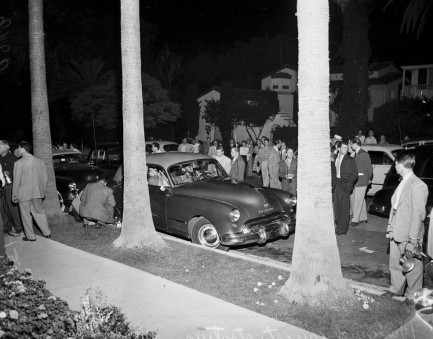 They were known as the Two Tonys—Brancato and Trombino, a pair of wild mobsters out of Kansas City. In May 1951 they robbed the cash room at the mob-controlled Flamingo Hotel in Las Vegas. They and their three henchmen had been wearing hats, but Tony Brancato lost his mid-robbery, was caught on camera, and from there ended up on the FBI's most wanted list. Brancato and Trombino were also identified by a mob subordinate who recognized them because he'd been robbed by them in Beverly Hills. The pair were arrested for the Flamingo robbery, but made bail, then promptly headed to Los Angeles. There they shook down a mob bookmaker's right hand man, which put them on L.A. crime boss Jack Dragna's most wanted list. But the difference between his list and the FBI's was that Dragna's had nothing to do with capture and trial. He ordered the Two Tonys to be killed, and mob shooter Aladena Fratianno, aka Jimmy the Weasel, took on the task. Brancato and Trombino desperately needed money for their legal defense, and Fratianno told them he'd help them take down a high stakes poker game worth $40,000. The Tonys were thrilled and grateful, but the heist was fiction. Instead, in a car on Hollywood Boulevard, Fratianno had two subordinates murder them. The aftermath appears above and below. Today, 1951.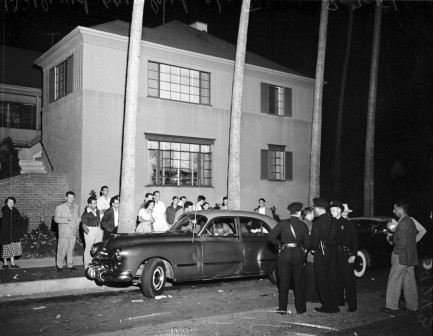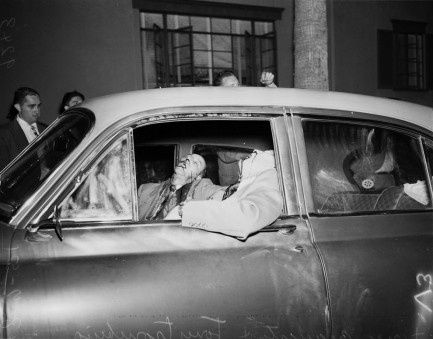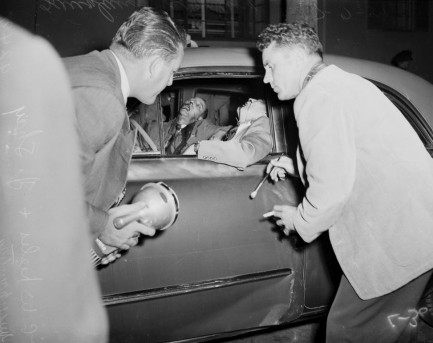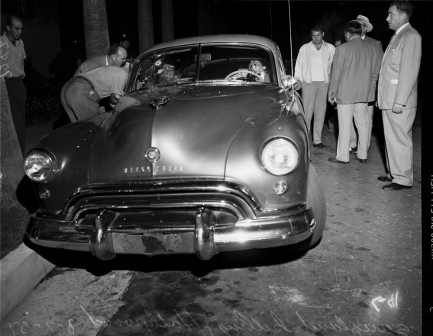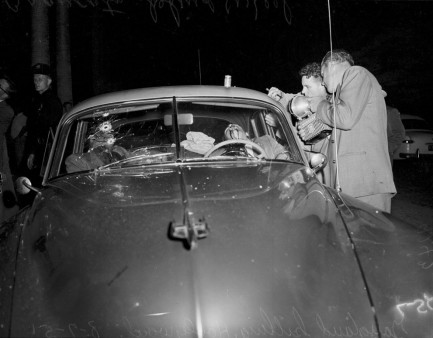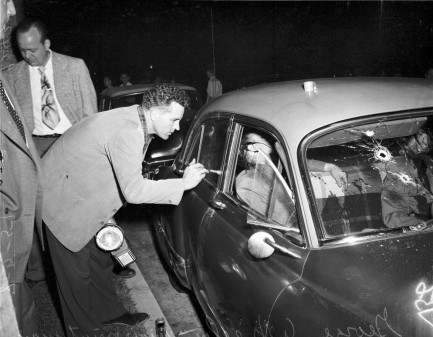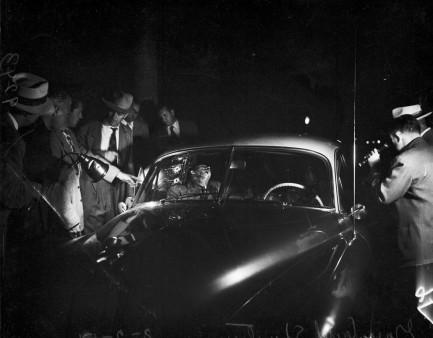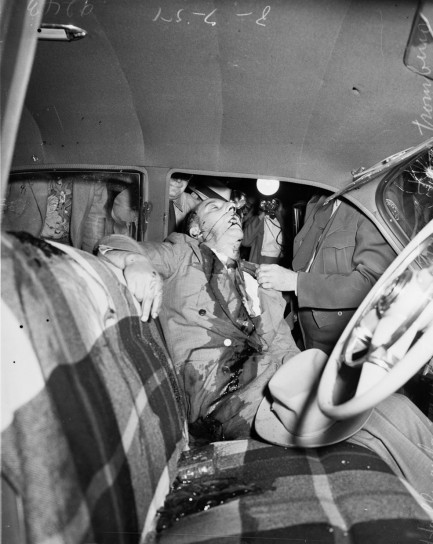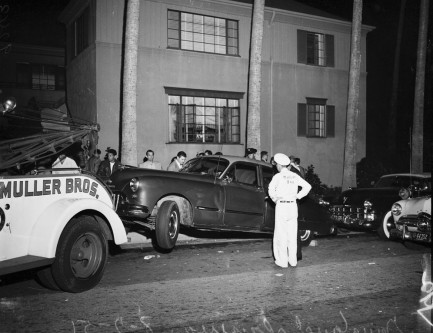 ---
It's a mostly forgotten flick, but in Prime Cut Lee Marvin reminds us he was one of the all time screen tough guys.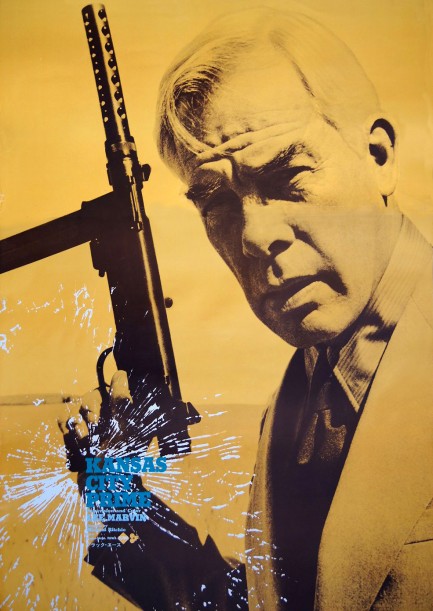 Prime Cut is another one of those movies that falls squarely into the could-not-be-made-today category. Starring Lee Marvin and Gene Hackman, it's the story of a Chicago mob enforcer sent to Kansas City to make a local meatpacking and prostitution kingpin pay a debt of $500,000. The meat aspect of Hackman's KC operation is both literal and metaphorical, with his enemies occasionally ending up ground into actual hot dogs, and young girls being sold like cattle. Marvin starts as just a debt collector but soon becomes a white-haired angel of retribution, an avenger intent on righting a few moral wrongs. When Marvin gets that familiar look in his eyes, is there any doubt Hackman and his sleazebag underlings are in seriously deep shit? Prime Cut is an uneven flick with a few jarring 1970s quirks, but we sure enjoyed it. It's bold, violent, and offensive by today's standards, but nicely rendered by director Michael Ritchie and cinematographer Gene Polito. Of special note is Sissy Spacek, who makes her first credited film appearance. Prime Cut premiered in New York City today in 1972, but what you see above is the great Japanese promo, with its alternate title Kansas City Prime. If you like 1970s crime thrillers, you'll certainly appreciate this one.
---