In The French Love we learn that what the French love is sex.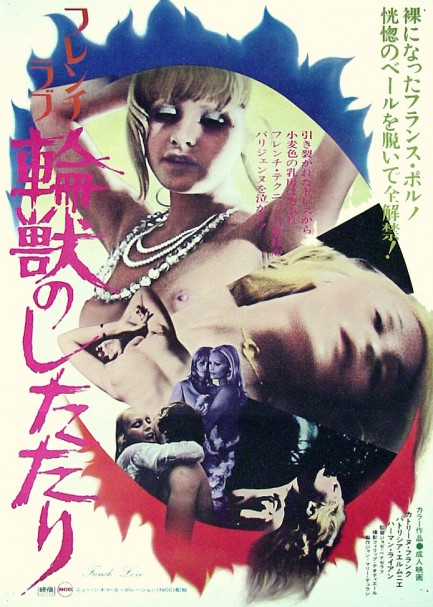 Random Japanese poster art today, a promo for The French Love, starring Jacques Fugie, Eva Saint (not to be confused with Eva Marie Saint), and others. Fugie, Saint and all the other actors listed as performers here were pseudonyms, but ones fabricated especially for the Japanese market. Thus you won't find any reference to an Eva Saint or Jaques Fugie anywhere else. The French Love actually starred Herman Ryan, Catherine Franck, Patricia Hermenier, and Rod Cameron in the story of an American journalist hooking up with two French flight attendants in Paris while covering the diplomatic meetings leading up to the treaty that ended the Vietnam War. Heady times, no? Leave it to the French to mix social commentary with smut. The movie was directed by José Bénazéraf, a softcore veteran who helmed something like a hundred erotic films between 1963 and 1999, as well as starring in some. Release dates on The French Love, aka merely French Love vary—many sources say 1972, but we think it was 1973.


---
A politics-free Olympiad? Only in our dreams.
Something we've had lying around for two years, this is the week we finally get to share this Japanese poster for the 1968 Summer Olympic Games in Mexico City. History books and our fathers tell us what a turbulent Olympiad that was. It was the height of Vietnam and the civil rights struggle, and African American runners Tommie Smith and John Carlos raised up a black power salute on the medal podium while the U.S. national anthem was played. That is the event many seem to remember, but of great importance was the Mexican government's massacre of unarmed student protestors in the Tlatelolco barrio of Mexico City. Although it happened before the Olympics began, the protest was tied to the games because part of the students' dissatisfaction had to do with the Mexican government spending the equivalent of $7.5 billion to stage the event. Meanwhile, in Europe, the Soviet Union had invaded Czechoslovakia, prompting medal winner Vera Caslavska to turn her head away during the playing of the Soviet anthem. 1968—you wouldn't really call it a good year. But at least we have this good poster.
---
Good thing Chris Noel dressed for warm weather, because she spent quite a bit of time in the jungle.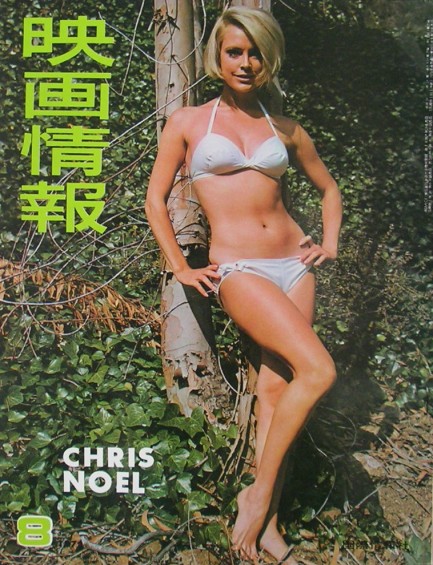 We ran across this 1970s-era Japanese celebrity magazine Movie Information featuring Chris Noel on the cover and absolutely had to share it. She was a notable figure during the Vietnam War due to her "A Date with Chris" radio program, which she broadcast twice weekly to American troops. The show was immensely popular. In fact she was thought by the Viet Cong to be such a morale boost that they reportedly placed a $10,000 bounty on her head. They never managed to kill her, but helicopters in which she rode often took ground fire, and two crash-landed with her aboard. Her efforts to make personal contact with U.S.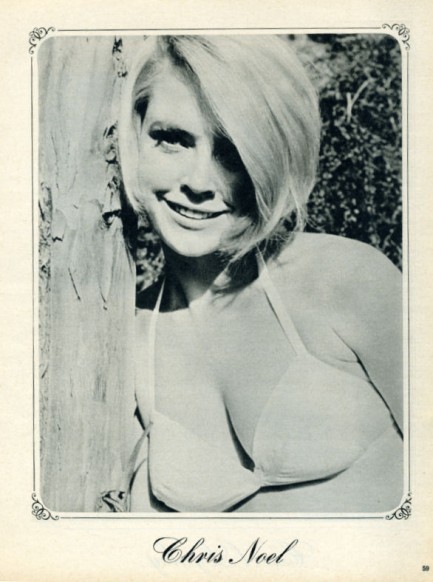 troops were remarkable when you consider she had already established herself in b-movies and on television and may have been on the verge of becoming a star. Yet she put Hollywood on hold and instead became a radio broadcaster in a war zone. After Vietnam she tried to return to movies but the reception in Tinseltown was icy for a minor actress who was perceived to have supported a U.S. war of aggression. Eventually she gave up and opened a shelter for homeless veterans, which she still runs today. All in all it's a remarkable—perhaps even movie-worthy—story.
History has written a last draft on Vietnam. The event is remembered by the majority of the world as an error, one that cost the U.S. considerable prestige, and resulted in a humanitarian disaster for the Vietnamese—more than two million civilian deaths according to the most conservative tallies. Even the war's chief architect, Robert McNamara, who died recently, declared the conflict a colossal mistake. Today Vietnam remains under communist rule, but has restored diplomatic ties with the U.S. and is one of the most welcoming nations in the world, a place
where American vets comment with amazement upon the Vietnamese ability to put the war behind them despite the ghastly suffering they endured. But whatever history's take on that divisive period, personalities like Chris Noel are worth admiring. During a time when politicians, pundits, and protestors fought a war of their own over the direction of the United States, Chris Noel rejected the glitz and glamour of Hollywood in order to serve the grunts who were sacrificing their lives on the firing line.
---