Happiness in Hollywood can be hard to hold onto.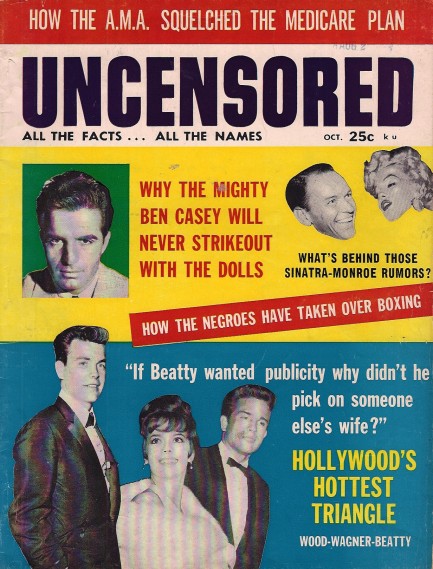 Uncensored gives readers the lowdown on all the Hollywood trysts and splits in this issue published this month in 1962. José Ferrer and Rosemary Clooney apparently broke up—after eight years and five children—over Ferrer's insistence on carrying on extramarital affairs, as was his natural right. At least that's what he thought: "Since the beginning of our marriage he has engaged in a series of affairs with other women," Clooney is quoted. "I discussed this with him prior to our separation, but he said he couldn't change his way of life." Apparently the Puerto Rican born Ferrer was old school with the whole machismo thing. But all was not lost between him and Clooney. They married again in 1964 and managed to stay together another three years.

Pivoting to the hook-ups, Uncensored explains how Joan Collins stole hotel heir Nicky Hilton from Natalie Wood, but Robert Wagner stole Collins from Hilton, leading to Natalie Wood stealing Wagner from Collins, and Collins falling into the arms of Warren Beatty. Mixed in with those four are James Dean, Tab Hunter, Lance Reventlow, and Elvis Presley. Or so the magazine says. That's a lot of guys and only two women, but the old tabloids loved to slut shame women while either ignoring or approving the antics of men. For example, Beatty was already known in 1962, after some years in television and with two hit movies behind him, as a bit of a slut, but that's not mentioned here at all. These days, though, he does get a bit of a bad rap. Although you'd have to have the brain of a fourteen-year-old to believe—as many people do—that he's slept with 12,000 women.

Uncensored next gets to Marilyn Monroe and Frank Sinatra. It's since been established that the two hooked up, but at the time this magazine was published the pair were generating mere rumors. Why? Because Monroe was flying to Las Vegas regularly and staying in Sinatra's home there. There's no rationale needed for this pairing—beautiful people tend to get together. But the editors actually offer a rationale for Monroe's interest in Sinatra and it's simply amazing: "Monroe is having all kinds of troubles with her studio and would like a man around the house to fight her battles for her." Huh? That one makes no sense to us. Let's run it through our trusty Mid-Century Tabloid Filter™: Buzz...whirrrr... clickety click... Aha. What Uncensored means is Monroe was so emotionally fragile she had to have a guy around 24/7 to handle angry phone calls. Interesting, but we're still not buying it. Twenty scans below.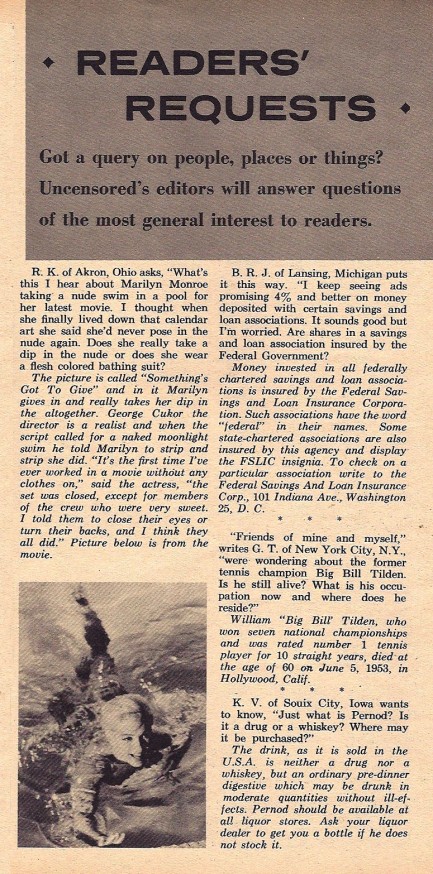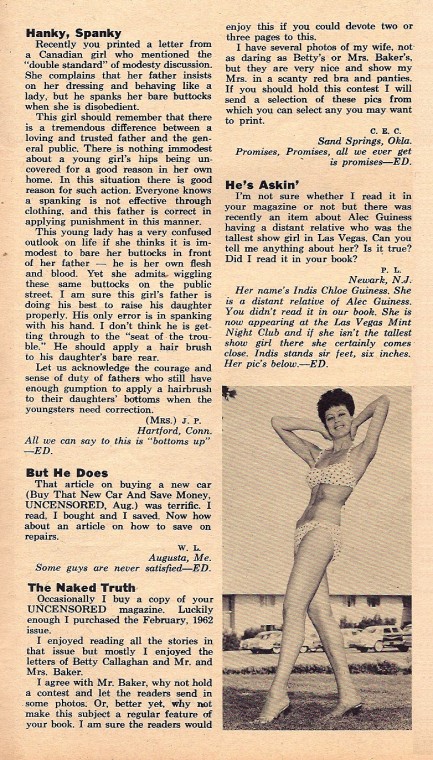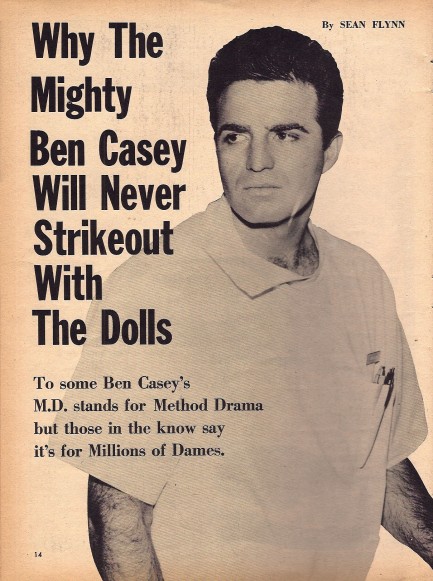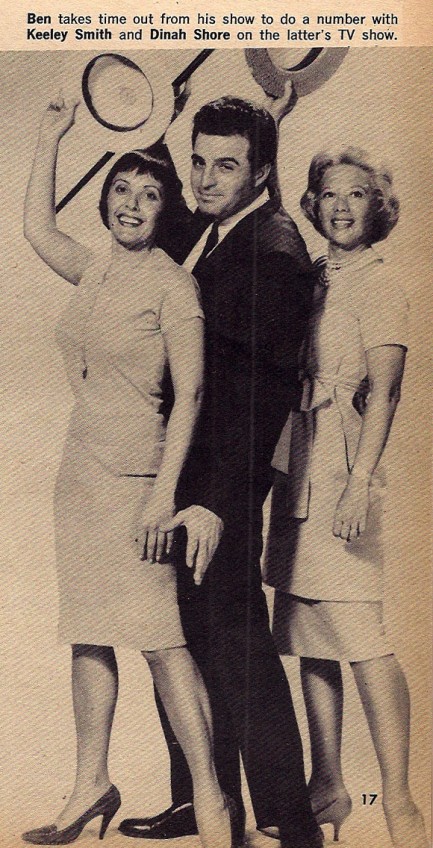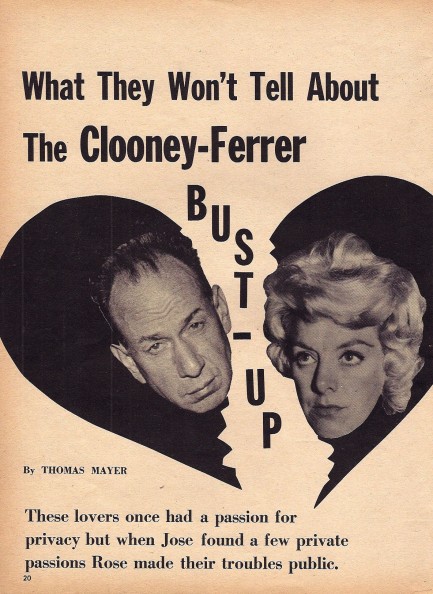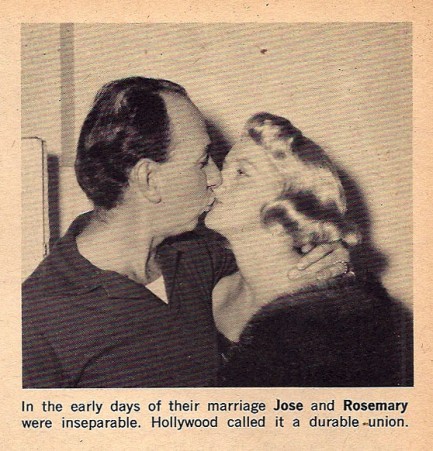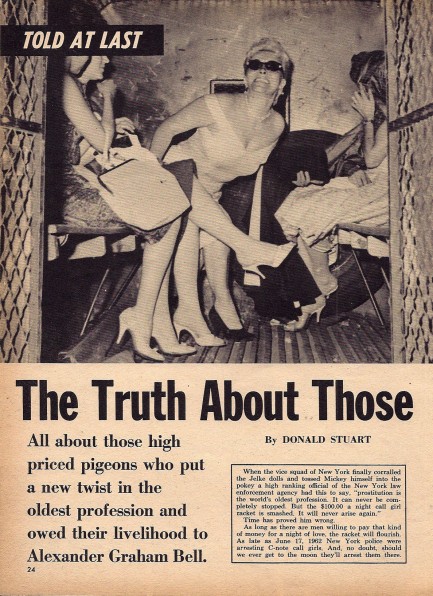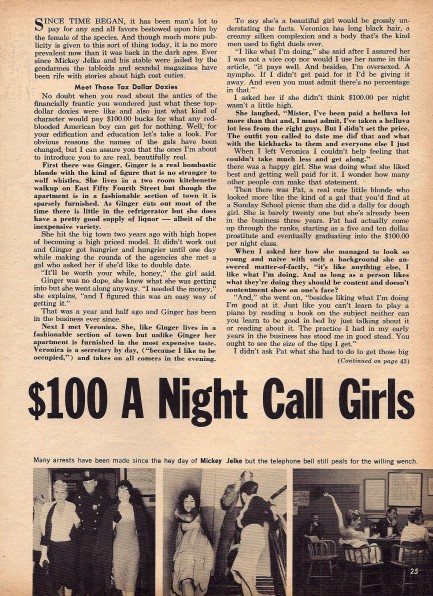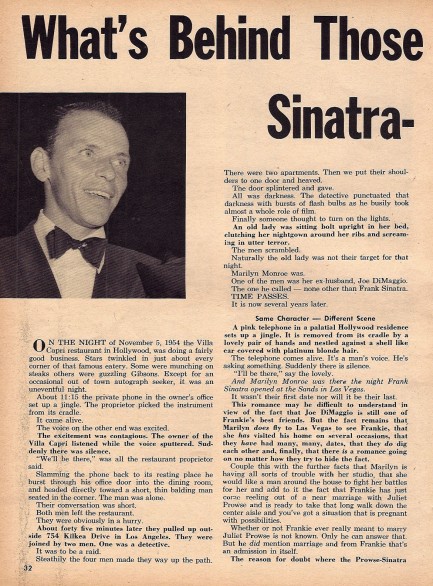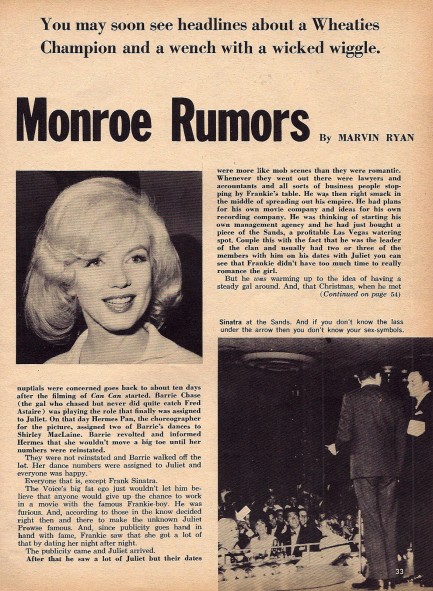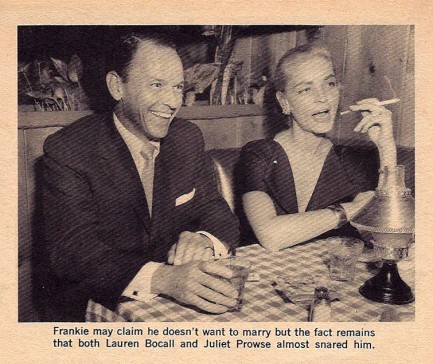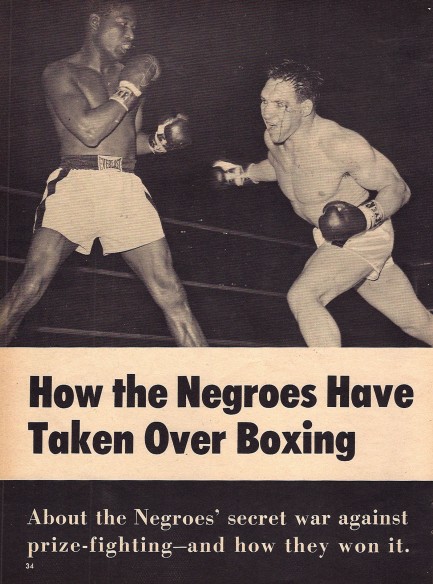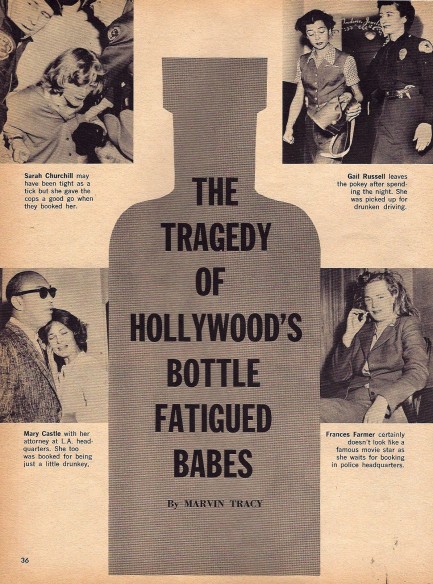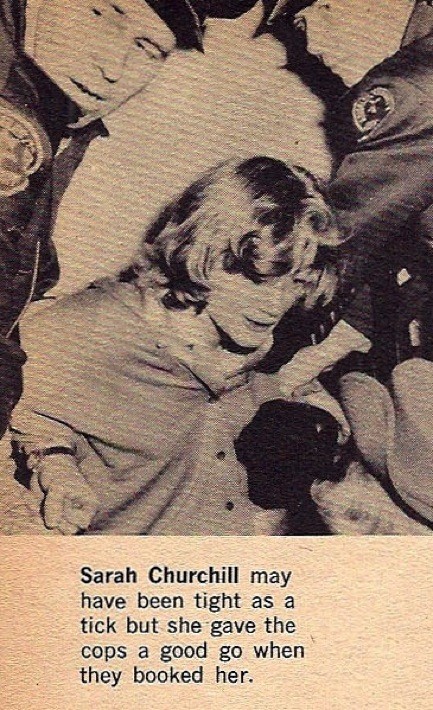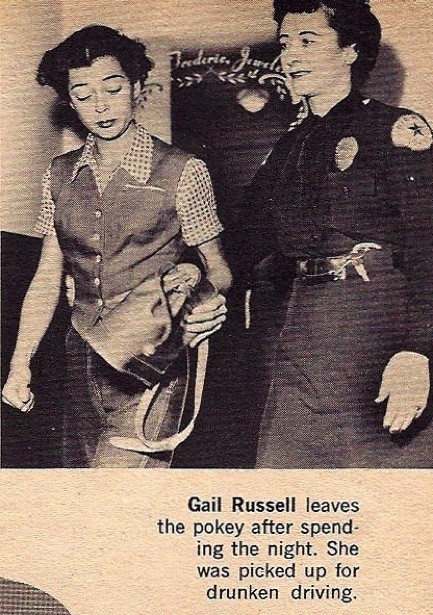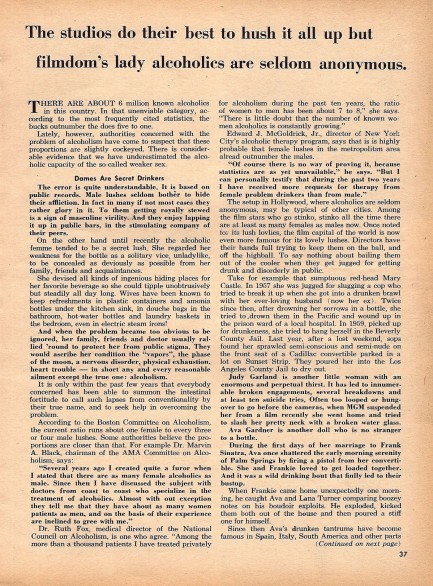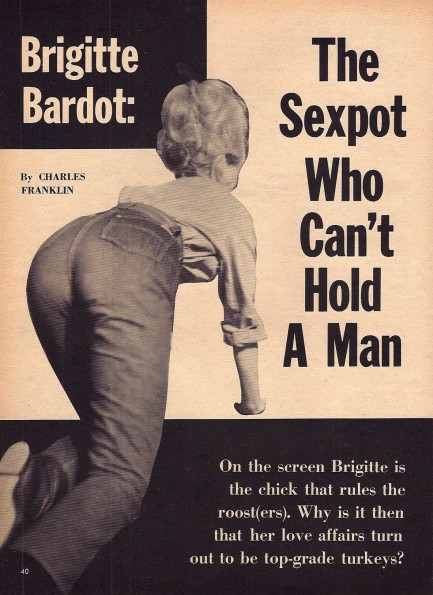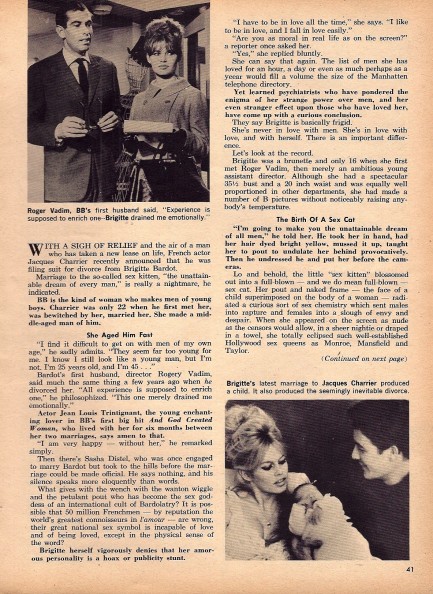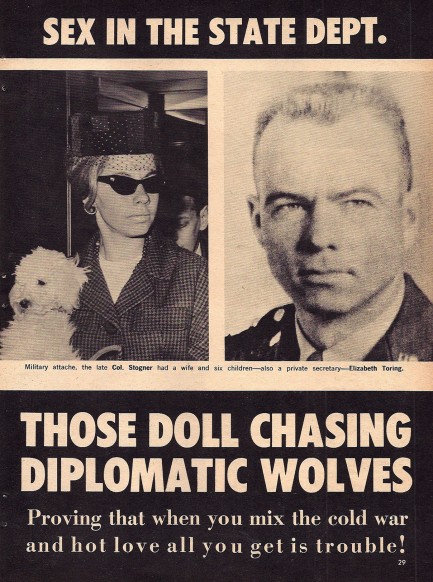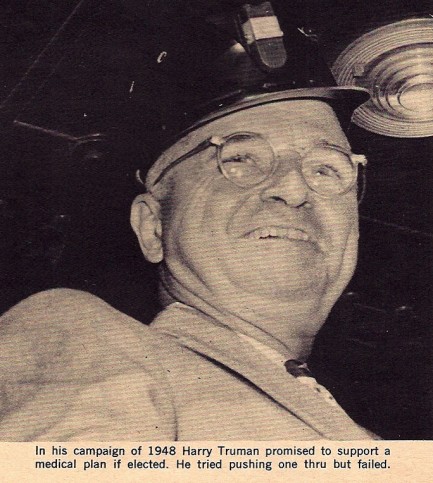 ---
Good things come in small packages.
Here's a new addition to the ever expanding roster of mid-century tabloids on Pulp Intl.—Inside, which we mentioned in relation to our post on Liberace a while ago. Inside was a pocket-sized magazine that came to newsstands in 1955 thanks to New York City's Dodshaw Publishing Corporation. It seems to have lasted only three years. This August 1955 issue, which was originally scanned and uploaded by Darwin's Scans, features singer Mario Lanza, filmmaker Elia Kazan, and actors George Raft and Gail Russell, among other subjects. Because the print in a pocket publication is readable when scanned and enlarged, we're going to let you check out the stories yourself. You can read a bit more about Inside here. Enjoy.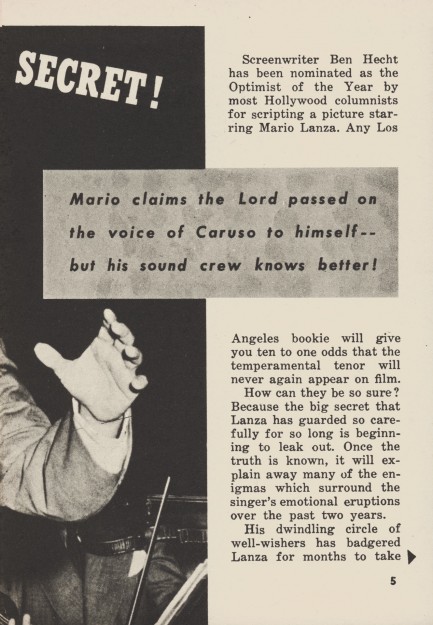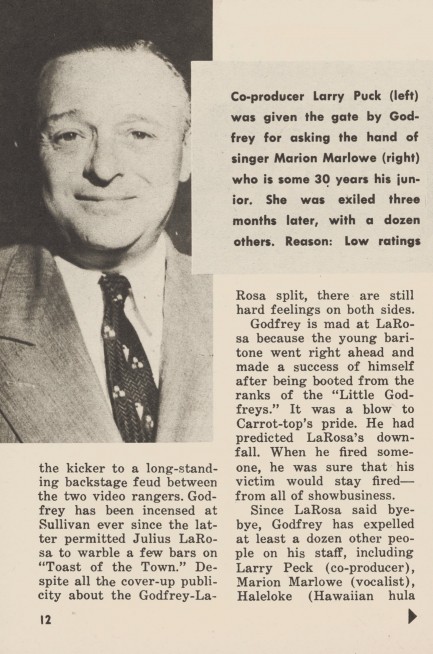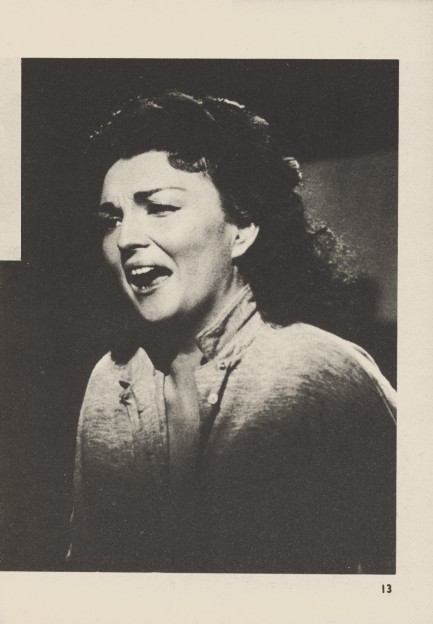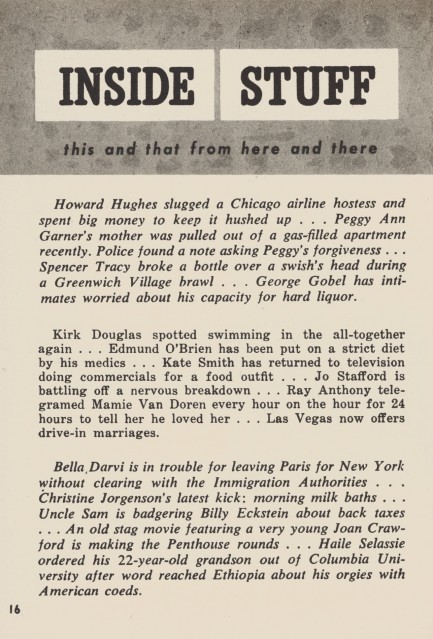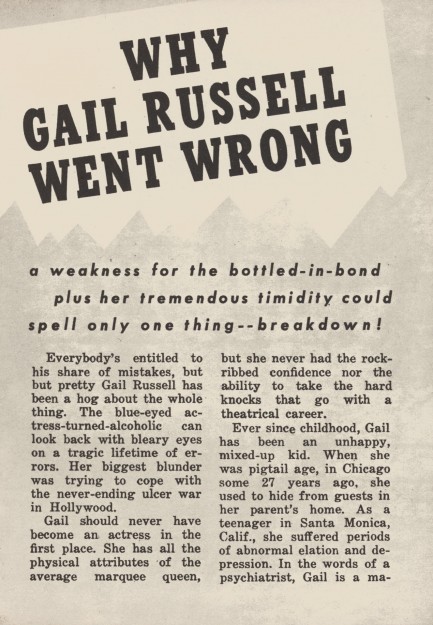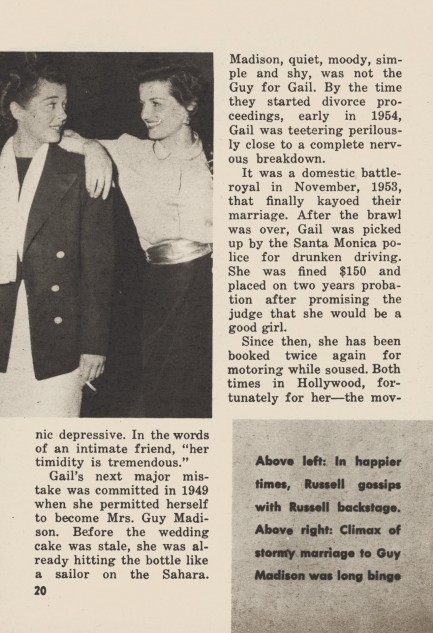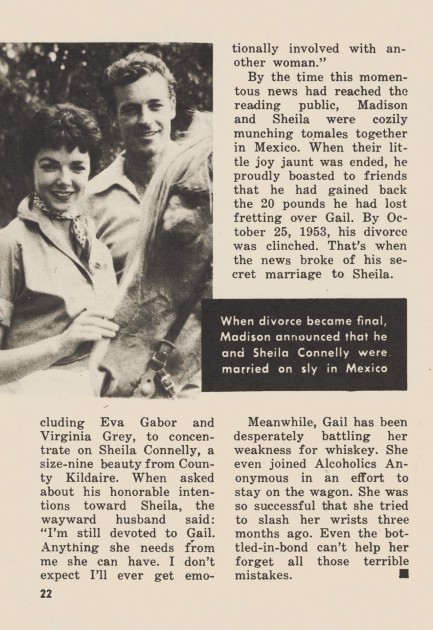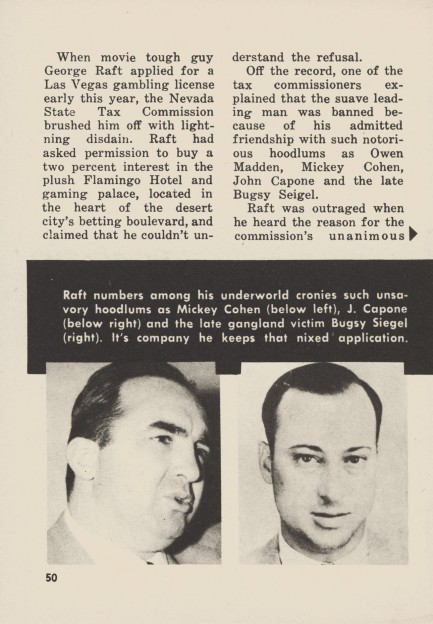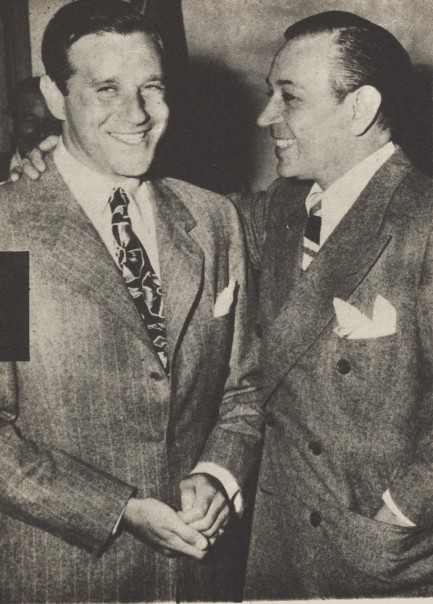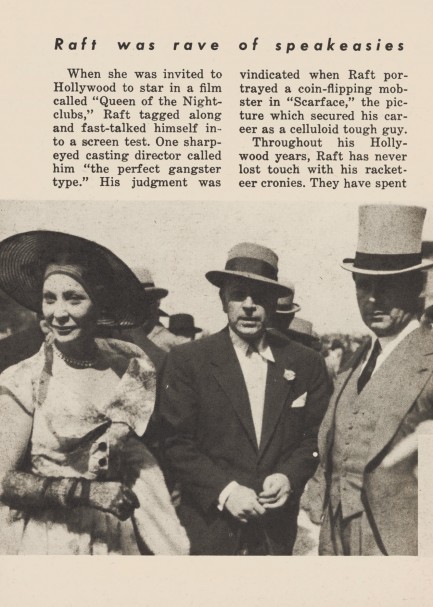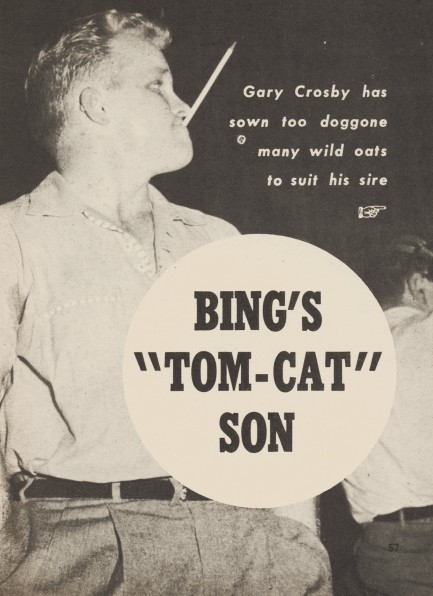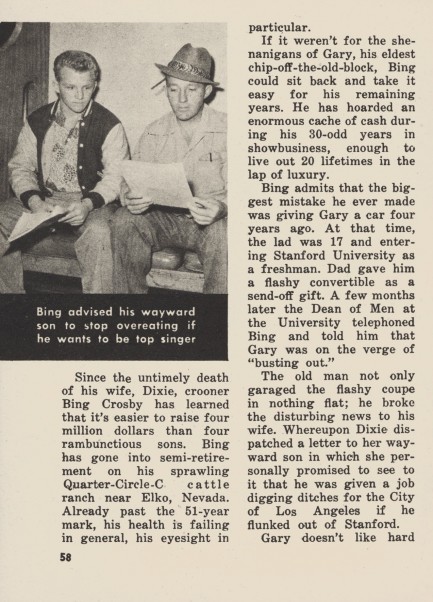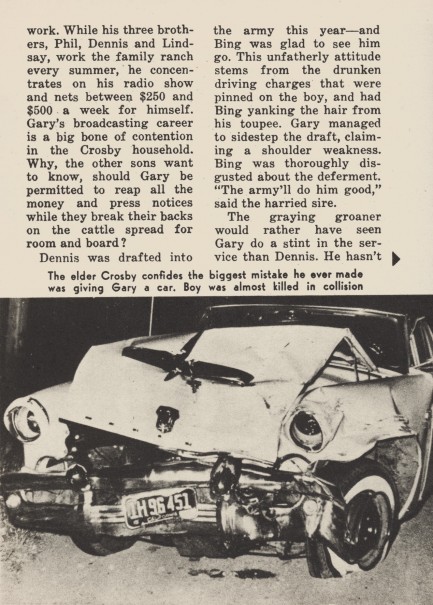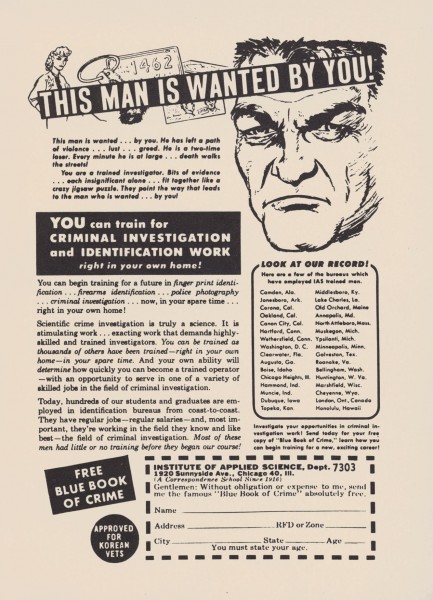 ---
I've seen the bottle and the damage done.
Above we have a copy of the tabloid magazine Behind the Scene from this month 1957, with cover stars John Wayne, Elvis and Yul Brynner. The shocking tales about Brynner have mainly to do with his claims of being a real life man of action, born on the Russian island of Sakhalin to Mongol ancestors. The truth was more mundane, but the lies helped Brynner establish himself as a star, so it's hard to fault his tactics. As far as Elvis goes, he was dogged by rumors of Mafia ties later in his career, but this mention of a connection as far back as 1957 was a surprise to us. As always, people on both sides of the issue are willing to shout their version of the facts to the mountaintops, but nobody really knows who's telling the truth. We'll check with Elvis himself on this, since he lives just over in the next town, and has since faking his own death in 1977.
The interesting story here is the one about Gail Russell and John Wayne. Their acquaintanceship began when they starred in Angel and the Badman together in 1947, and continued when they reunited for Wake of the Red Witch in 1949. Whether they were more than just friends, nobody really knows. At the time Wayne was married to Esperanza Baur Díaz, and the relationship was marred by drinking and fighting, including one incident when Baur shot at Wayne. When the time inevitably came for them to divorce, it turned into one of the nastiest splits in years, with Baur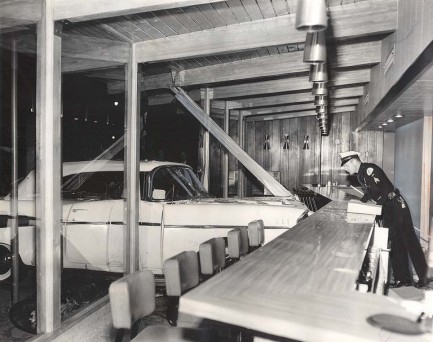 accusing Wayne of being a violent drunk who beat her and fucked around with various women, including Russell, and Wayne accusing Baur of hanging around sleazy dive bars in Mexico, hooking up with strange men, and spending his money to entertain them.
The divorce was in 1953,

but

Behind the Scene,

with this cover

,

is offering its readership dirt from an event that was still fresh in the public's minds because it had been such a knock-down-drag-out spectacle. Russell had never weathered the limelight well, and she used booze to cope. Her long term drinking problem was exacerbated by the turbulence surrounding the Wayne-Baur split. Two weeks after the divorce she was arrested for drunk driving. It caused Paramount to decline renewing her contract, and she kind of floated around for a few years, trying to hook on with a new studio but drinking steadily all the while. In 1955 she rear-ended another car and fled the scene, and in early 1957 she drove her car though the plate glass windows of Jan's Restaurant in Hollywood. You see the aftermath above.
With hindsight, it's clear Russell was in a death spiral, but in the Tinseltown of that day the situation was perhaps not so obvious. In August 1957, Russell was found unconscious in her home, passed out after a
drinking binge. Even in Hollywood, she had now crossed the line from being merely a party girl to having a problem. She was persuaded to join AA, but it was too late—she couldn't stop drinking, and in August 1961 was found in her L.A. apartment, having died from liver damage, aged 36. Russell once said of herself: "I was a sad character. I was sad because of myself. I didn't have any self-confidence. I didn't believe I had any talent. I didn't know how to have fun. I was afraid. I don't exactly know of what—of life, I guess." So it seems she knew what her problem was, but was powerless to conquer it, and in the end, became just another beautiful star that flamed out.


---