Happiness in Hollywood can be hard to hold onto.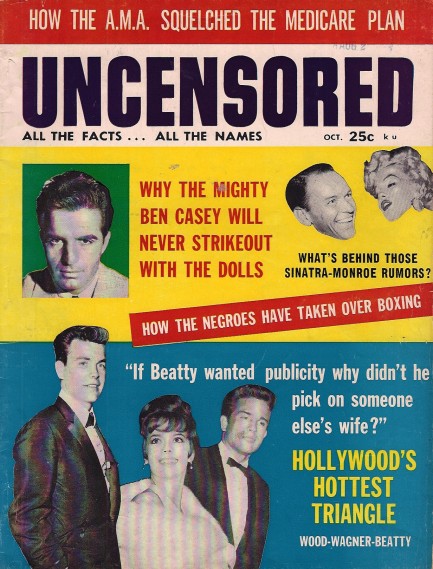 Uncensored gives readers the lowdown on all the Hollywood trysts and splits in this issue published this month in 1962. José Ferrer and Rosemary Clooney apparently broke up—after eight years and five children—over Ferrer's insistence on carrying on extramarital affairs, as was his natural right. At least that's what he thought: "Since the beginning of our marriage he has engaged in a series of affairs with other women," Clooney is quoted. "I discussed this with him prior to our separation, but he said he couldn't change his way of life." Apparently the Puerto Rican born Ferrer was old school with the whole machismo thing. But all was not lost between him and Clooney. They married again in 1964 and managed to stay together another three years.

Pivoting to the hook-ups, Uncensored explains how Joan Collins stole hotel heir Nicky Hilton from Natalie Wood, but Robert Wagner stole Collins from Hilton, leading to Natalie Wood stealing Wagner from Collins, and Collins falling into the arms of Warren Beatty. Mixed in with those four are James Dean, Tab Hunter, Lance Reventlow, and Elvis Presley. Or so the magazine says. That's a lot of guys and only two women, but the old tabloids loved to slut shame women while either ignoring or approving the antics of men. For example, Beatty was already known in 1962, after some years in television and with two hit movies behind him, as a bit of a slut, but that's not mentioned here at all. These days, though, he does get a bit of a bad rap. Although you'd have to have the brain of a fourteen-year-old to believe—as many people do—that he's slept with 12,000 women.

Uncensored next gets to Marilyn Monroe and Frank Sinatra. It's since been established that the two hooked up, but at the time this magazine was published the pair were generating mere rumors. Why? Because Monroe was flying to Las Vegas regularly and staying in Sinatra's home there. There's no rationale needed for this pairing—beautiful people tend to get together. But the editors actually offer a rationale for Monroe's interest in Sinatra and it's simply amazing: "Monroe is having all kinds of troubles with her studio and would like a man around the house to fight her battles for her." Huh? That one makes no sense to us. Let's run it through our trusty Mid-Century Tabloid Filter™: Buzz...whirrrr... clickety click... Aha. What Uncensored means is Monroe was so emotionally fragile she had to have a guy around 24/7 to handle angry phone calls. Interesting, but we're still not buying it. Twenty scans below.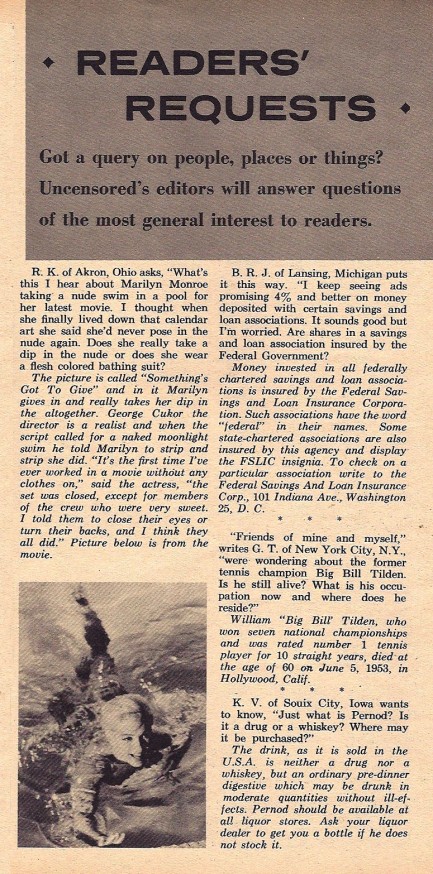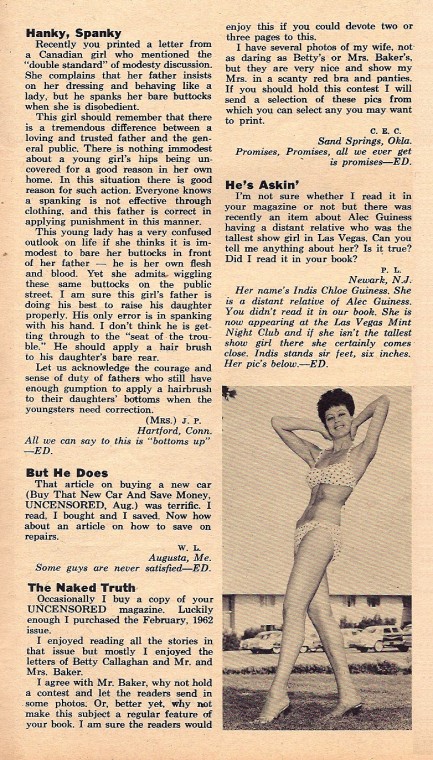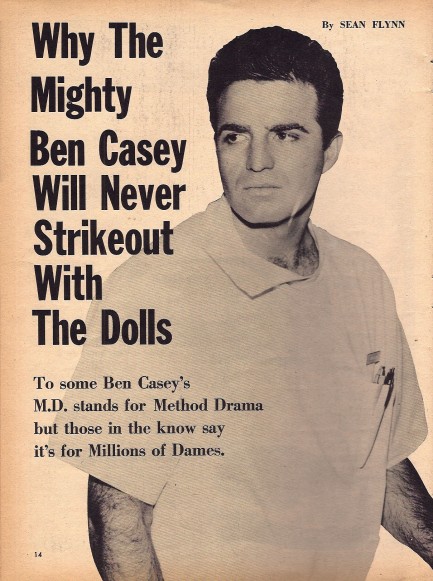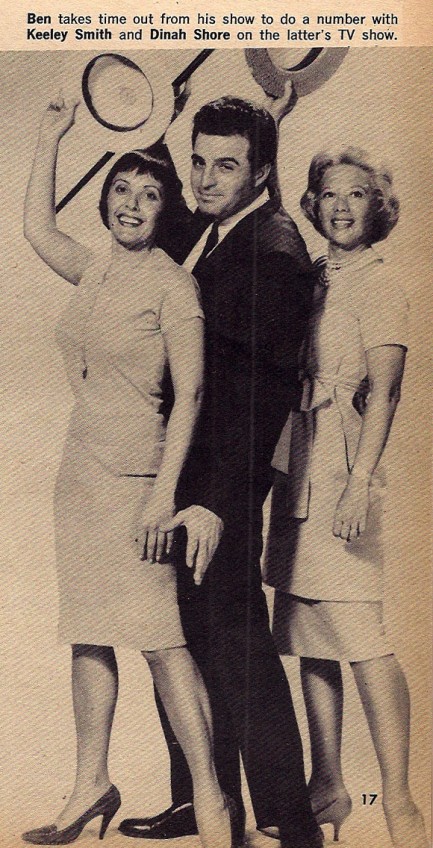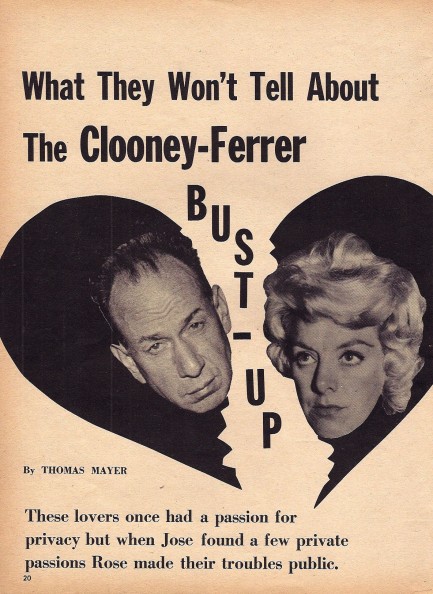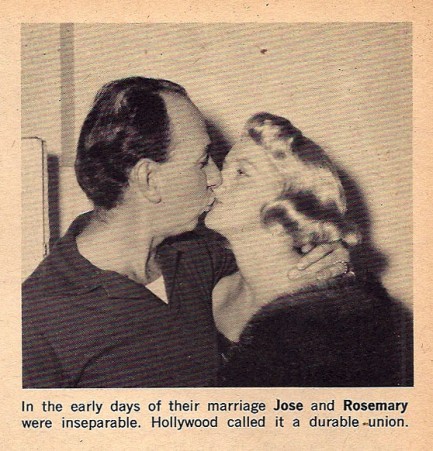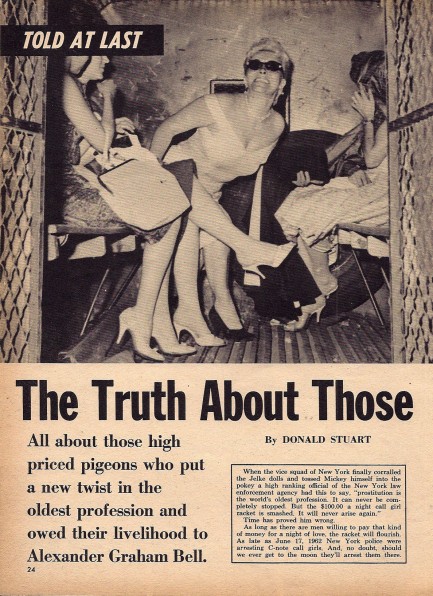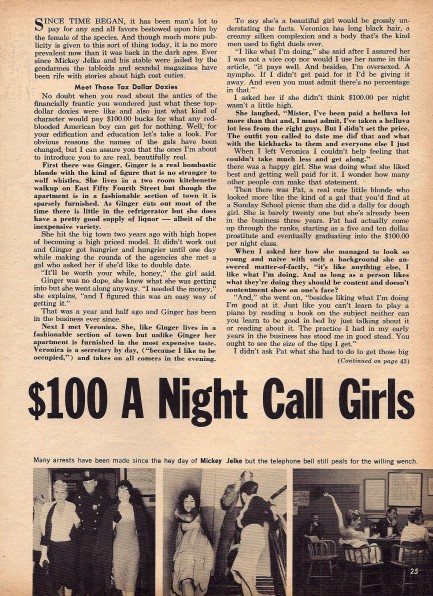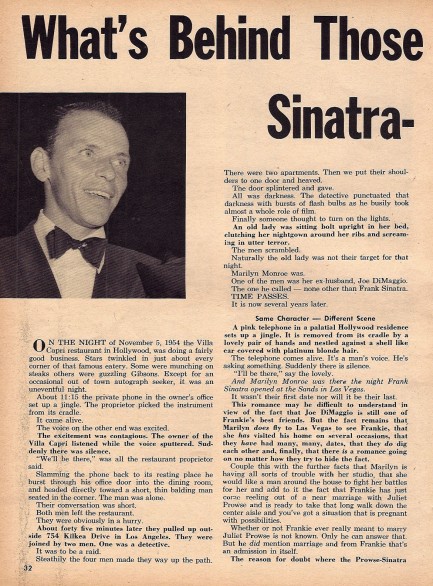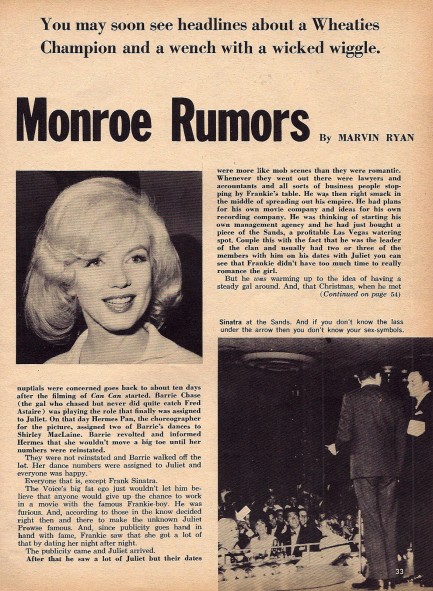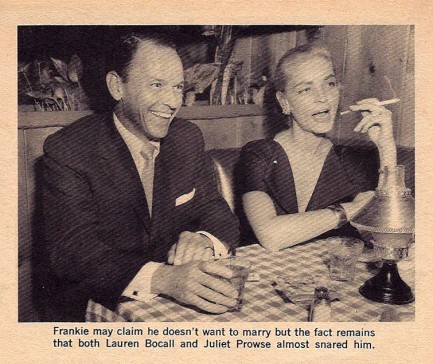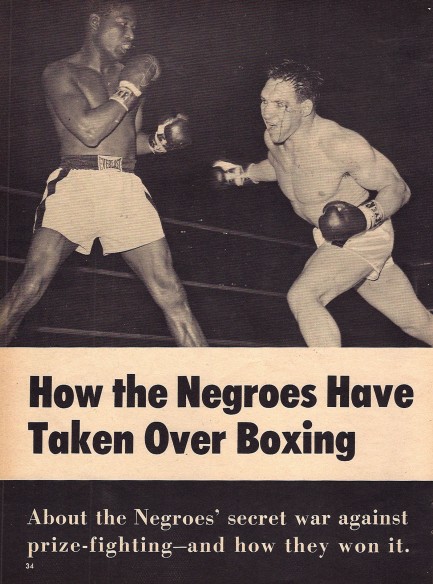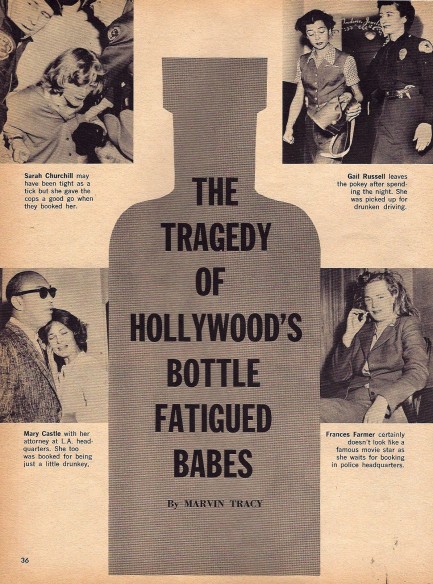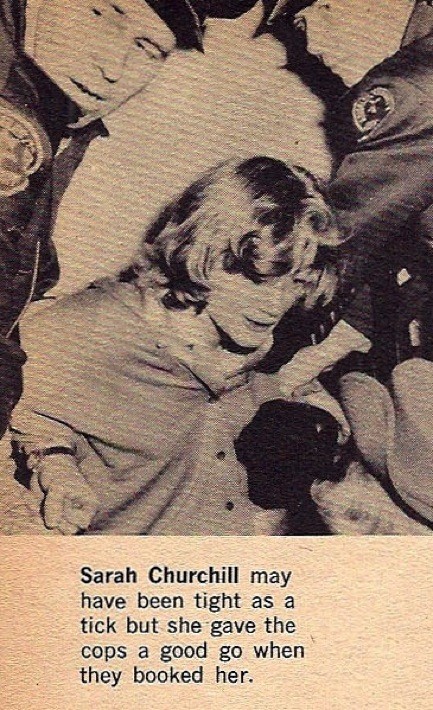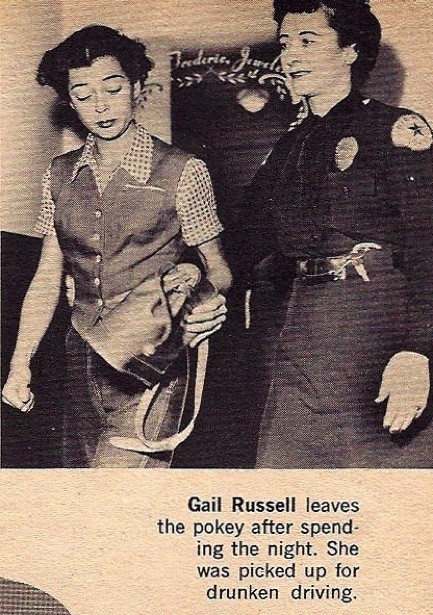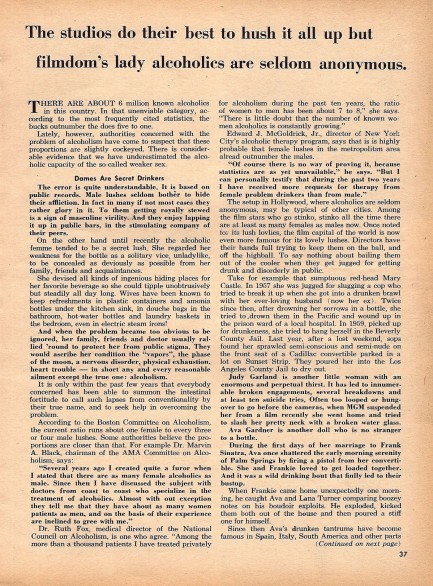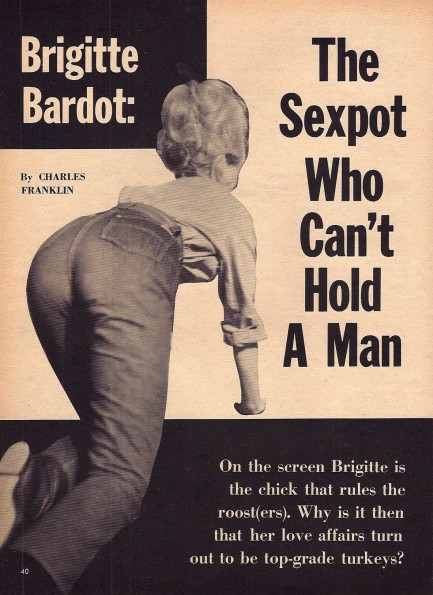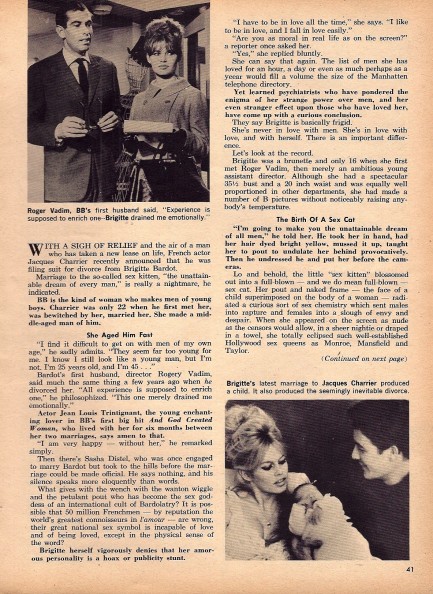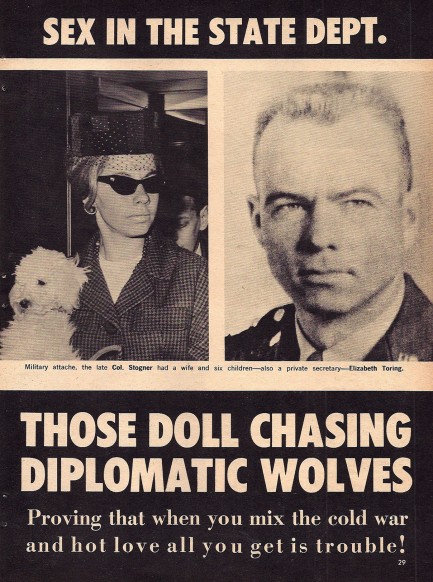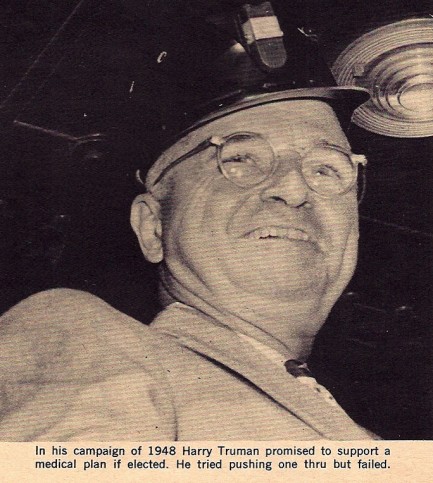 ---
Always wear clean undies in case you end up in the hospital.
Often, early true crime magazines aren't very useful for sharing online due to their tendency to short-shrift the art, but Police Detective is a very visual exception, well worth uploading. Above is the cover of an issue from 1956, and below are assorted scans of the interior photo-illustrations, all eye-catching. Of the stories, probably the most interesting deals with hitchhiking women who are in reality brutal thieves. The magazine makes this sound like an epidemic but we seriously doubt it was ever a problem. According to the editors, men who picked up these highway hooligans were hit over the head with wrenches or tire irons, robbed, stripped down to their size 38 tightie whities and left unconscious or dead in a ditch while the thieves found the nearest pawn shop to sell off whatever they'd acquired. The description of the hapless men's heads being "crushed like eggshells," according to the magazine, creates a disconcerting visual image, especially after that whole Sunday night Walking Dead baseball bat incident the entire internet is buzzing over. Not a good way to go. We have about thirty images below and many more true crime magazines inside the site.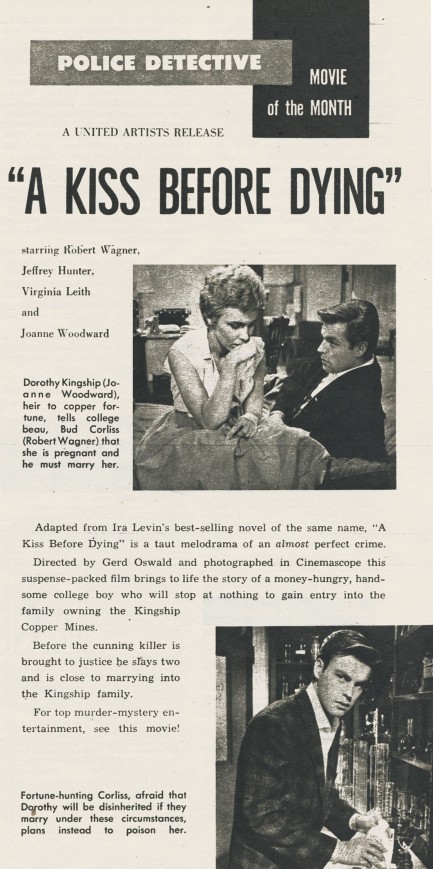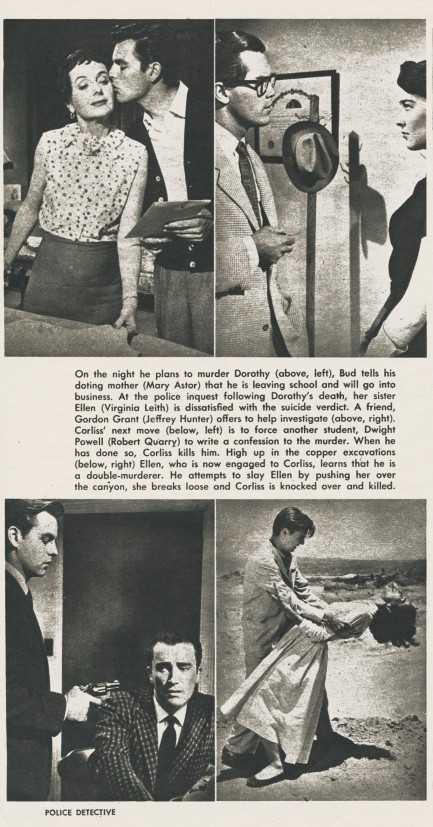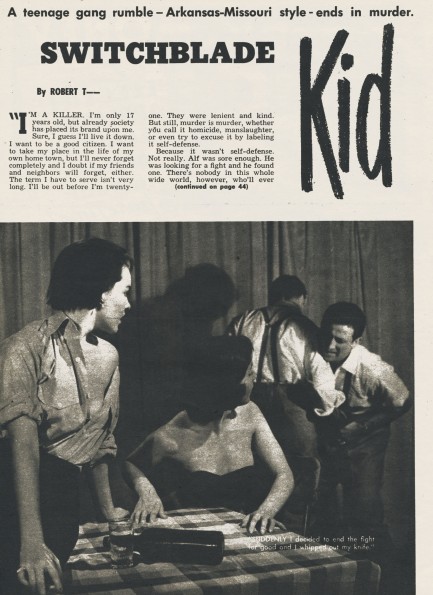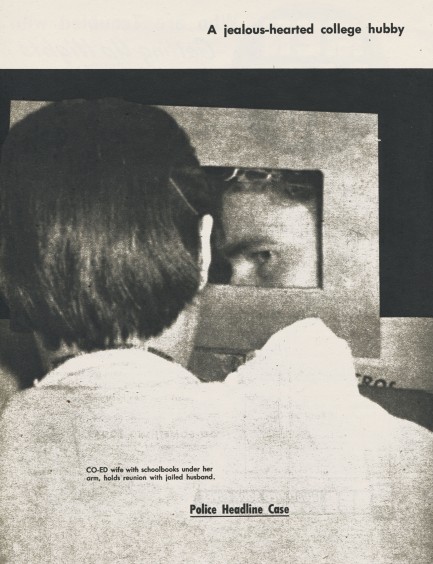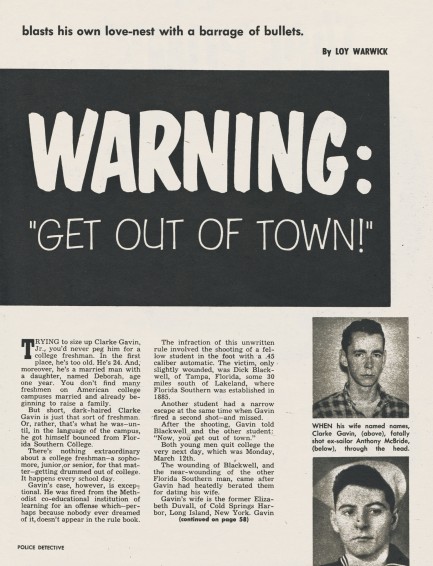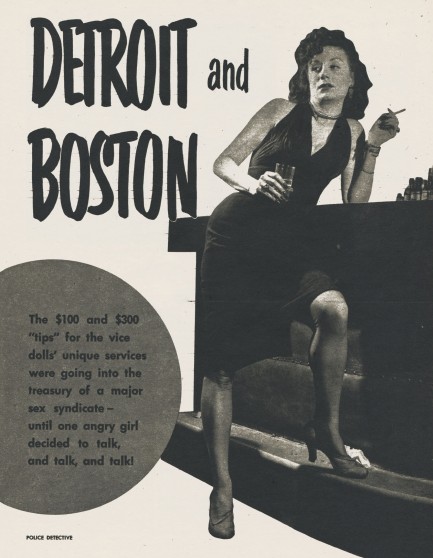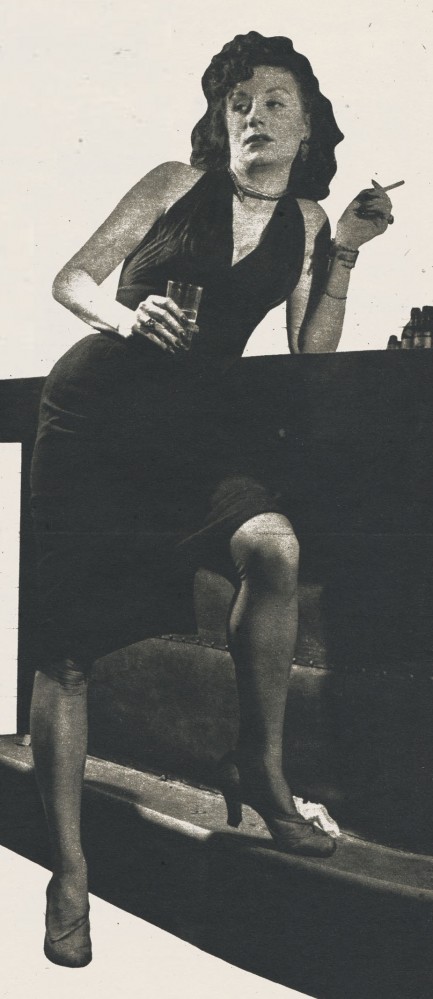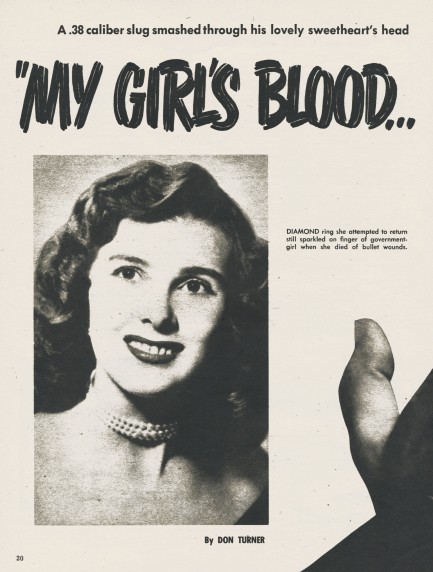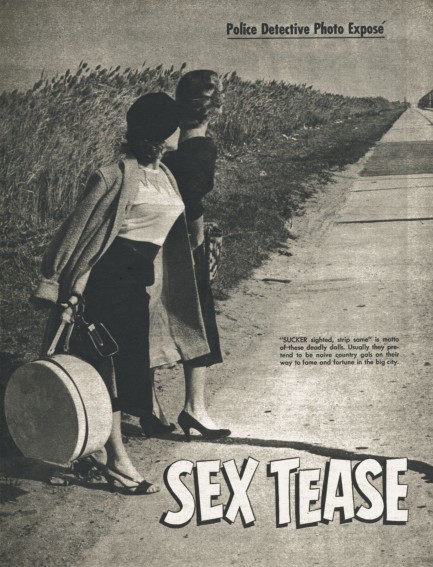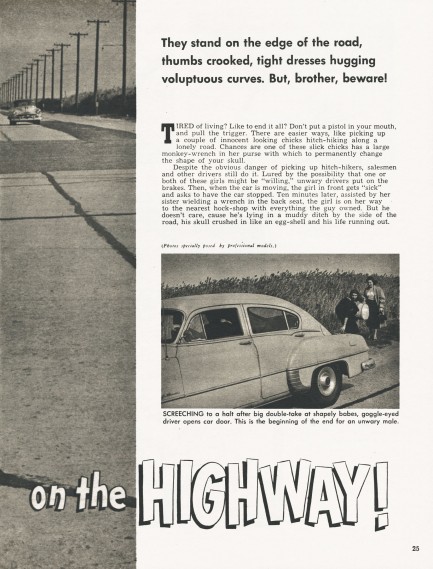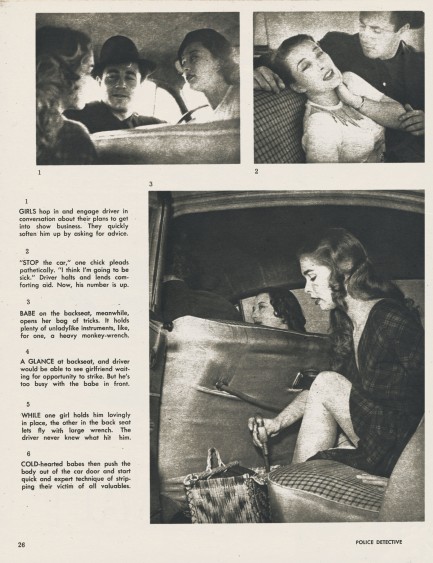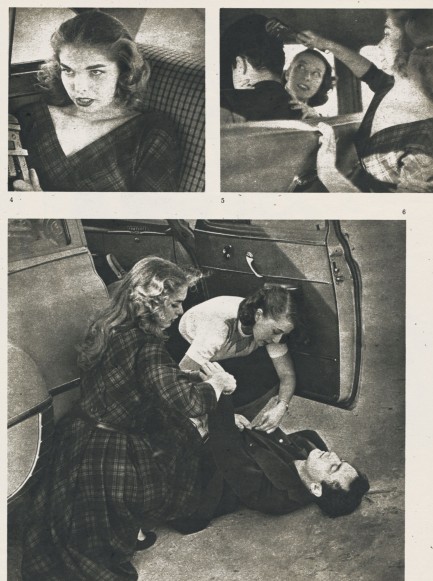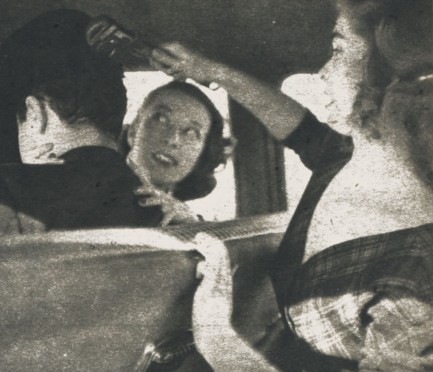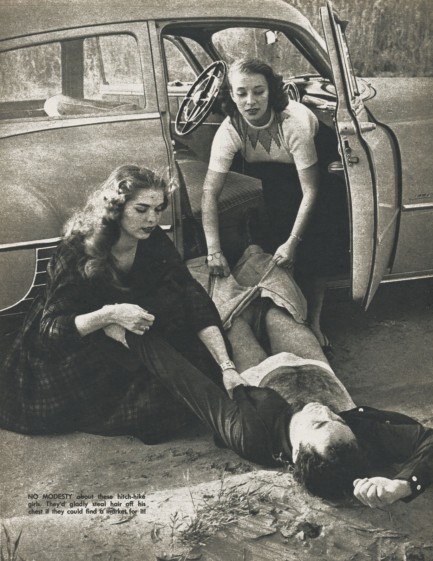 Look at the state of this guy's underwear. How disgusting.
I don't think he was driving with them that way. I think he crapped himself when you crushed his skull.
You think so? Oh. Still though.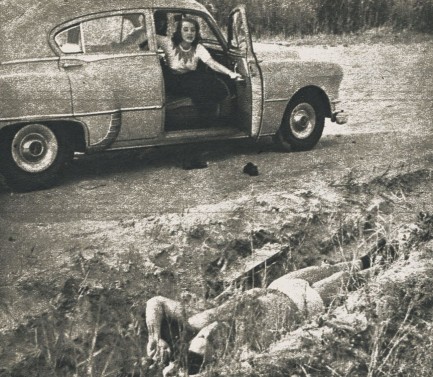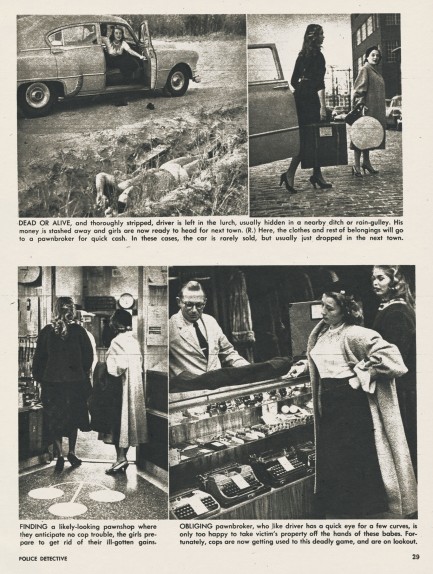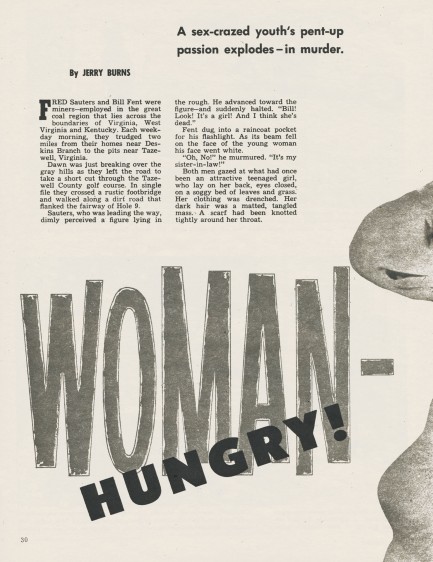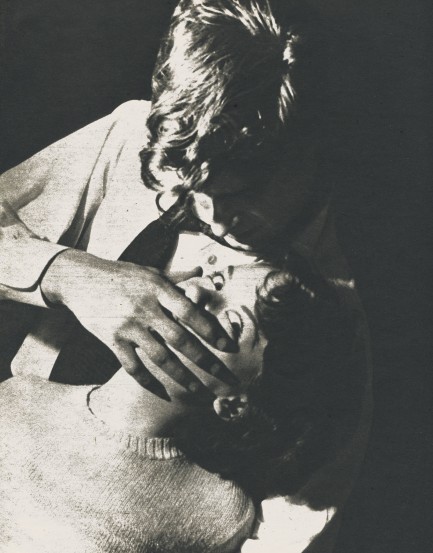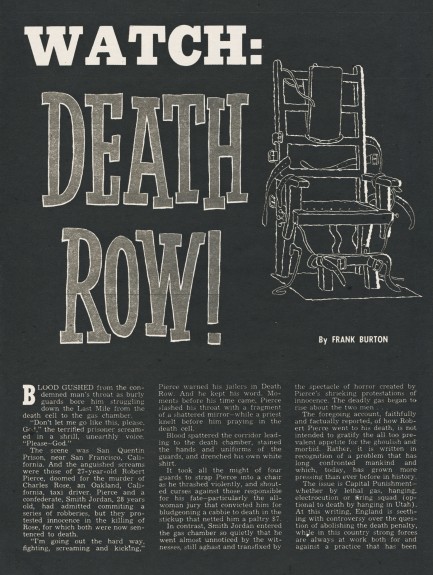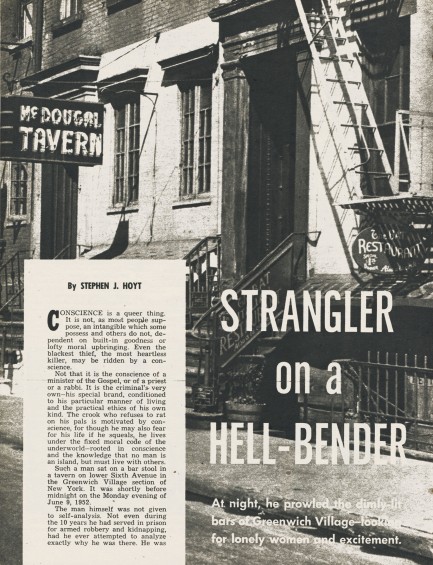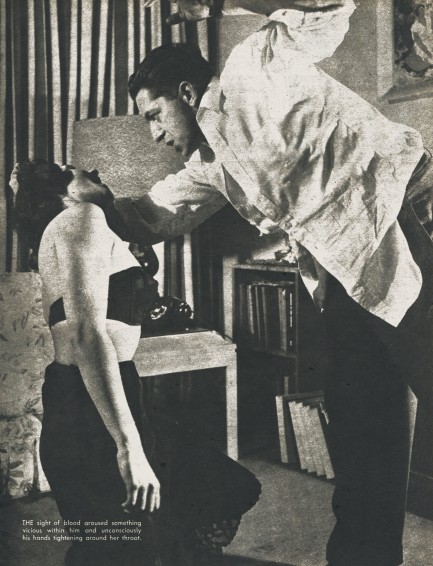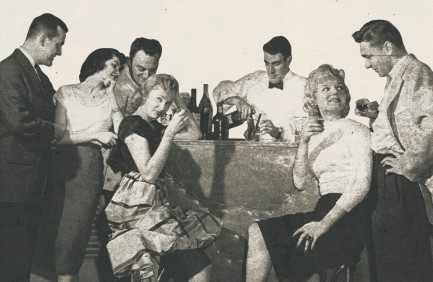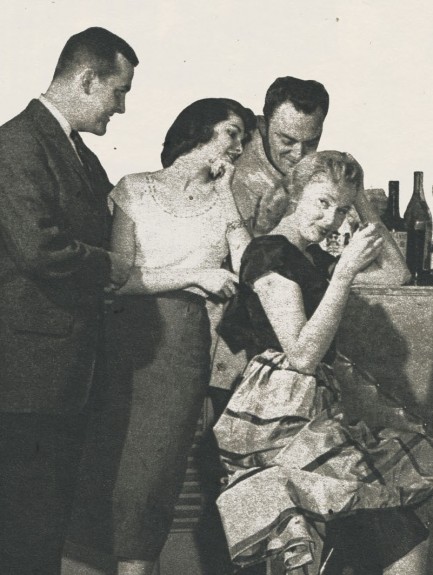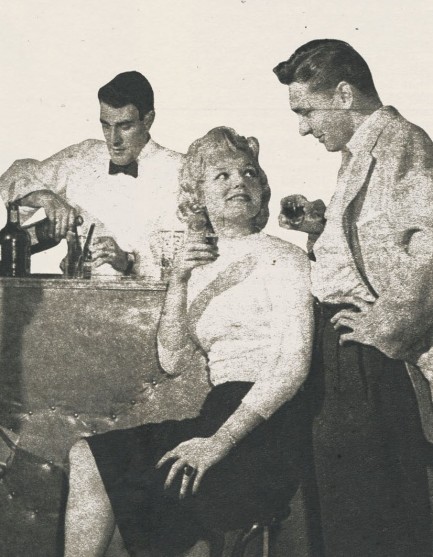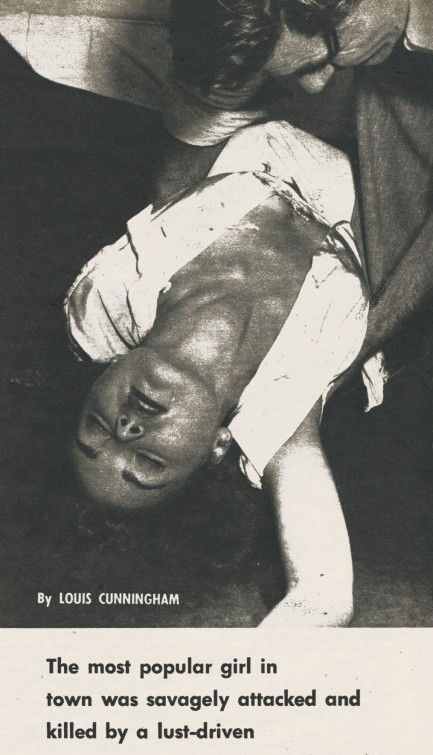 ---
Suppressed was in rare form in November 1955.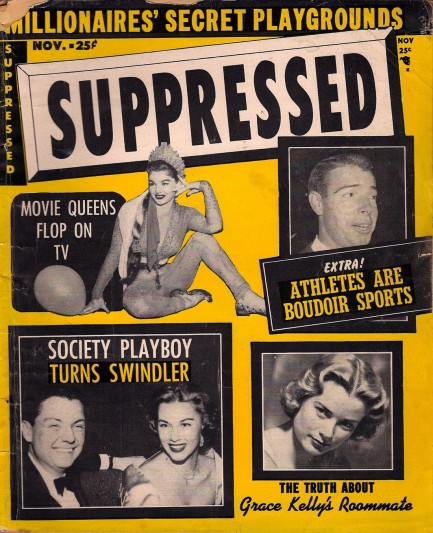 Above is the cover of the NYC based tabloid Suppressed from this month in 1955. This issue shows Suppressed in full bloom—bold, brash, fearless. Within the next two years a series of Hollywood lawsuits against scandal magazines would begin to make editors wary of being dragged into court for committing libel and slander, but 1955 was still the heyday for celeb bashing, and Supressed engaged in what might be best described as open warfare against film stars. Here's a small sampling of some of the gut punches in this magazine:
Anita Ekberg: egocentric, a martyr.
Rita Gam: the all-time fizzle of 1955, a bad actress, with a figure that leaves something to be desired.
Marilyn Monroe: childishly immature, with an inferiority complex.
Gloria Vanderbilt: unable to think of anyone besides herself; has more neuroses than acting talents.
Robert Wagner: pompous, unintelligent.
We could go on, but you get the point. We've written many times on this website that nothing in media is truly new, and this is yet another example. Click over to any muckraking celebrity blog right now and you'd think journalism, as well as simple grammar, went down the toilet around the year 2000. But no, they were always in the toilet. Remember, Suppressed

and its brethren

Confidential

,

Whisper

,

On the QT

,

Hush-Hush

, et.al., were not fringe. By itself

Confidential was the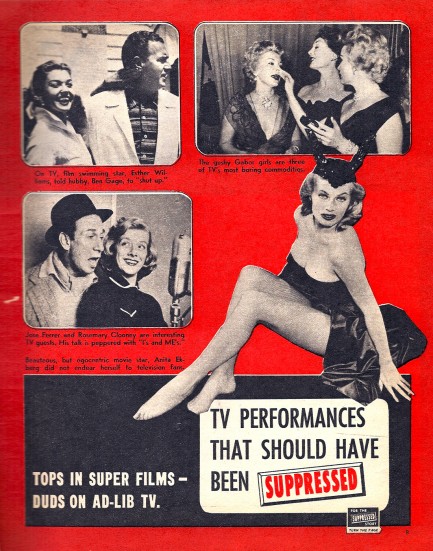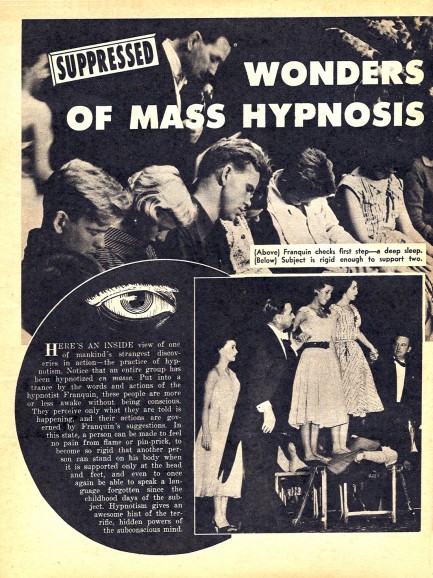 biggest newsstand seller in the U.S. These publications were powerful. Like modern American cable news, they assumed leading roles in making the public swallow false political memes—a commie under every bed, a black man
in
every bed, and the loose women who made it all possible.
But unlike today's fawning cable news, Suppressed was generally scornful toward the rich. For instance, this issue discusses millionaires' secret playgrounds while parking quotation marks around words like "classy," and "the right people." The actual playgrounds are described as "last stand" resorts, where the rich can feel safe from the rabble of middle class America. A few pages later the editors decry nepotism in Hollywood, naming a dozen famous actors and actresses who allegedly got their start because of mommy and daddy's money. All in all, Suppressed is a head spinning mixture, and at the end of each issue a typical reader was probably convinced of one thing—the only good people in the world were those who were exactly like him.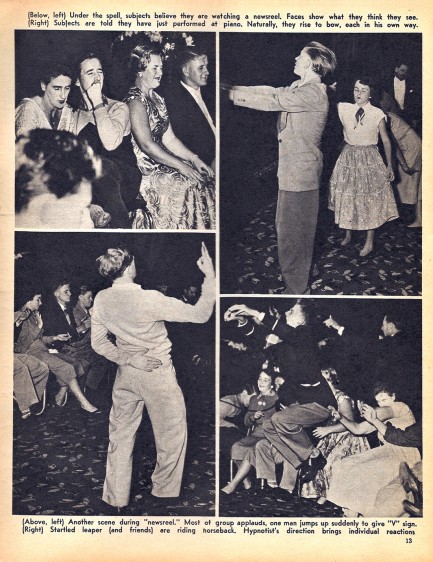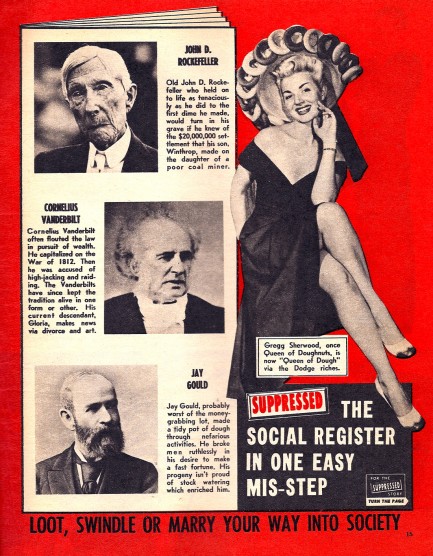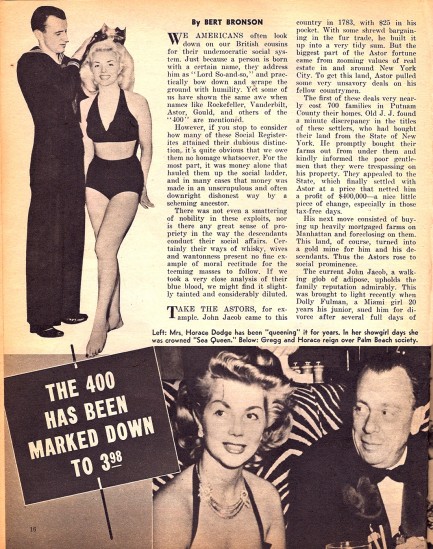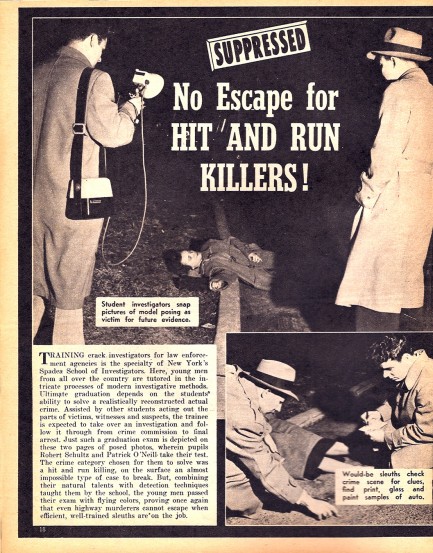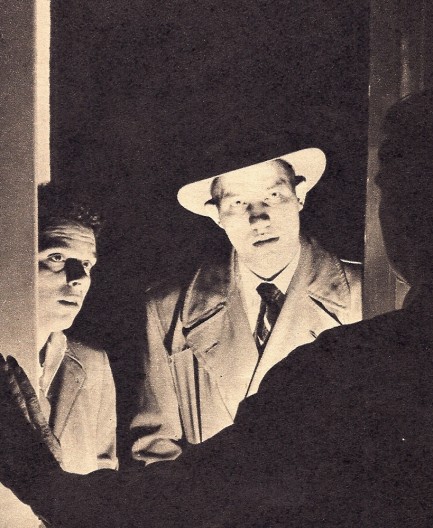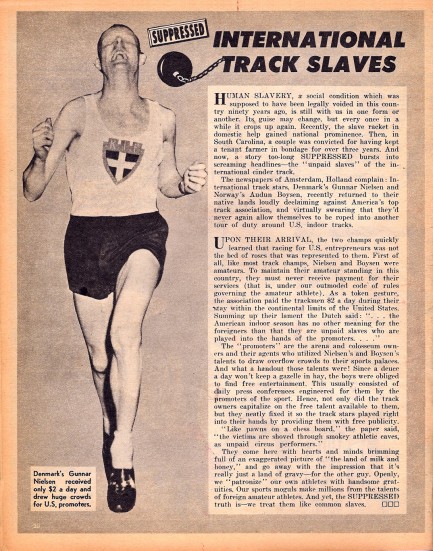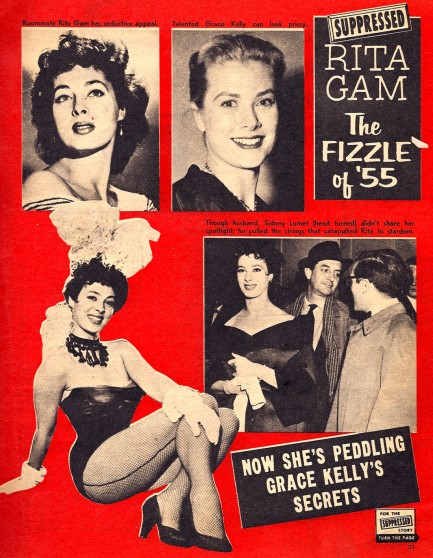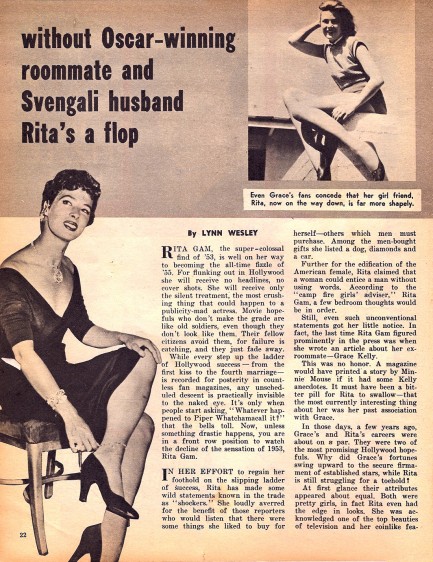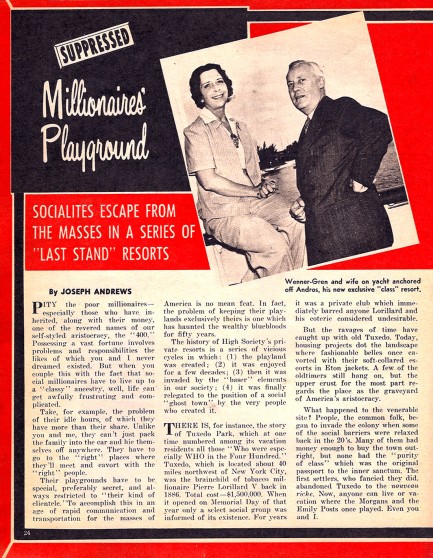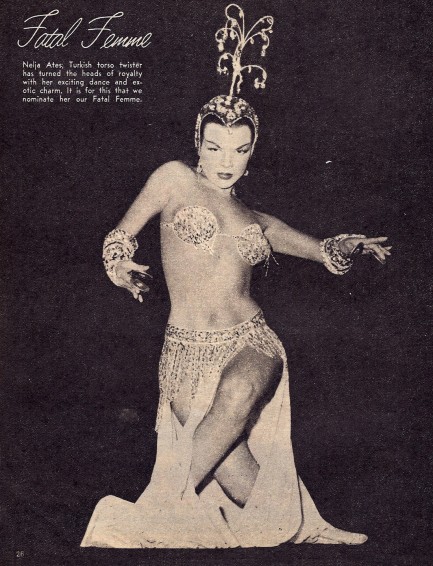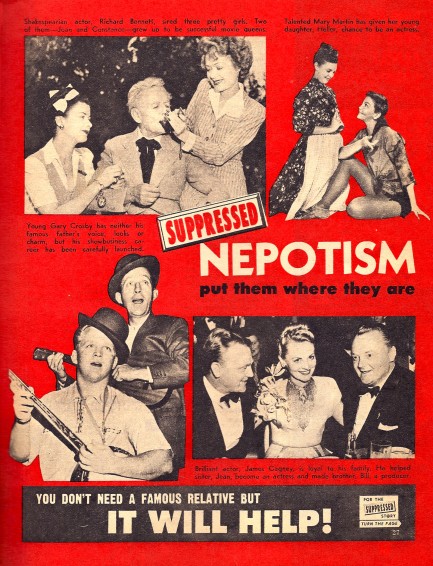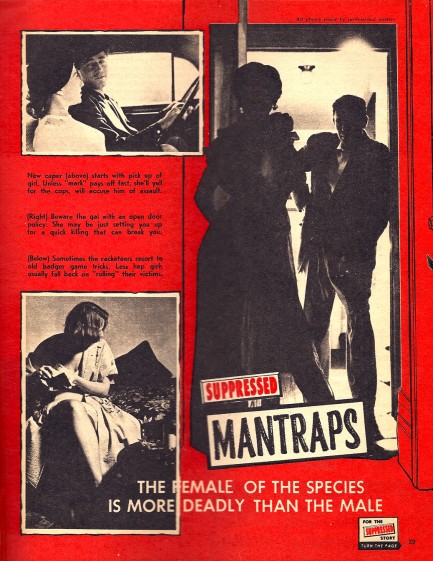 ---