Quintessential child star Garland suffers quintessential child star death.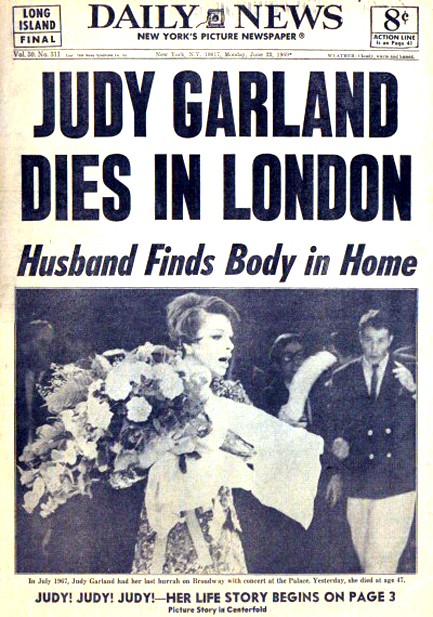 New York Daily News from today, 1969, announcing the death of Judy Garland, one of the most famous and successful child stars ever. Like many child stars that came after her, Garland had problems with her weight, her self-image, along with drugs and alcohol throughout her life. She died of a Seconal overdose at age 47, but a doctor privy to her autopsy results commented that her liver was in such an advanced state of cirrhosis that she was already living on borrowed time.
---
The lives of others.
Today we have a new entry for our collection of mid-century tabloids—Private Lives, published forty-five years ago this month, with a strikingly bright cover starring Jane Russell, and an accompanying article about aquatic sex timed to take advantage of her role in Underwater. Every tabloid had its visual gimmicks, and Private Lives began with the motif you see here of a black and white face floating on a Technicolor background. By the end of 1955 it had abandoned this look for a fuller color palette, but this older design is much more appealing, in our view. We'll keep hunting for more of these.
---