Some women are trouble. But some trouble is worth it.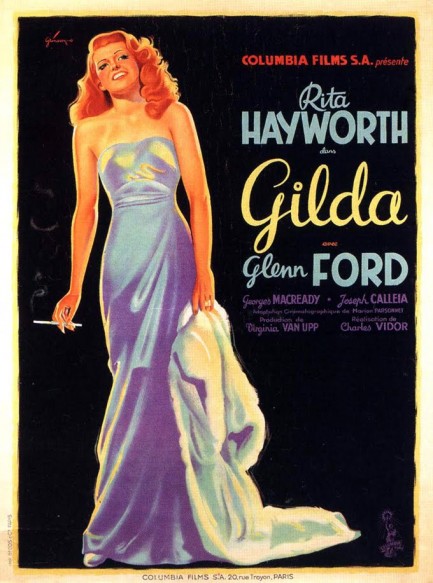 Above you see a poster for the game changing film noir Gilda, which opened today in 1946 with Rita Hayworth and Glenn Ford in the starring roles as a casino owner's wife and a gambling drifter. This promo is different from the three we showed you some years back, so we thought we'd upload it just to further bolster our visual documentation of this classic. The piece was painted by the storied Russian born artist Boris Grinsson, who we've discussed only briefly but will certainly get back to. As for Gilda, it's been exhaustively covered by virtually every film writer far and wide, so we've got nothing to add. Watch it.
---
It's good to be top of the heap.
Above, the iconic Rita Hayworth, star of such films as the incomparable Gilda, as well as The Lady from Shanghai, Cover Girl, and the musical You Were Never Lovelier, seen here looking comfy at the height of her fame in a photo made at her home, by her rather astonishing pool with its central island and palm tree, in 1945.
---
Sixty-three years ago today Rita Hayworth electrified as the archetypal femme fatale.
Gilda is a film that appears on every list of top ten noirs we've ever seen, and still it is impossible to overstate how great the movie is. Rita Hayworth had acted in more than a dozen features before this one, but she was a revelation here. Her husband steps into her bedroom saying, "Gilda, are you decent?" And she appears with a hairflip and a wicked smile, saying, "Me?" Right away you know you're in for a ride. You know this is a woman who is never decent. Something about the blazing eyes seems to promise unimaginable carnal adventures. She stands backlit in a nearly sheer shirt that shows the silhouettes of her breasts. After a song and dance routine she allows a stranger onstage to try and zip her out of her strapless black dress. At one point, about to ride off into the night with a suitor, she says, "Haven't you heard, Gabe? If I'd been a ranch they'd have named me the Bar Nothing." All this just to drive poor Glenn Ford mad with jealousy. Yes, Gilda is a femme fatale for the ages, and Gilda is a must-see piece of American cinema.
---