Pair arrested in payoff scheme profess shock. "We were incredibly subtle about it," claim jailbirds.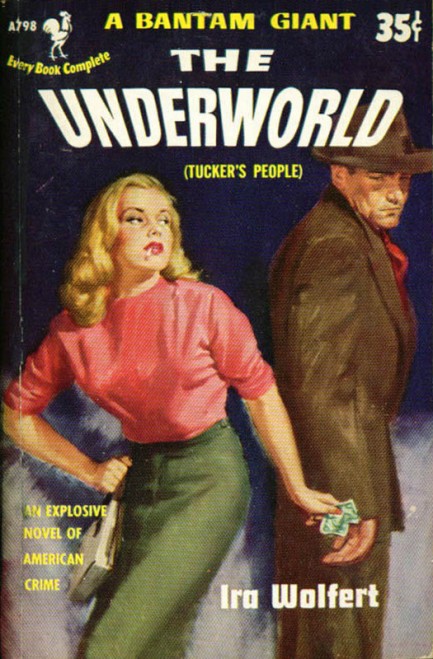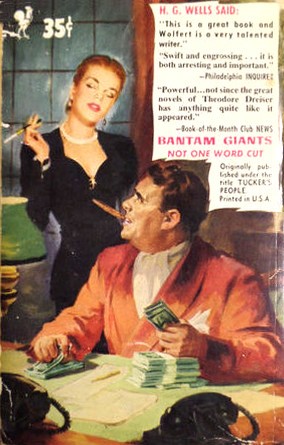 This cover for Ira Wolfert's The Underworld is uncredited, which is a shame considering it's wonderfully executed and wraps cleverly around to the rear of the book. Wolfert won a 1943 Pulitzer Prize for a series of articles about the Naval Battle of Guadalcanal, aka the Battle of the Solomons, then the same year wrote Tucker's People, which was the original title of The Underworld. The Bantam paperback edition above was published in 1950. The book details the numbers rackets of New York City, which were executed far more subtly than the not very casual depiction in the art. The story captured Hollywood's attention and was produced as 1948's Force of Evil, starring John Garfield. We'll get around to talking about that movie a bit later.


---
All he had to give was everything he had.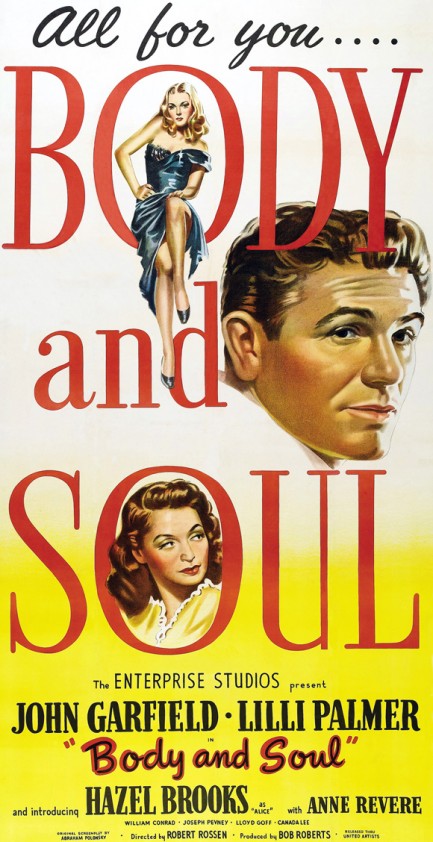 Was boxing ever honest? We doubt it. How could a sport with the scoring done in secret be anything but a scam? Body and Soul tells the story of a champion boxer named Charley Davis whose rise has occurred under the thumb of organized crime and who is now required to lose his title to a brash, 20-year-old upstart. That doesn't sit too well with Charley, who may be corrupt and mob-owned, and who has wrecked everything good in his life for money and a femme fatale, but whose talent is real. One of the first and best boxing movies, Body and Soul—with John Garfield as Charley, Hazel Brooks as the femme fatale Alice, and Lilli Palmer as his loyal girlfriend—is a nearly flawless classic. After his performance here, and in the previous year's The Postman Always Rings Twice, Garfield's film career should have been long and decorated, but in 1950 he was blacklisted during the Communist witch hunts that swept Hollywood, and by 1952 he was dead from a heart attack. Body and Soul premiered in the U.S. today in 1947.
---
Hazel Brooks was born in Cape Town, South Africa but emigrated to the U.S. and appeared in her first Hollywood production at the age of eighteen. She became a true star four years later in the 1947 noir Body and Soul, which for most critics remains one of the best boxing movies ever made. You see her above circa 1946.
---