New tabloid explodes onto the gossip scene.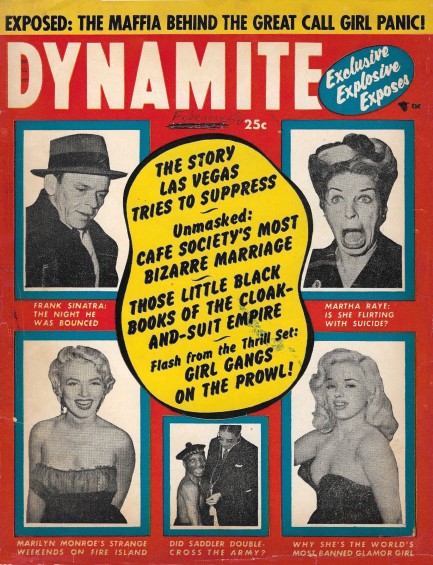 When we describe Dynamite as a new tabloid, it's only partly true. It was a new imprint. But its publisher, the Modern Living Council of Connecticut, Inc., was headquartered at the Charlton Building in Derby, Connecticut, which is where Top Secret and Hush-Hush based operations. When you see that Dynamite carried the same cover font as Top Secret and Hush-Hush, and that those two magazines advertised in Dynamite, it seems clear that all three had the same provenance. But unlike Top Secret and Hush-Hush, it doesn't seem as if Dynamite lasted long. The issue above, which appeared this month in 1956, is the second. We are unable to confirm whether there was a third. But if Dynamite was short-lived it wasn't because of any deficiencies in the publication. It's identical in style to other tabloids, and its stories are equally interesting.

One of those deals with Henry von Thyssen, the Dutch born, German descended heir to an industrial fortune, and his wife, Nina Dyer, heiress to a tea plantation in Sri Lanka, back then called Ceylon. The von Thyssen family manufactured steel in Germany, including for Hitler's Third Reich, and came out of World War II unscathed, as big companies that profit from war always do. Dyer was a dilettante famed for making bikinis popular on the French Riveria. According to Dynamite, von Thyssen was so desperate to marry Dyer that he allowed her to keep her boyfriend, the French actor Christian Marquand. Society gossips whispered,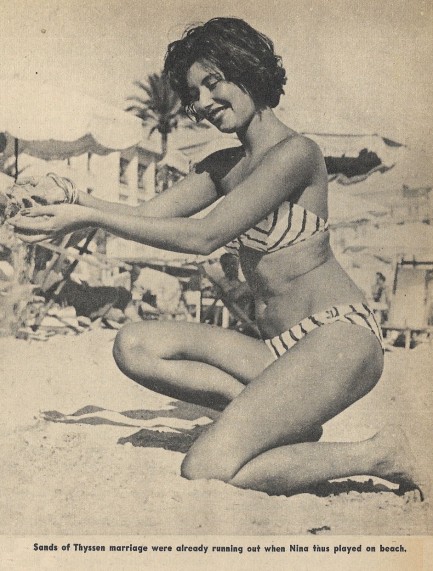 but both spouses were fine with the set-up until von Thyssen accidentally ran into Dyer and Marquand in Carrol's nightclub in Paris and was forced to save face by starting a fight. The couple soon divorced, but not because of infidelity, as many accounts claim. What finally broke the couple up was that Dyer dropped Marquand. Dynamite tells readers: "[von Thyssen] has ditched his sloe-eyed Baroness because now she's decided she loves him."
Interesting, but there are many similar stories about open high society marriages. What interested us, really, was the portrayal of Dyer. Apparently she had at some point been strongly influenced by Asian women. Her husband described her as "soft and feminine and oriental looking." Dynamite painted this word picture: "She walks as though she has a water pot balanced on her head, her dark, slanting eyes are inscrutable, and her movements are so languorous and cat-like that von Thyssen gave her a baby panther as a companion." Dyer eventually had two panthers, and was often seen walking them on the Croisette in Cannes. After her marriage to von Thyssen ended she quickly married Prince Sadruddin Aga Khan, but that marriage ended in divorce. Over the years she had been given many gifts. Besides the panthers there were cars, jewels, and a Caribbean island. But the one thing money never bought for her was happiness. She committed suicide at age thirty-five.

There's a lot more to learn about Nina Dyer—her modeling career, her adventures in the south of France, her free-spirited ways in the Caribbean, her 1962 E-Type Jaguar Roadster that was found in Jamaica in 2015 and restored for a November 2016 auction, and more. So we'll be getting back to her a little later. We still have about fifty tabloids from the mid-1950s and we're betting she appears in more than a few. Meanwhile, elsewhere in Dynamite is a story tracking Marilyn Monroe's movements around Fire Island during a summer 1955 vacation, a report about Frank Sinatra being barred from the Milroy Club in London, an exposé on prostitution in Rome, a breakdown of the breakdown of Gene Tierney's engagement to Aly Khan (Sadruddin Aga Khan's brother), and a couple of beautiful photos of Diana Dors. We have about thirty scans below for your enjoyment. Odds are we'll never find another issue of Dynamite, but we're happy to own even one. It's great reading.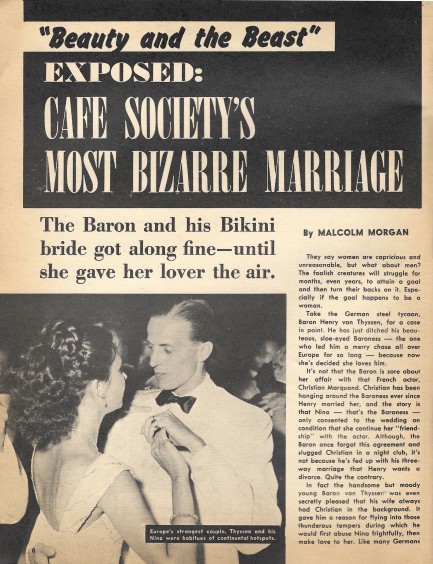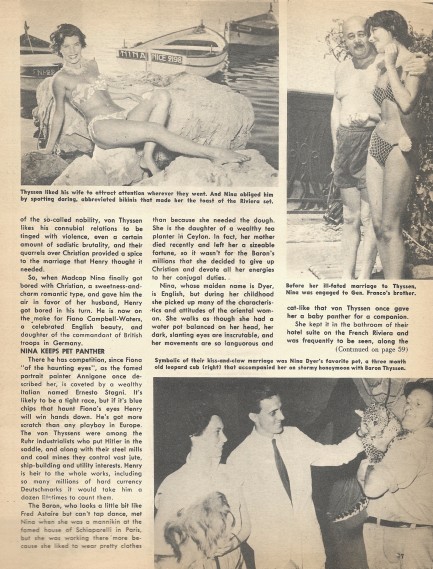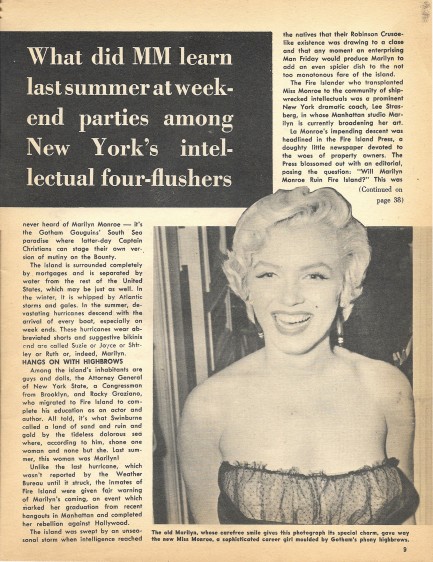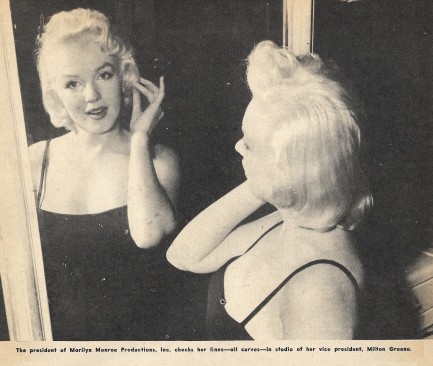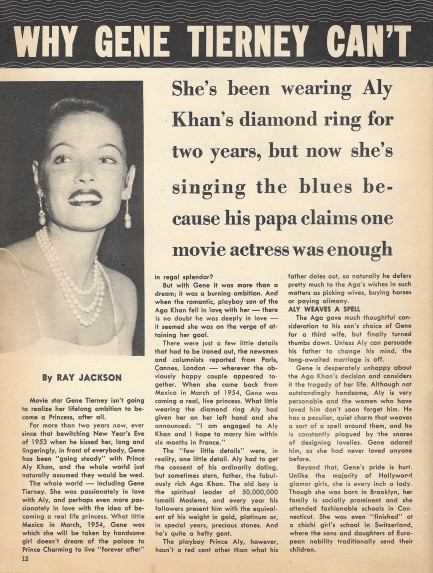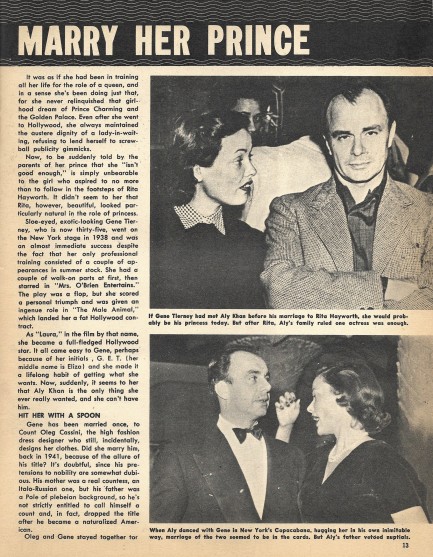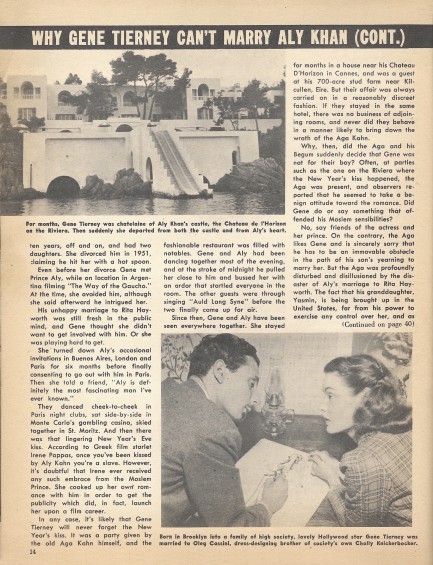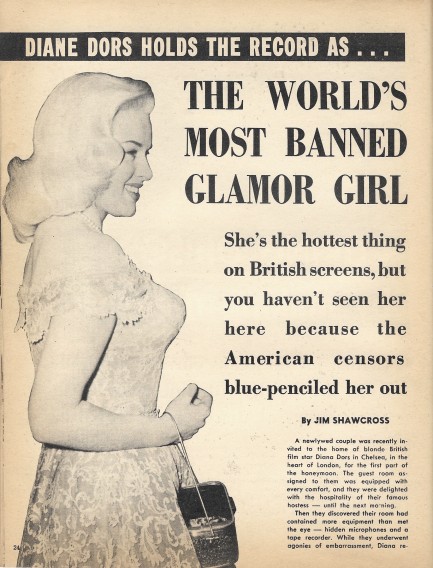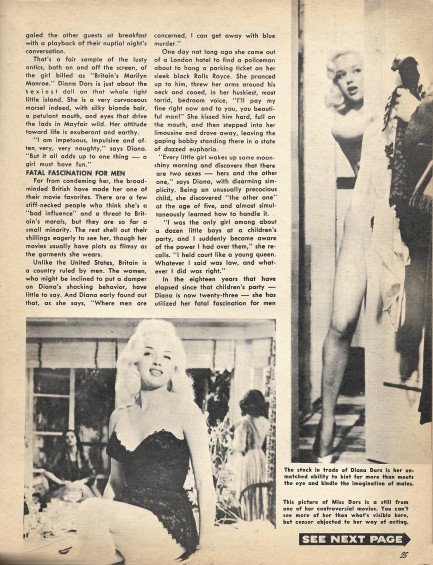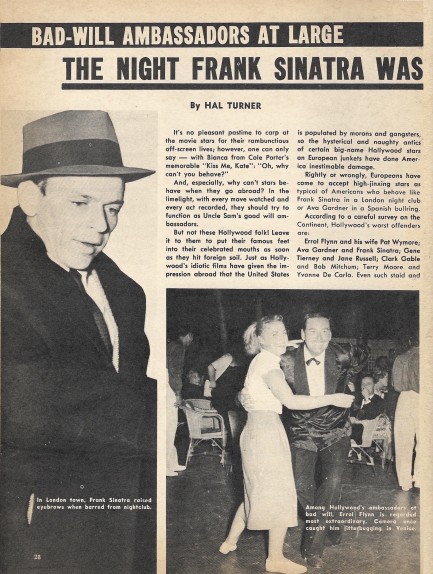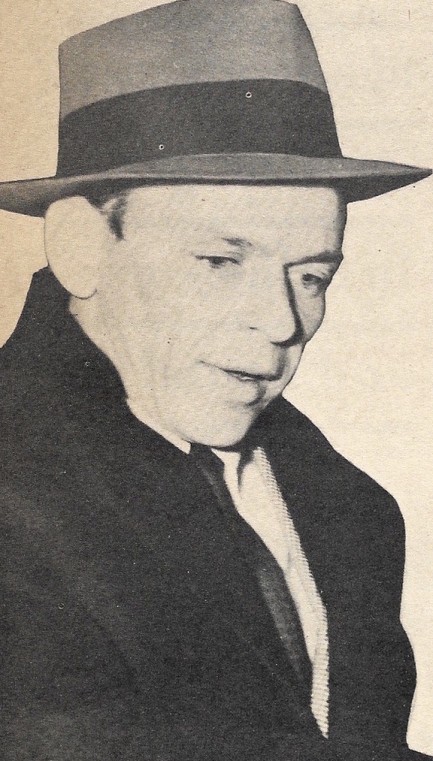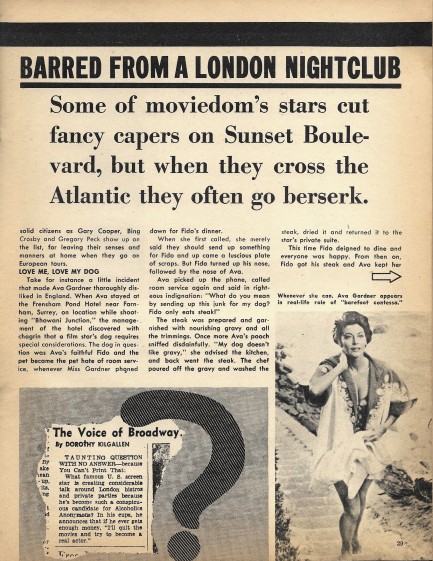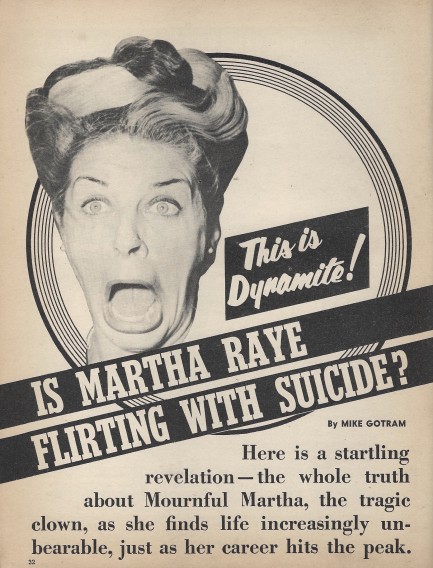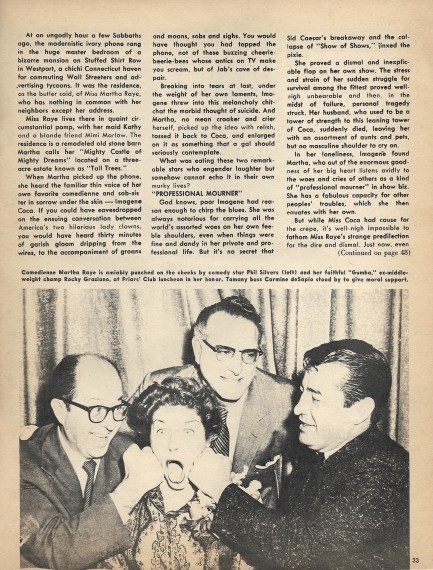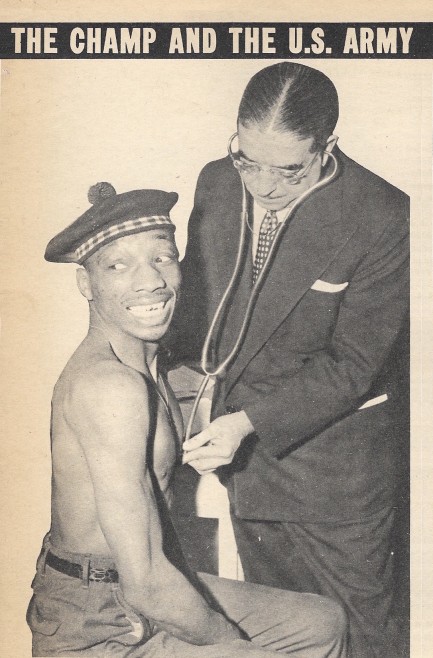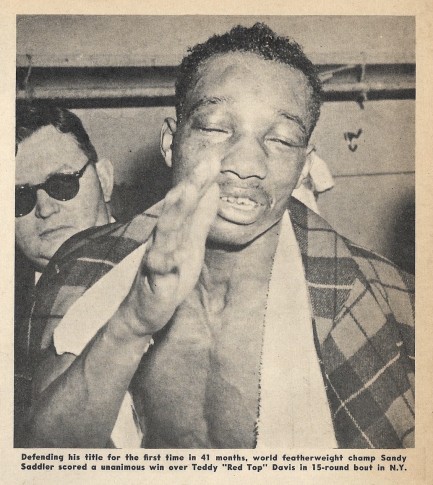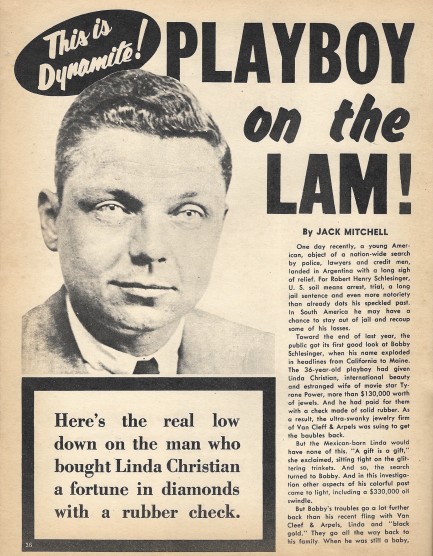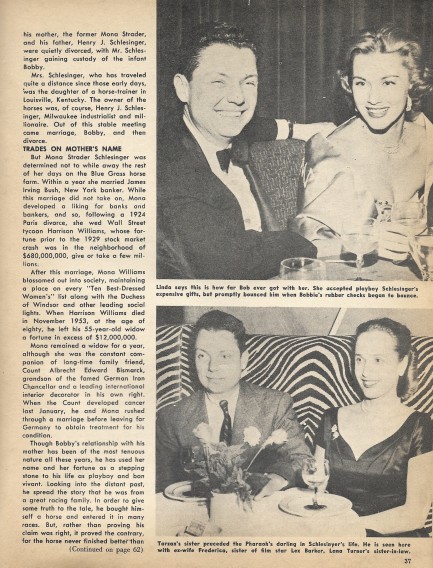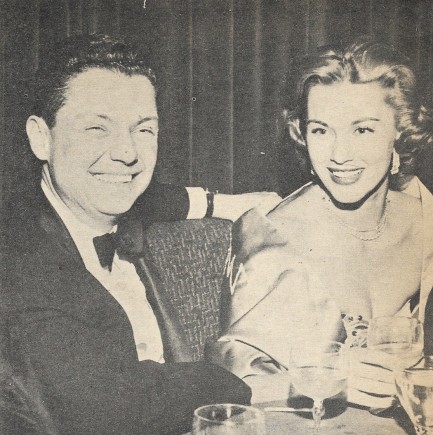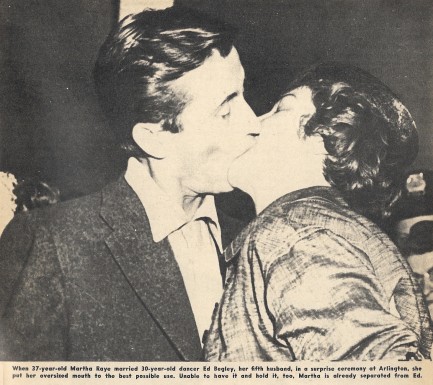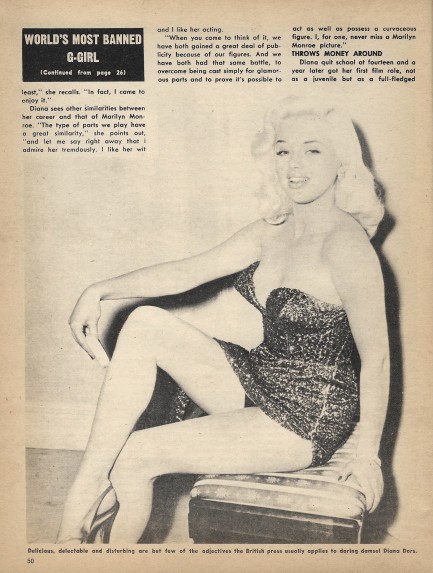 ---
The National Police Gazette looks up to Raquel Welch.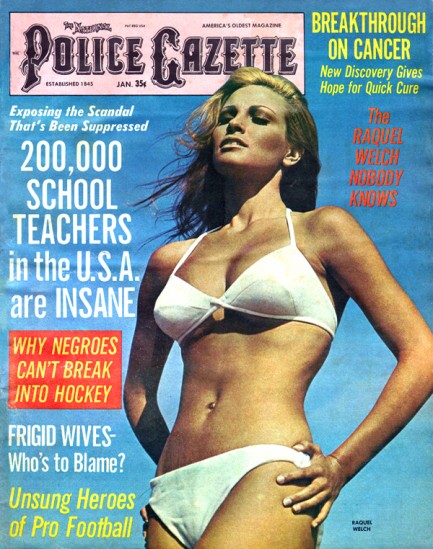 This National Police Gazette from January 1970 features bombshell sex symbol Raquel Welch on the cover photographed from an odd up-the-nose angle you don't often see. This was also, we are almost certain, the first Gazette to feature a full color cover photo, as the magazine was trying to upgrade its staid image. Inside you get Linda Harrison, Sugar Ray Robinson, Rocky Graziano, Grace Kelly and a dubious report on the 200,000 legally insane teachers working in America's schools. Welch's bikini shoots were always a major event, and images from this particular session ended up on or inside scores of publications, including an issue of the Japanese film magazine Screen we shared last year. We have several more frames from the shoot, and we'll get around to posting those soonish.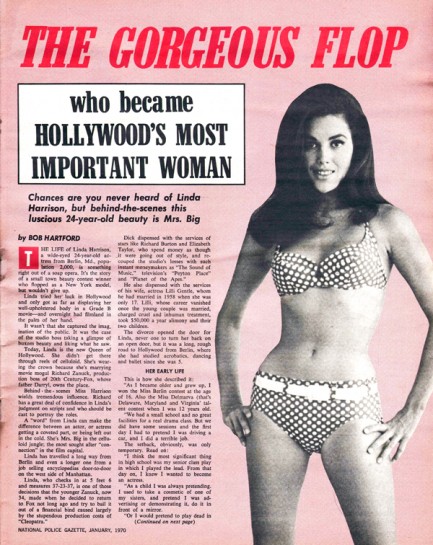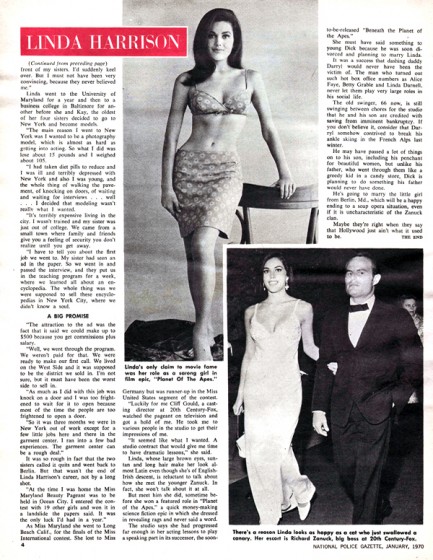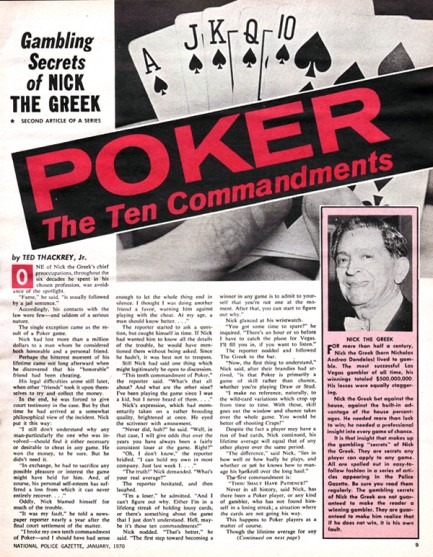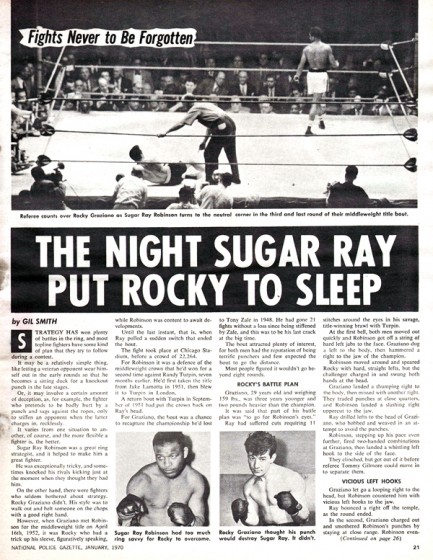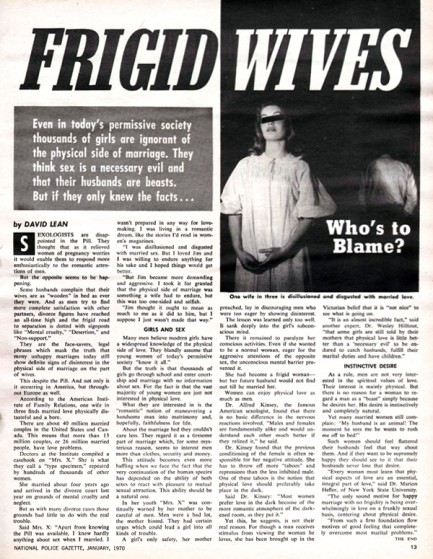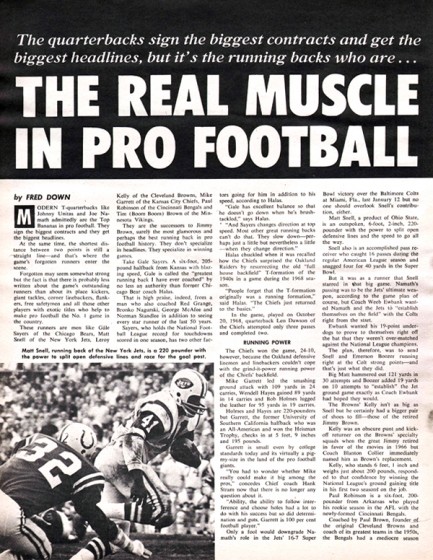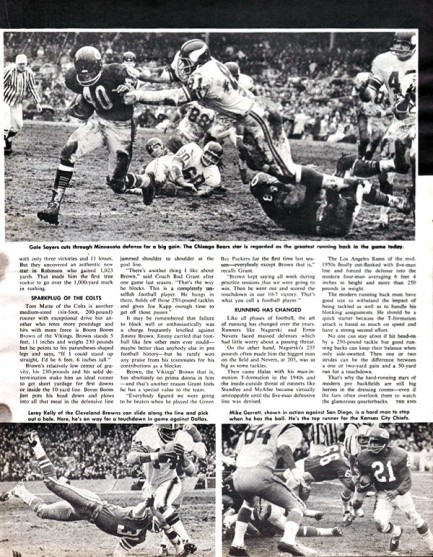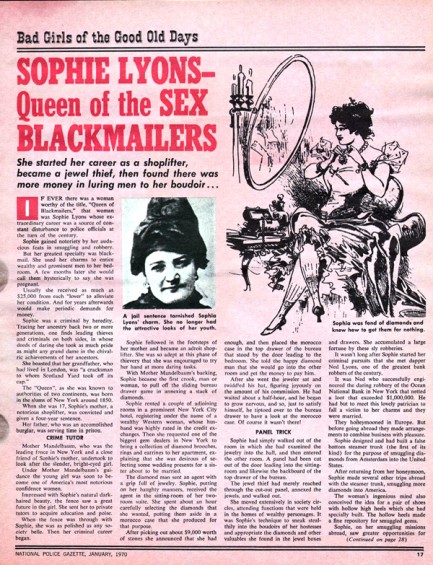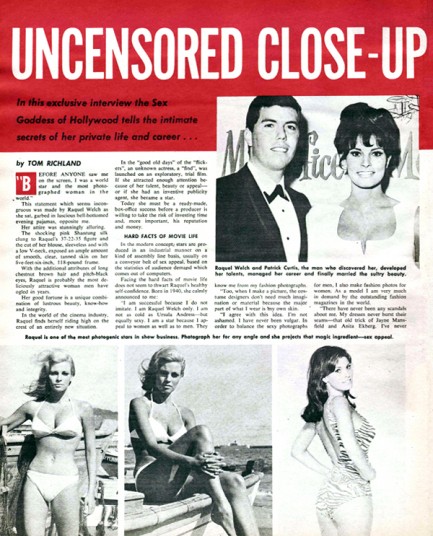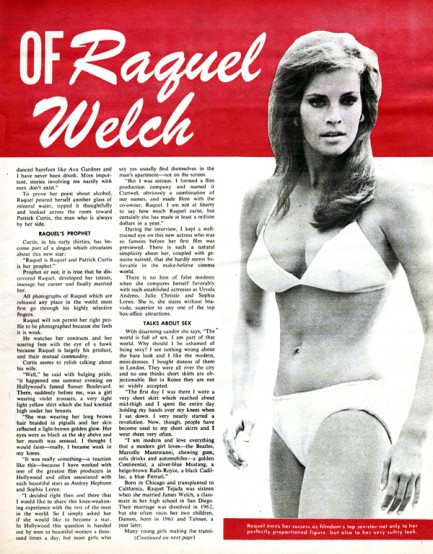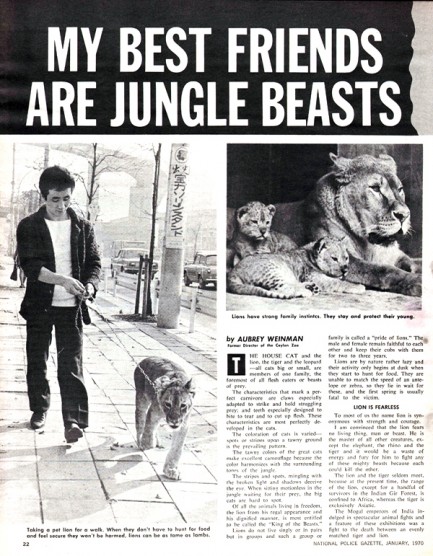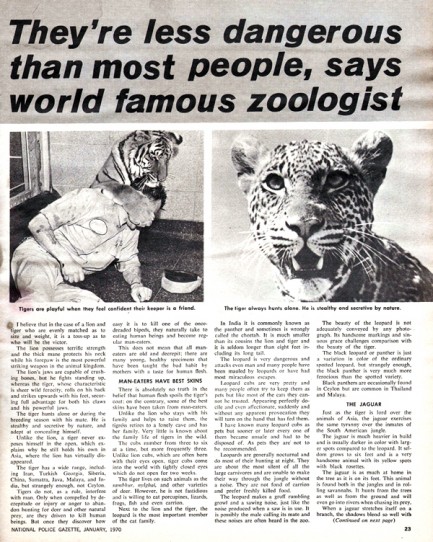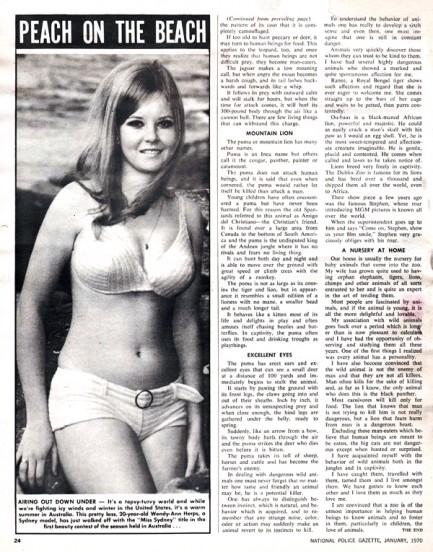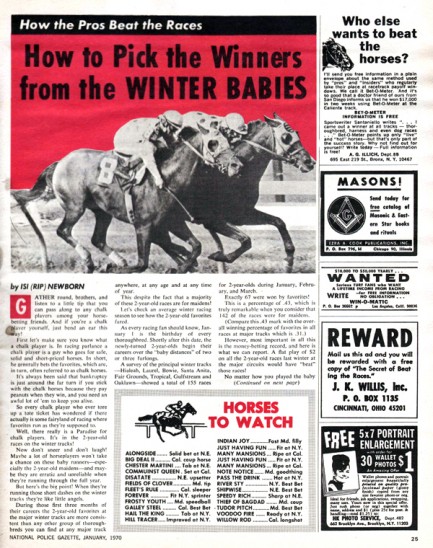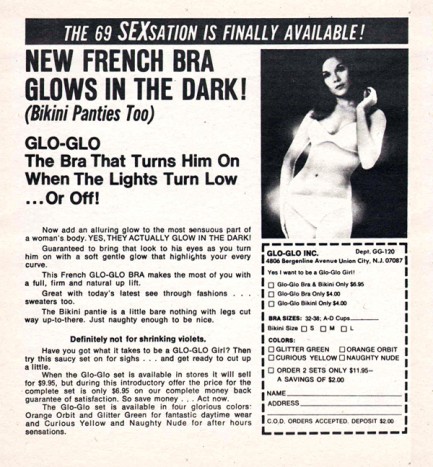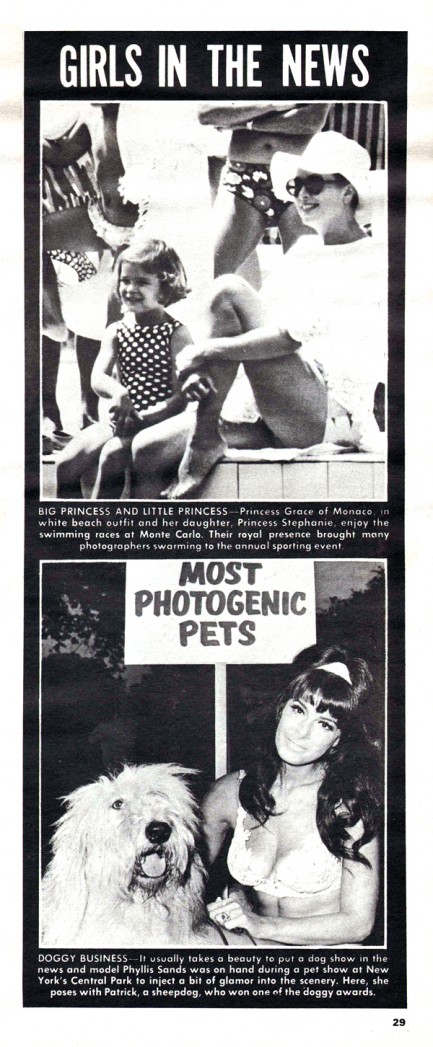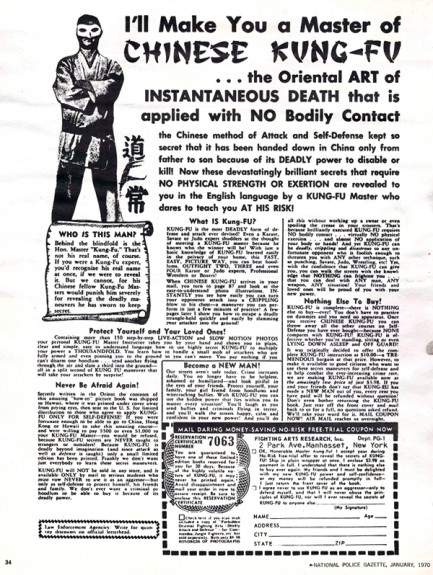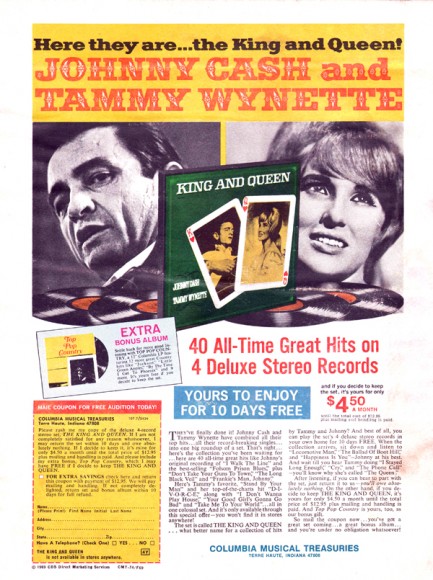 ---
The Police Gazette's graphic boxing covers were some of the best in the magazine's long history.
Rocky Graziano is one angry man in this stunner of a photo-illustration from The National Police Gazette. Graziano was near the end of his run when this cover appeared in January 1951, but he was one of greats, knocking out fifty-two opponents during a brief five year professional career. The Gazette, published originally way back in 1845, weathered many changes in American society and yet managed to keep on chugging along. Sometime during the 1940s they seemed to have hit on a new formula—sports covers. The magazine had always covered sports, but now they put it front and center with super-saturated action shots and lots of blood. They mainly produced boxing covers—and these were some of the most striking (heh heh) in the magazine's history. They also occasionally featured football and hockey. This lasted for about ten years, then the Gazette changed its cover style to try and keep pace with the many Hollywood tabloids that had crowded the newsstands. It was at that point that editors adopted the motif you've seen in posts like this one and this one. We have more Police Gazette pages below, and we'll have more sports issues down the line.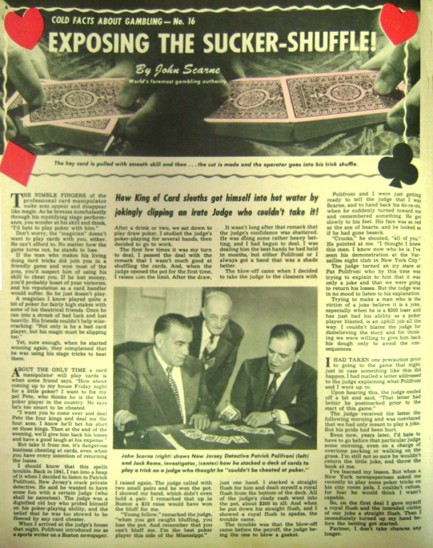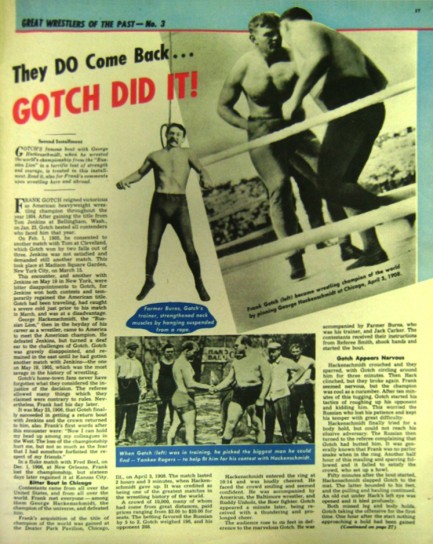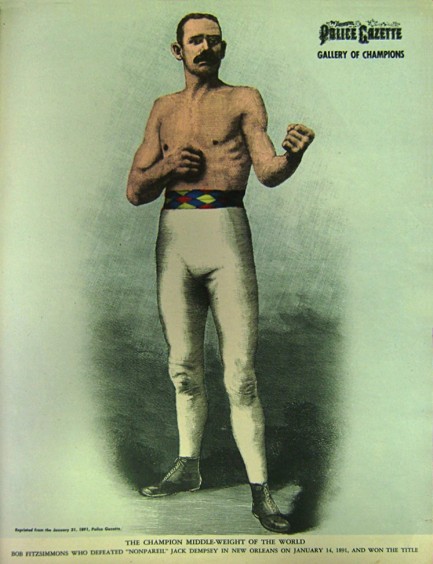 ---