It was a year to remember.
Above is a photo of Manhattan, New York City, in the year 1947, looking from Battery Park toward midtown. Here you see everything—the Staten Island Ferry Building at bottom, Wall Street to the right, the 59th Street Bridge crossing Welfare Island at upper right, and in the hazy distance, the Empire State Building—at that time arguably America's most recognized symbol. In the aftermath of a war that had destroyed Europe's and Japan's industrial capacity, the U.S. was the unquestioned power on the planet, with massive economic might, a military that had taken up permanent residence in dozens of countries, and a growing stock of nuclear weapons. Two years later the Soviets would detonate their first nuclear bomb, shaking the American edifice to its core. Meanwhile, all around the world, the seeds of change were taking root. Below is a look at the world as it was in 1947.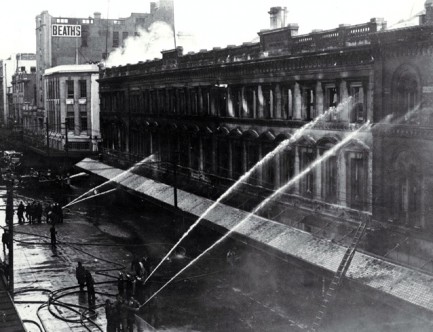 Firemen try to extinguish a blaze in Ballantyne's Department Store in Christchurch, New Zealand.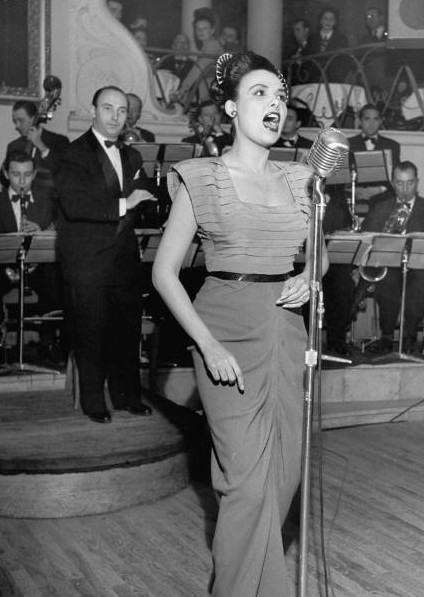 American singer Lena Horne performs in Paris.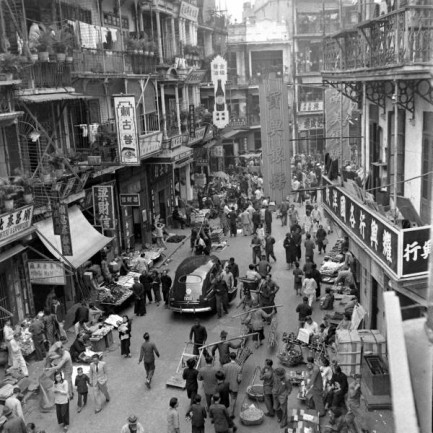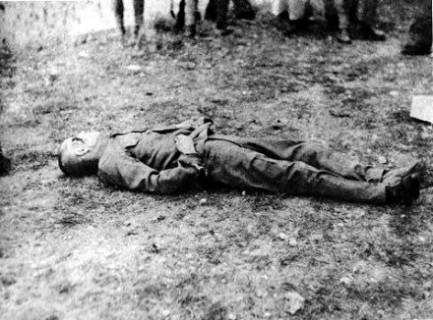 The hustle and bustle of Hong Kong, and the aftermath of the execution of Hisakazu Tanaka, who was the Japanese governor of occupied Hong Kong during World War II.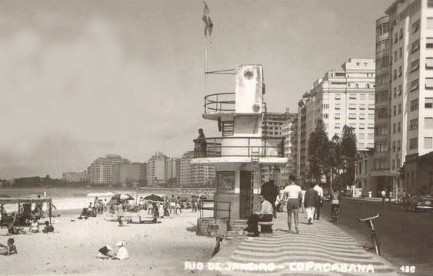 Sunbathers enjoy Copacabana Beach in Rio de Janeiro, and a military procession rumbles along Rua Catumbi.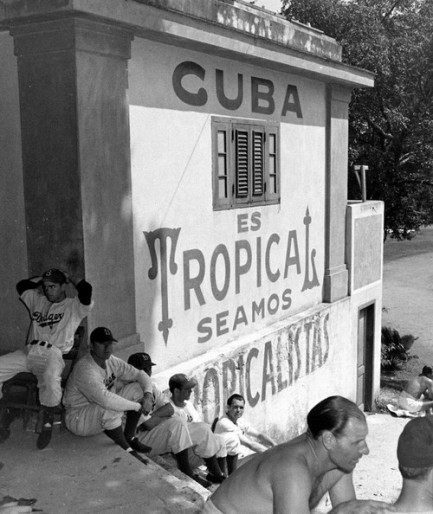 Assorted Brooklyn Dodgers and manager Leo Durocher (shirtless in the foreground) relax at Havana, Cuba's Estadio La Tropical, where they were holding spring training that year. Second photo, Cuban players for the Habana Leones celebrate the first home run hit at Havana's newly built Estadio Latinoamericano.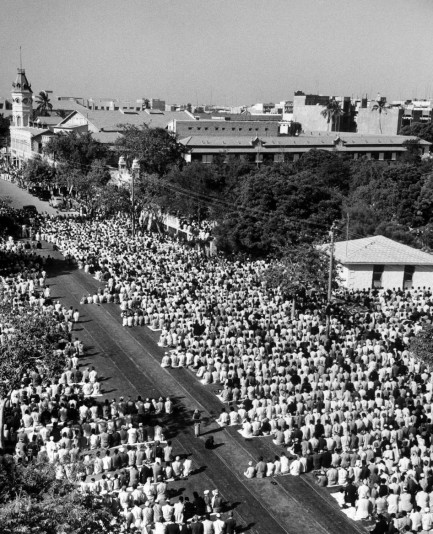 Thousands of Muslims kneel toward Mecca during prayer time in Karachi, Pakistan.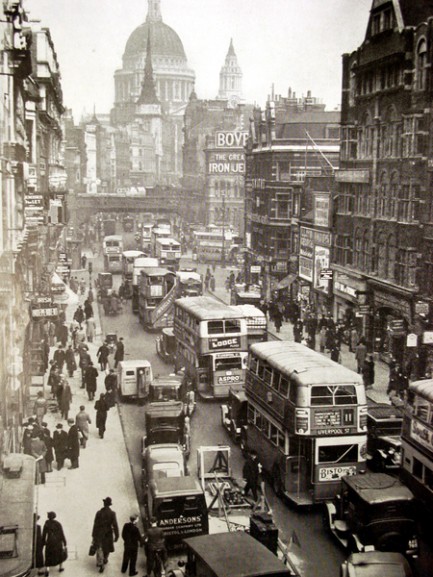 A snarl of traffic near St. Paul's Cathedral in London.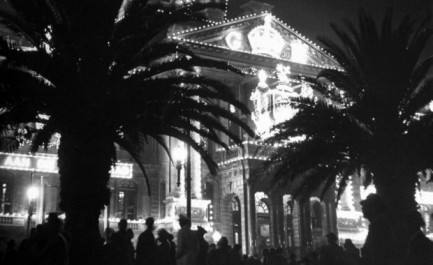 The city hall of Cape Town, South Africa is lit up to celebrate the visit of the British Royal Family. Second photo, during the same South African trip, the royals are welcomed to Grahamstown.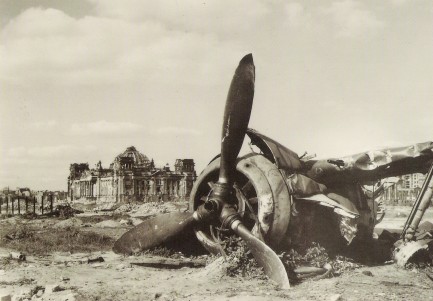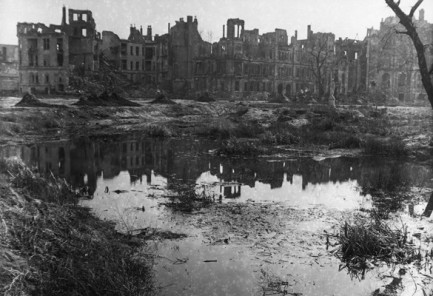 A wrecked fighter plane rusts in front of Berlin's burned and abandoned parliament building, the Reichstag. Second photo, a shot of ruins in Berlin's Tiergarten quarter, near Rousseau Island.
A crowd in Tel Aviv celebrates a United Nations vote in favor of partitioning Palestine.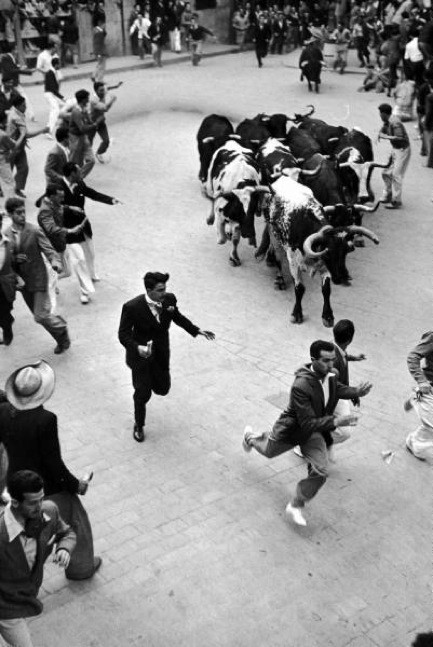 Men and bulls run through the streets of Pamplona, Spain during the yearly Festival of San Fermin.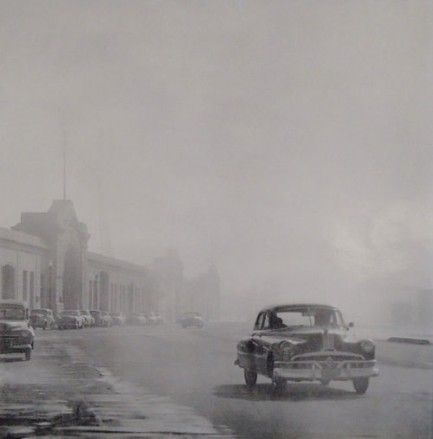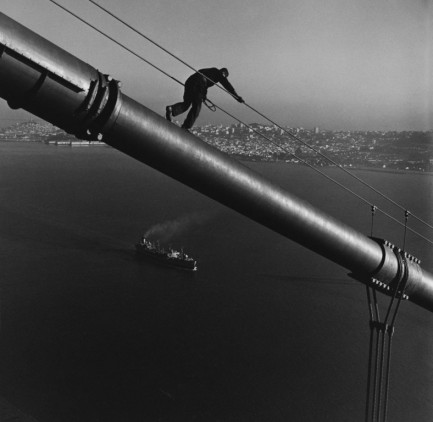 Fog rolls across the Embarcadero in San Francisco; a worker descends from a tower of the Golden Gate Bridge.
Detectives study the body of a woman found murdered in Long Beach, California. Two P-51 Mustang fighters fly above Los Angeles.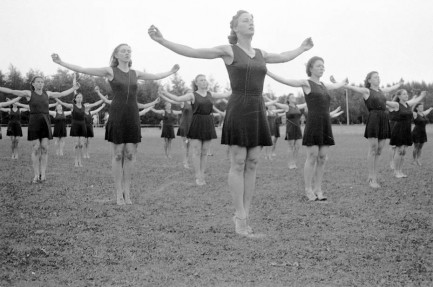 Danish women from Snoghøj Gymnastics School practice in Odense.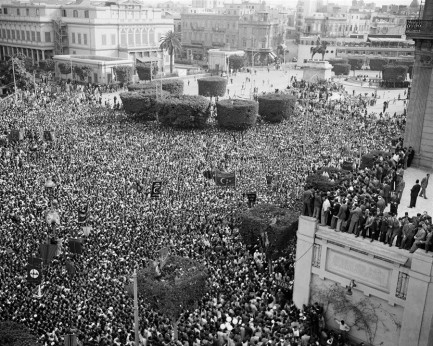 Tens of thousands of protesters in Cairo demonstrate against the United Nations vote in favor of partitioning Palestine.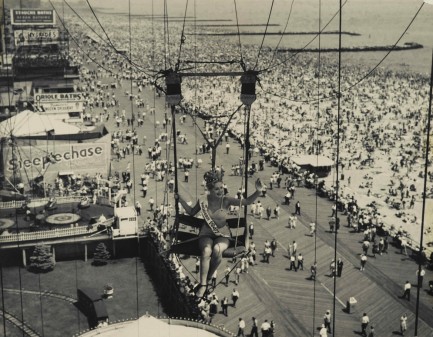 A beauty queen draped with a sash that reads "Modern 1947" is lifted high above the boardwalk in Coney Island, New York.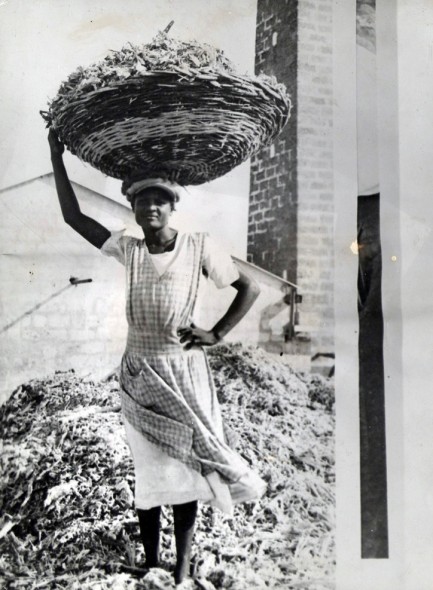 A woman in Barbados holds atop her head a basket filled with fibers meant for burning as fuel.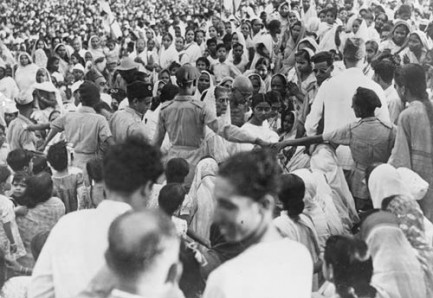 Mahatma Gandhi, his bald head barely visible at upper center, arrives through a large crowd for a prayer meeting on the Calcutta Maidan, India.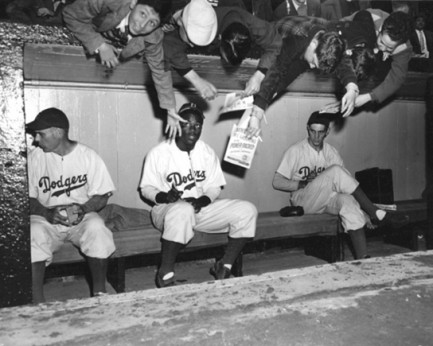 Major League Baseball player Jackie Robinson is hounded for autographs in the dugout during a Brooklyn Dodgers game.
U.S.A.
,
New Zealand
,
Cuba
,
Brazil
,
South Africa
,
Germany
,
Barbados
,
Pakistan
,
Cuba
,
Denmark
,
France
,
India
,
Spain
,
Morocco
,
Palestine
,
California
,
New York
,
Hong Kong
,
Tel Aviv
,
Rio de Janeiro
,
Berlin
,
New York City
,
Calcutta
,
Paris
,
Manhattan
,
Karachi
,
Havana
,
Cape Town
,
Christchurch
,
Havana
,
Odense
,
Los Angeles
,
Pamplona
,
Tangier
,
Long Beach
,
Coney Island
,
Reichstag
,
Major League Baseball
,
Ballantyne's Department Store
,
Golden Gate Bridge
,
Brooklyn Dodgers
,
Festival of San Fermin
,
Lena Horne
,
Hisakazu Tanaka
,
Jackie Robinson
,
Mahatma Gandhi
,
Leo Durocher
,
---
What was it Shakespeare wrote about rough winds and May?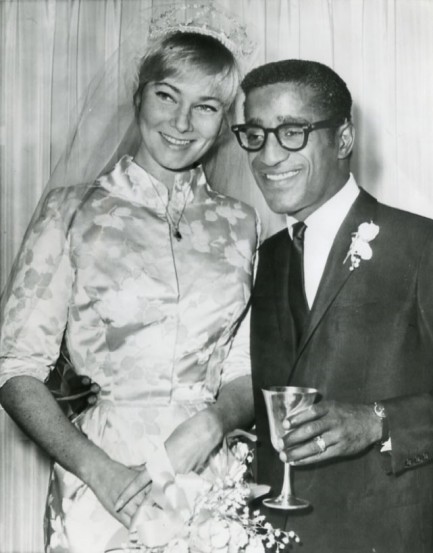 Above is a publicity photo of American singer/actor/comedian Sammy Davis, Jr. with his Swedish bride, actress May Britt. The shot dates from today in 1960, and as you might guess, that was a very bad time for mixed couples. Sammy had for years been making tabloid headlines for dating white women ranging from Tinseltown icon Kim Novak to Canadian singer Joan Stuart, but when he announced plans to marry Britt, a chunk of the general public lost its collective mind. He faced racist banners and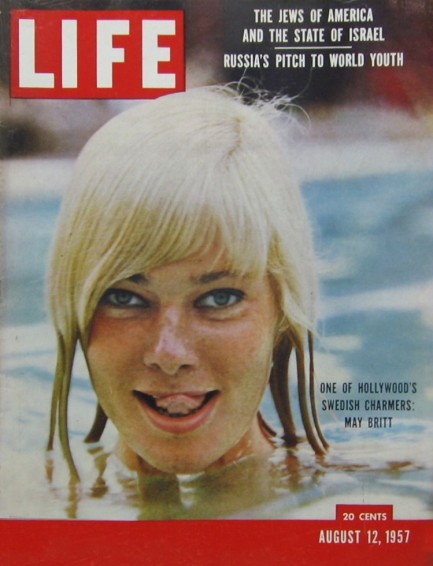 chants in London, received rafts of hate mail, and was confronted in Los Angeles with the bizarre spectacle of three men marching outside the Huntington Hartford Theater in nazi regalia. Even two admirers, John and Robert Kennedy, allegedly asked Frank Sinatra to tell Davis to delay the wedding until after the 1960 presidential election.
Professionally, Britt had to choose between her career and Davis, because it was quite clear that she would never be hired in Hollywood if she married him. Some websites suggest that she lost little because she was a minor talent at best, but she had appeared in over a dozen films and had made the cover of Life magazine twice before even meeting Sammy, so her expectations of a strong run in Hollywood were in no way delusional. Obviously, she chose love over career, and wed Davis at his home in the Hollywood Hills. Some of the guests at the reception included Peter Lawford, Diana Dors, Barbara Rush, Janet Leigh, Leo Durocher, Shirley MacLaine, Milton Berle, and Edward G. Robinson, Jr. The marriage lasted eight years—not long in the real world perhaps, but an eternity by Hollywood standards.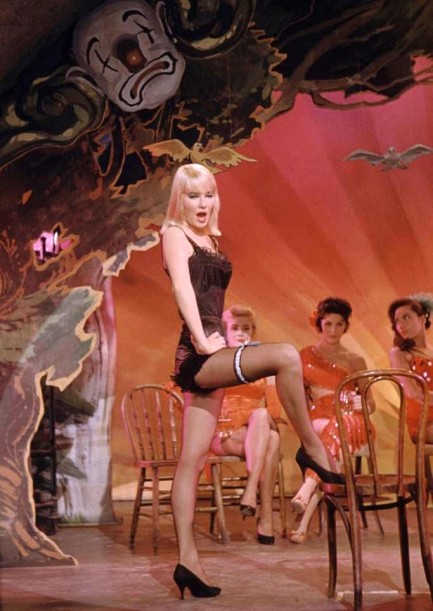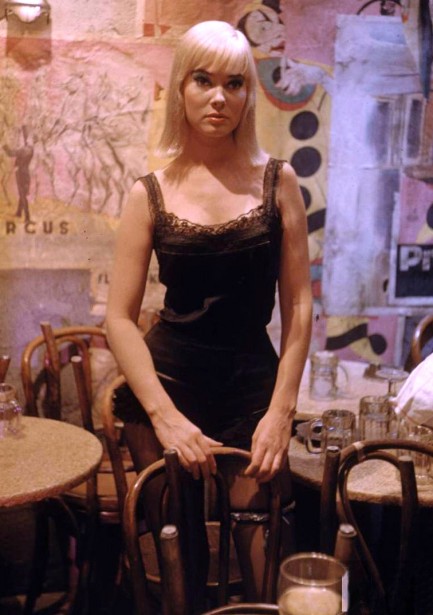 London
,
Hollwyood
,
May Britt
,
Sammy Davis Jr.
,
Peter Lawford
,
Diana Dors
,
Barbara Rush
,
Janet Leigh
,
Leo Durocher
,
Shirley MacLaine
,
Milton Berle
,
Edward G. Robinson
,
Jr.
,
Robert Kennedy
,
John F. Kennedy
,
Frank Sinatra
,
Kim Novak
,
nazis
---