The first cut is the deepest.
You see this cover for 1958's Jack Spot—The Man of a Thousand Cuts around the internet quite a bit, especially on auction sites, because Hank Janson, aka Stephen D. Frances, is a very popular vintage author. But you don't often see the back cover. Since we were talking about a spread-legged/phallic symbol motif yesterday, we thought we'd show you another example. The excellent art, which we found at a very interesting website here, is uncredited, so it seems. As far as content, the book is a biography of a notorious London gangster named Jack Comer, née Jacob Camacho, who as a youth became known as Jack Spot due to a mole on his cheek. Spot was quite a troublemaker, and used his knife-fighting skills and aptitude for vice to build and maintain a criminal empire that stretched from London to Tangier. Probably he deserves a heavier treatment on this website at some point, but we'll see about that later. However, we can pretty much guarantee we'll get back to Hank Janson, because he wrote numerous novels, and also created a character named Hank Janson who starred in some of the books, and, just for good measure, later stepped aside and let the pseudonym Hank Janson be inhabited by several other authors. Pretty convoluted, but it's just the type of thing we love here.
---
All I want for Christmas is my two front teeth.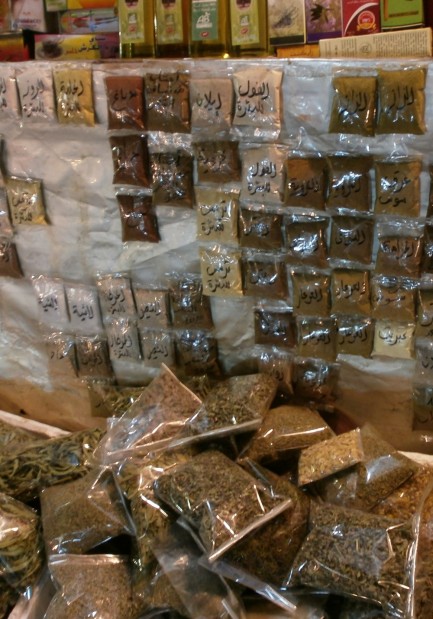 We're back. Morocco did not produce any pulp, sadly. Some countries just don't do it. During our drive through Tangier, Assilah, Rabat, Marrakech, and Fes we did find an abundance of printed matter in several languages, but we saw nothing with illustrated covers that was specifically Moroccan or Arabic in style. Interestingly, our little remark about hoping North Africa didn't hit back almost came true when a Marrakech hustler, infuriated when we refused to pay him for "guiding" us to a riad, stripped down to his underwear to show us his many knife fighting scars, then promised that if we saw him again he would kill us. Possibly we provoked this reaction a bit when we told him the only way he was getting any money out of us was if he could take it from us (actually, I'll drop the collective "we" at this point and say that it was I, PSGP, who did the challenging, and BB was not there). Anyway, I was feeling proud of my principled stand, but strangely, when I told my girlfriend, her reaction was: "Are you crazy? I let you out of my sight for one week and you challenge some thug in an alley to a fistfight

?" What can I say? Shit happens. Anyway, above are a few shots of random Marrakech market stalls where we found no books, but plenty of other amazing items.
---
It was a year to remember.
Above is a photo of Manhattan, New York City, in the year 1947, looking from Battery Park toward midtown. Here you see everything—the Staten Island Ferry Building at bottom, Wall Street to the right, the 59th Street Bridge crossing Welfare Island at upper right, and in the hazy distance, the Empire State Building—at that time arguably America's most recognized symbol. In the aftermath of a war that had destroyed Europe's and Japan's industrial capacity, the U.S. was the unquestioned power on the planet, with massive economic might, a military that had taken up permanent residence in dozens of countries, and a growing stock of nuclear weapons. Two years later the Soviets would detonate their first nuclear bomb, shaking the American edifice to its core. Meanwhile, all around the world, the seeds of change were taking root. Below is a look at the world as it was in 1947.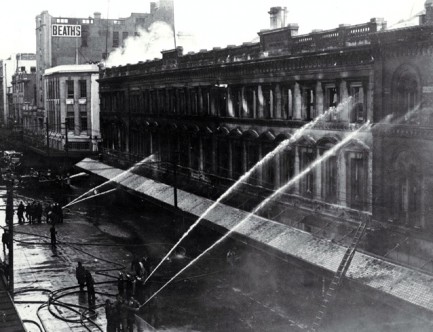 Firemen try to extinguish a blaze in Ballantyne's Department Store in Christchurch, New Zealand.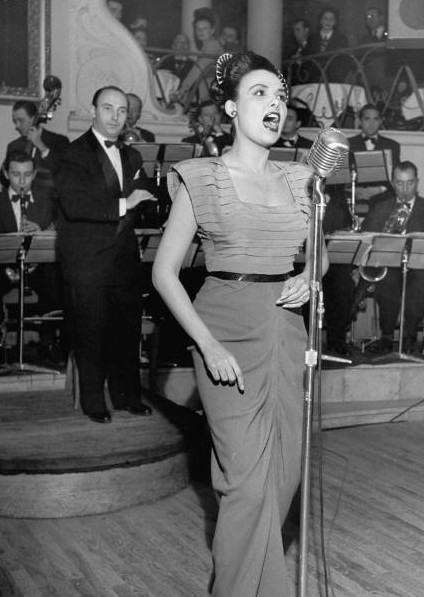 American singer Lena Horne performs in Paris.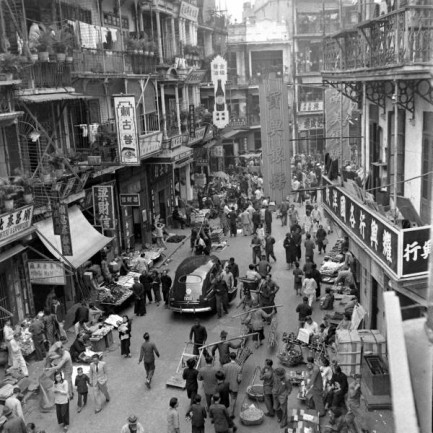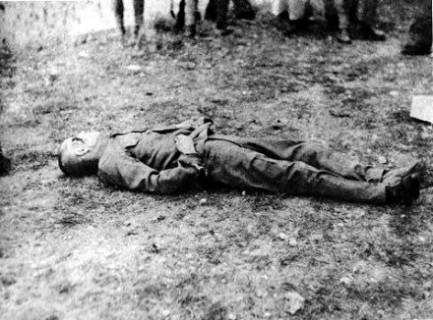 The hustle and bustle of Hong Kong, and the aftermath of the execution of Hisakazu Tanaka, who was the Japanese governor of occupied Hong Kong during World War II.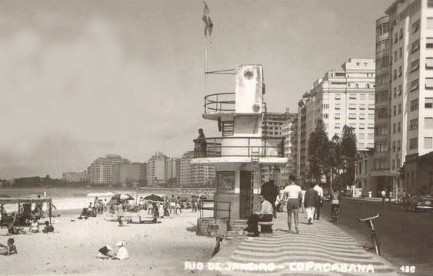 Sunbathers enjoy Copacabana Beach in Rio de Janeiro, and a military procession rumbles along Rua Catumbi.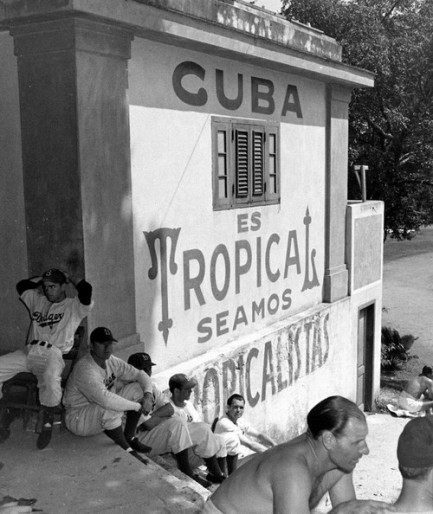 Assorted Brooklyn Dodgers and manager Leo Durocher (shirtless in the foreground) relax at Havana, Cuba's Estadio La Tropical, where they were holding spring training that year. Second photo, Cuban players for the Habana Leones celebrate the first home run hit at Havana's newly built Estadio Latinoamericano.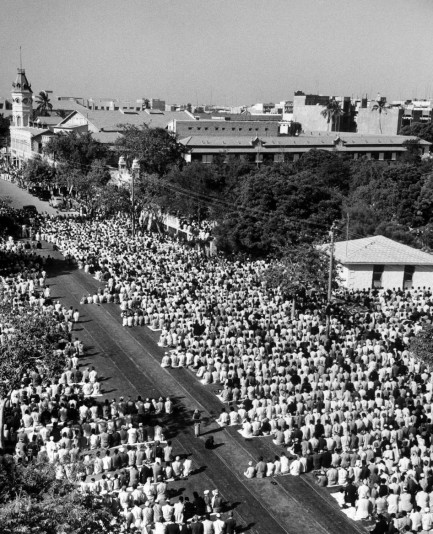 Thousands of Muslims kneel toward Mecca during prayer time in Karachi, Pakistan.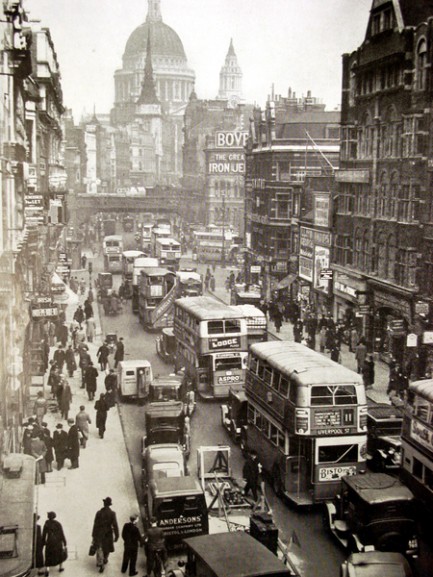 A snarl of traffic near St. Paul's Cathedral in London.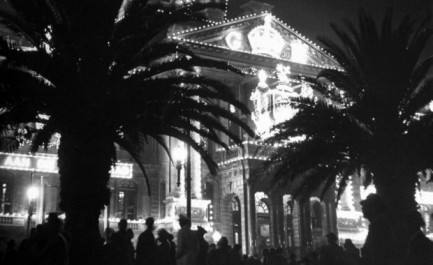 The city hall of Cape Town, South Africa is lit up to celebrate the visit of the British Royal Family. Second photo, during the same South African trip, the royals are welcomed to Grahamstown.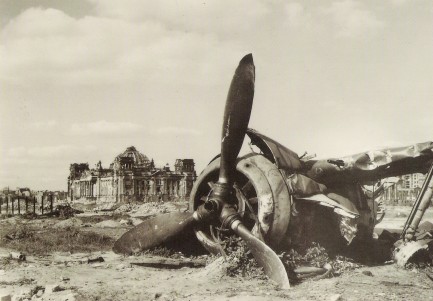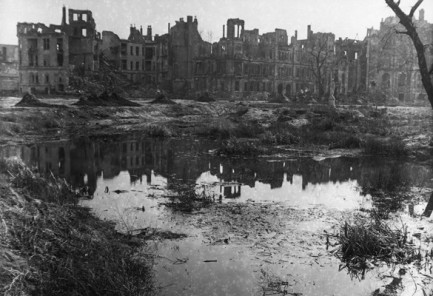 A wrecked fighter plane rusts in front of Berlin's burned and abandoned parliament building, the Reichstag. Second photo, a shot of ruins in Berlin's Tiergarten quarter, near Rousseau Island.
A crowd in Tel Aviv celebrates a United Nations vote in favor of partitioning Palestine.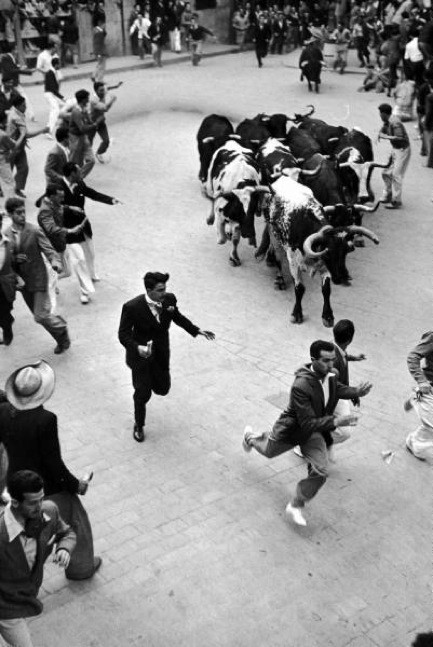 Men and bulls run through the streets of Pamplona, Spain during the yearly Festival of San Fermin.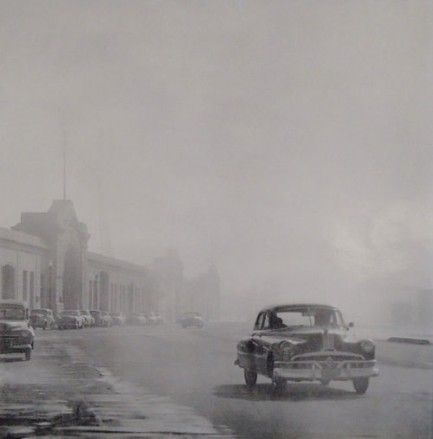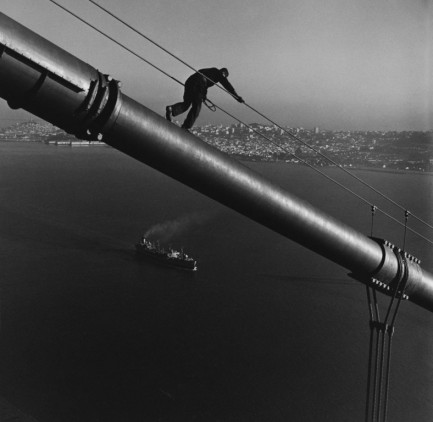 Fog rolls across the Embarcadero in San Francisco; a worker descends from a tower of the Golden Gate Bridge.
Detectives study the body of a woman found murdered in Long Beach, California. Two P-51 Mustang fighters fly above Los Angeles.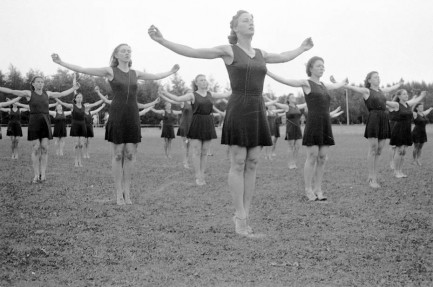 Danish women from Snoghøj Gymnastics School practice in Odense.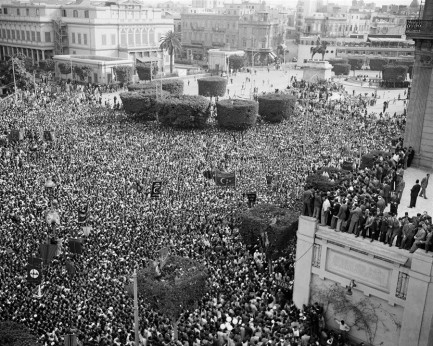 Tens of thousands of protesters in Cairo demonstrate against the United Nations vote in favor of partitioning Palestine.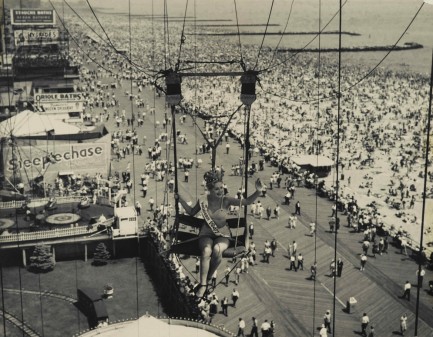 A beauty queen draped with a sash that reads "Modern 1947" is lifted high above the boardwalk in Coney Island, New York.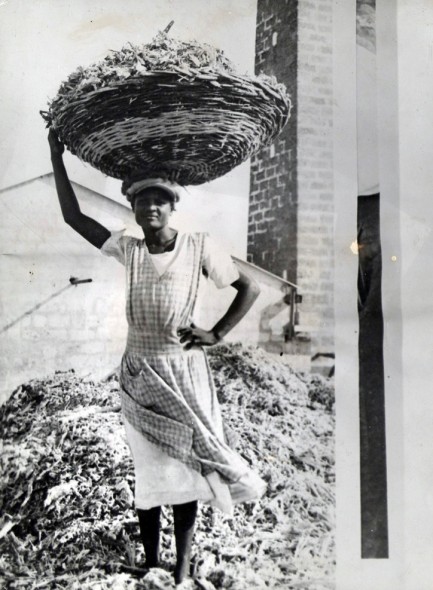 A woman in Barbados holds atop her head a basket filled with fibers meant for burning as fuel.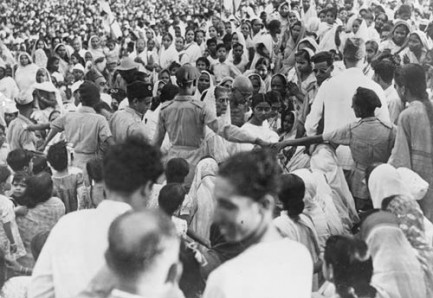 Mahatma Gandhi, his bald head barely visible at upper center, arrives through a large crowd for a prayer meeting on the Calcutta Maidan, India.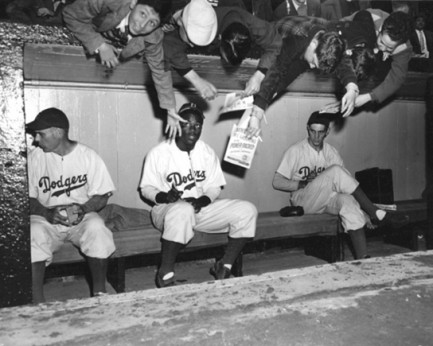 Major League Baseball player Jackie Robinson is hounded for autographs in the dugout during a Brooklyn Dodgers game.
---